I love my lovely bunny.
I love the love bunny vibe. It's one of the cutest vibrator I've ever seen. It's cute enough for anyone. It's discreet and easy to travel with. It's made of body safe material so you can share it with your partner. You can boil him (without the bullet) or take him into the bath with you.
Published:
Pros:
Discreet, Made of silicone, Cute, Small, Beginner friendly, Batteries included,
Cons:
One setting
Okay, so this little buy is such a cutie pie. I know we've all seen our share of rabbit style or themed vibes, but in my opinion this one just takes the cake. When I first laid eyes on it, I didn't think I was going to like it very much, but I really enjoy it. I would love to collect them in all the colors that they have, but at this moment I'm happy with the one that I have.
Let us talk about the package. This is my favorite part of the whole thing. I was actually surprised by the package. When you receive the love bunny it comes inside of this box. I do have to admit, the box is rather large, and not ideal for storage, but I plan on keeping mine. The love bunny's house (box) is very colorful, and almost childlike. I could honestly see this in the toy aisle at target or Wal-Mart.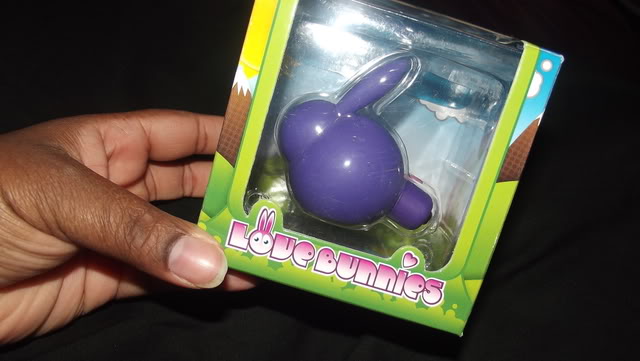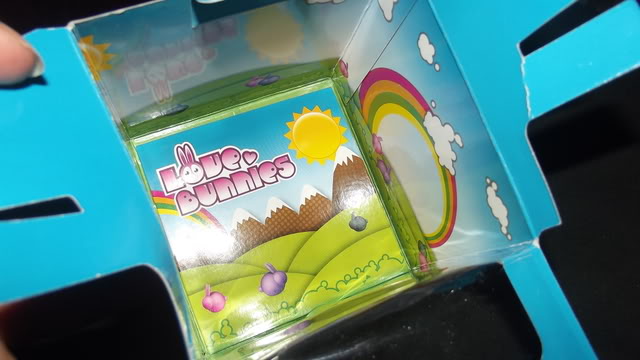 The box is made out of cardboard. The bunny is in full view, but when you see it, you don't just come to the idea that it's a vibrator. The box is hard, and it will protect your toy. When you open the box you'd notice that he bunny is sitting in this oversized plastic molding. The molding is there to keep the toy in place so it isn't moving around all over the box. When you remove the plastic mold to take your toy out, you will notice one last item. At the bottom of the box is a squire hard cardboard insert. That is you're "Official Adoption Certificate" It is an oath of adoption. It's just a promise that you will take care of the bunny. It's actually really cute.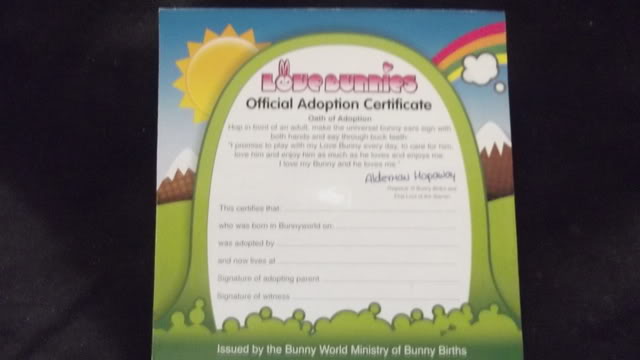 When you take the love bunny out of his home, you'll realize how small he actually is. The love bunny fits in the palm of your hand. His small size makes it easier to carry around with you. The love bunny is completely smooth, and made of silicone. I was surprised it was made out of silicone, and not something else. Silicone is smooth and not porous. Silicone can be fully disinfected by boiling it for 3 minutes or by throwing it into the top rack of your dishwasher. When cleaning the love bunny by either boiling, or dishwasher. Make sure you remove his bullet tail. The love bunny doesn't have any type of smell, or taste. It's perfect for sharing. If you choose not to boil it, you can use toy cleaner or mild soap and water.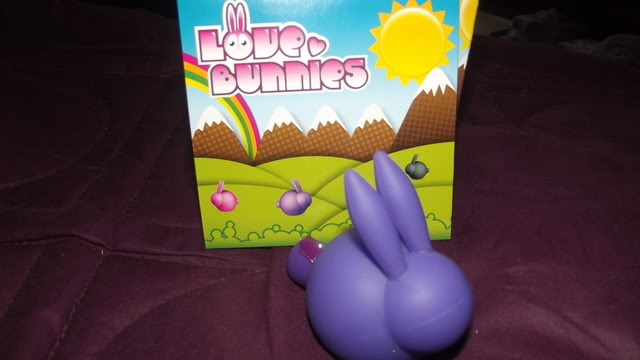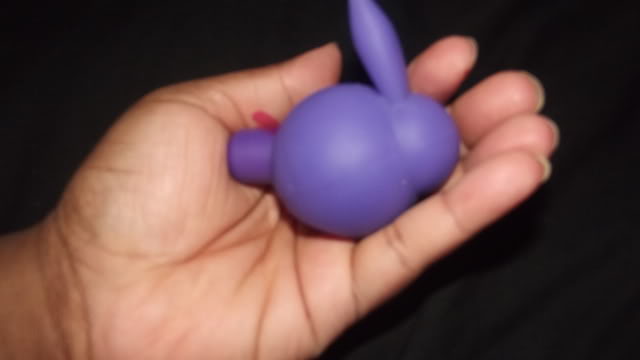 The love bunny also has a bullet attached to him. The bullet is actually his tail. The bullet is ran by three watch sized batteries. The batteries are included, and can be replaced once they die. The bullet is waterproof. You can take him into the shower, or bath tub. The bullet is pretty much silent. You could maybe hear it through the covers, but not a closed door. The bullet is operated by one push button that is at the bottom. The bullet only has one setting which is a little stronger than a medium. The vibrations can be felt throughout the whole toy. The bullet is about 4 inches in length.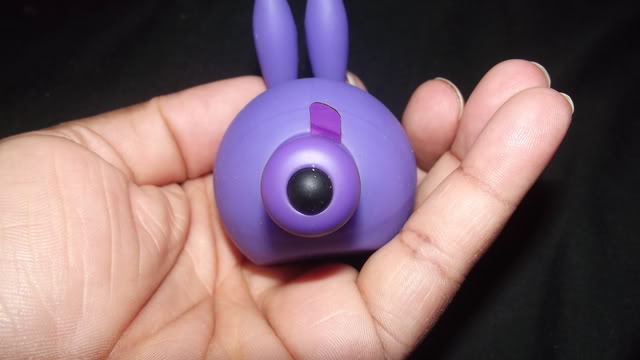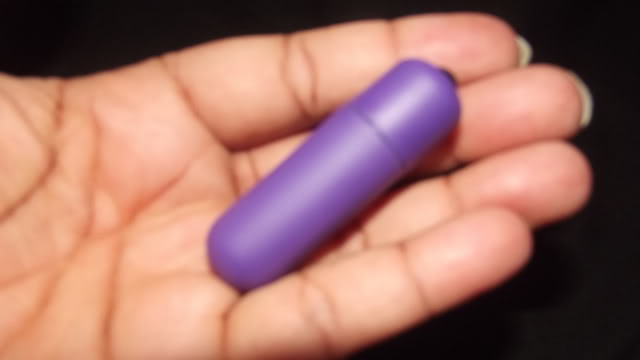 If you don't want to sit the bunny on your clit, you can use the ears to tickle your clit, Or You can use his nose for a more pin point like stimulation.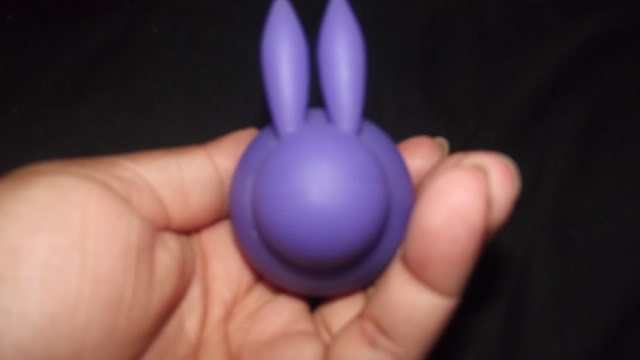 Experience
Continued...
The love bunny has a flat bottom. You can use the flat bottom and place it onto your clit, or your nipples. The love bunny does sit in place when you are sitting still, but when you move around he does too. He cannot be funny inserted, and when using him you can only use water, and oil lube. Never use silicone lube on a silicone toy. When you are cleaning him make sure you remove the bullet, because lube and other body fluids can get inside of the bullet opening.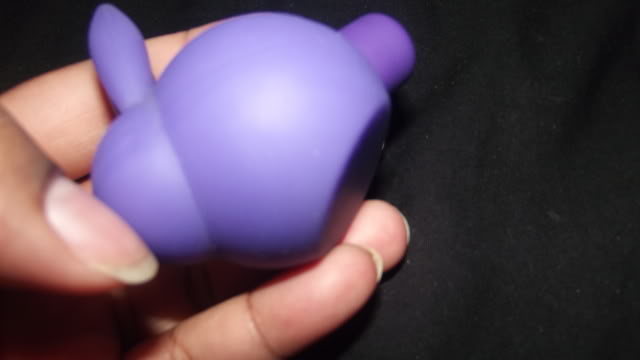 Unlike most toys this little guy can be left out in the open. I have mine sitting on my bedside table. My boyfriend didn't even know it was a sex toy. When he finally noticed it, he asked me if I had gotten it when we were at the store. I just laughed at him, and told him it was a sex toy. He was actually surprised. He think played with it, and he thought it was just the cutest thing. The ability to hide it in plain view makes it easier to get to.
The love bunny is perfect for anyone. It doesn't matter if you are a beginner, or someone more advanced. It's the cutest addition to anyone's collection. You can use it alone, or with a partner. It's the perfect size to lay on your clit, as your partner is doing their thing.I know some people might not like the bunny. If you happen to not like it, you can remove the bunny and just use the bullet.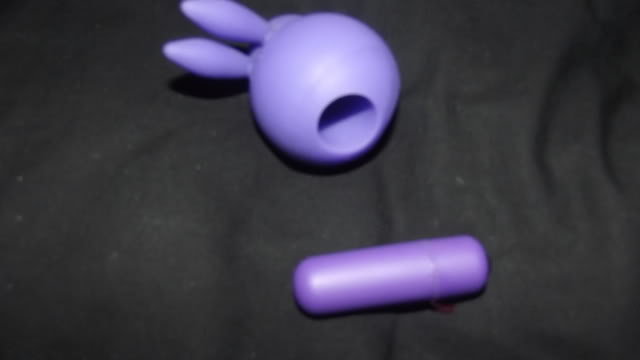 This product was provided free of charge to the reviewer. This review is in compliance with the FTC guidelines.

Thank you for viewing
Love bunny vibe
– discreet vibrator review page!