Terminally Cute!
I love silly little knick-knacks to sit on the shelf above my computer, this little bunny vibe fits right in. While I find it a bit too precious to actually use as a clitoral vibe it does do the job very well. If you are looking for something no one would peg as a vibrator then this is your bunny!
Published:
Pros:
Hygienic
Works well for intended purpose
Cute as a bug's ear
Cons:
Bullet might break
The Love Bunny Vibe from LoveHoney is one of those vibes that, while functional, is probably going to sit on a shelf looking cute. I know mine sits proudly on my desk and looks adorable along side the other knick-knacks.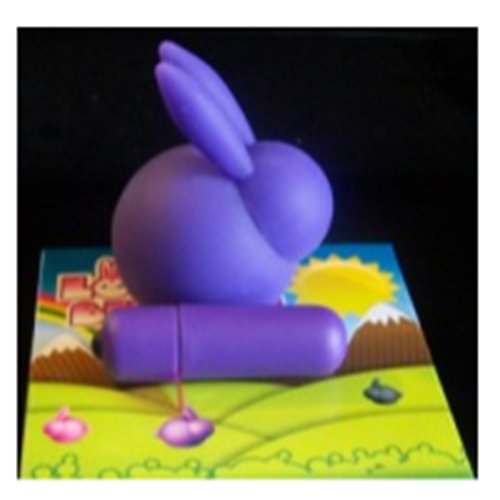 This tiny little vibe is meant to be used as a clitoral vibe and it can perform it's intended purpose for just about all but the most troublesome clits of steel. The little bullet that comes with the toy is very powerful even though it is only one speed. The silicone of the bunny body does dampen the power of the bullet but it can still be easily felt all the way through the bunny. My only real issue is my bullet will not turn off since the button is stuck in the on position. This isn't a deal breaker for me as I simply leave the little plastic piece between the batteries and the base of the toy when it's not in use. The bullet is fairly strong but the silicone bunny body does lessen the impact of the bullet. I recomend just using the bullet if you want more oomph.
The bullet is splash proof, meaning it won't do well if submerged. it is also rather quiet and very discreet.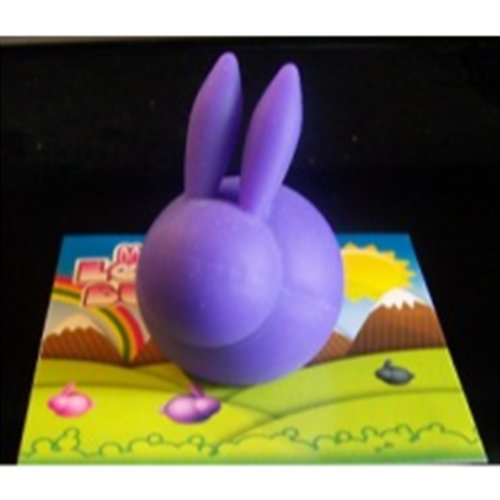 This little guy is about 2 and a half inches long and he is 100% food-grade silicone that is hypo-allergenic, latex free, non-porous, and phthalates free. The body is matte finish silicone meaning that for a truly slick surface you will want to use a bit of lube, if you can stomach covering this little cutie in lube! Spot test silicone lube just to be sure your bunny won't be ruined. Water based lube is always safe.
I haven't noticed the bunny picking up lint and other flurf.
The "face" is the point where the vibrations are most strongly felt and it offers a great place to stimulate the clitoris. Yes, I am a bit weirded out that this thing is so cute and it's a sex toy. Then again it does work for it's intended purpose. So, anyway, the face is about an inch wide.
The ears are really the best part since they vibrate vigorously and separately. They are about 1.25 inches long and nearly a half inch wide. They tickle and feel great running over nipples and all over male genitals.
You can wash the toy in soap and hot water. It can also be sprayed with a 10% bleach and water solution or use a commercial toy cleaner. It could be boiled but it's really not necessary given that it is 100% non-porous.
I store the bunny on my desk but it would do well in it's little box, in a toy chest or bedside table drawer.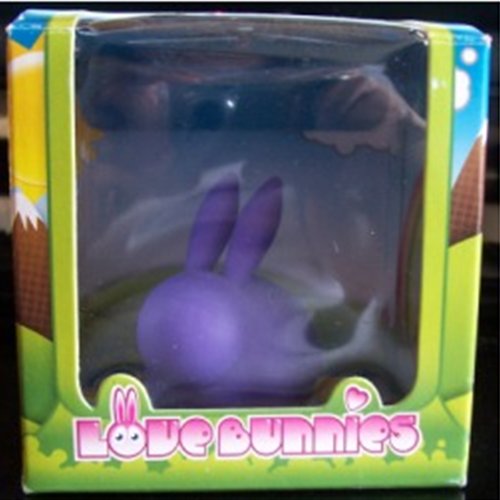 Ok, so we know all bout the bunny and now comes the part I will apologize for; the bunny comes in the most amazing little box that I MUST show it off. The box really sells the toy even if the cute as a bug's ear little bunny didn't.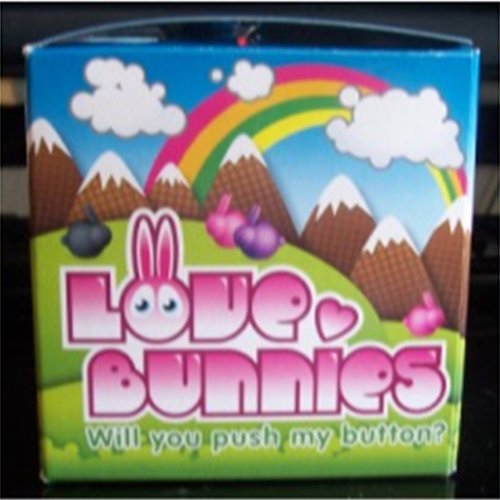 This is the side of the box. Note the cute rolling hills, rainbows, and happy little bunnies.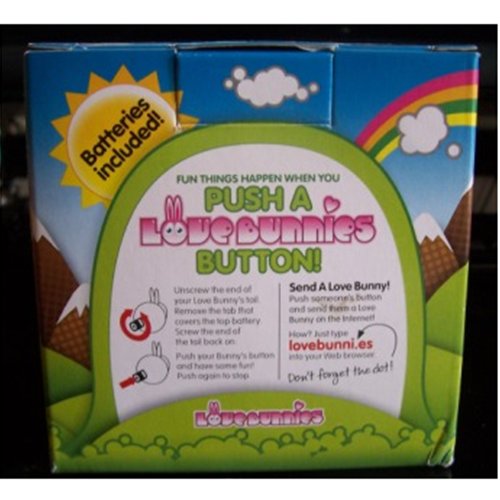 This is the back of the box. On the back of the box is a cute little invitation to adopt a bunny.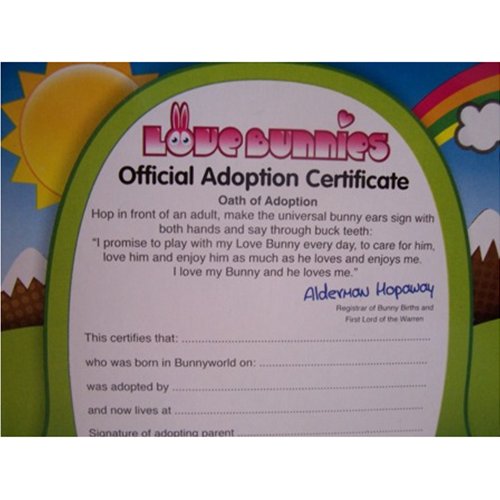 This is the actual, honest to god, adoption certificate. The Oath of adoption says, "Hop in front of an adult, make the universal buny ears sign with both hands and say through buck teeth: 'I promise to play with my Love Bunny every day, to care for him, love him and enjoy him as much as he loves and enjoys me. I love my bunny and he loves me.'"
It is signed "Alderman Hopaway" registrar of Bunny Births and First Lord of the Warren.
Yes, folks, they take this stuff really seriously. The card also has a lovely copy of the side of the box view for your bunny to sit on and look cute.
This product was provided at a discounted price in exchange for an unbiased review. This review is in compliance with the FTC guidelines.

Thank you for viewing
Love bunny vibe
– discreet vibrator review page!