Mini is a misnomer (if you can get them to suck)
It's a gamble. These might work for you, these might not. If you crave a steady sucking sensation, you don't have to pay much to find out if these mini suckers do the trick. In my experience, with the right anatomy they're serious business. If only they were something more eco-friendly than PVC.
Published:
Pros:
Inexpensive
Small
Can be used on multiple body parts
Cons:
PVC
Might not work for everyone
Out of the easy-open clear clamshell, they seem innocuous: about an 1" long, an 1" wide, and shiny purple with a light plasticy smell. The flirty (not pornographic) cardboard insert proclaims "heightens sensitivity, super suction, soft and pliable". It also says "made in China", for those who like to know the country of origin of their toys.

My husband objects to being a guinea pig, so I tried these itty bitty titty California Exotics Novelties on myself first. Not in a mood to play, my approach was clinical: I used my forearm, squeezing one, then applying it to skin and applying the other directly then squeezing. Both made a good seal, stayed attached on their own and were easy to remove with minimal redness left behind. That was all I expected and required, so I considered the test over and put them in a drawer.

Lesson number one: the forearm is a poor substitute for nipples.

Confidently, I pulled these out to use on my husband during sex and discovered that all skin is not created equal. No matter how I tried, every attempt to attach the suckers to his nipples met with failure. At most, they would cling for a brief second, maybe two, then fall off. I expected that his manly, hairy chest might present a problem, but even with the foliage pushed aside the suckers would not latch on. I could attach them to his neck, or even his forehead (I found this funnier than he did), but not to his chest. So 0 for 1.

Not wanting to give up completely on the toy, I had him try them on me.

Lesson number two: what does not work for one person, may work far too well for another.

OUCH! Yes, the same purple mini-domes that failed to adhere to my husband's nipples formed a seal worthy of a military submersible with my nipples. It was unexpected and unpleasant. I imagine it felt the same way alligator clamps would, minus the teeth. There was a brief moment of pleasure in getting the nipple suckers to work as advertised, but I couldn't stand the pressure, so the next word after "ouch" was "off!"

Determined to get our money's worth, we decided to try them on him again. Again, the suckers refused to stick for me, but he managed to get them to stay put. Unfortunately, they bored him. The suction that had left me squealing got zero response from him. I was gobsmacked because he has the more sensitive teats of the two us. My guess is that nipple size plays into the pleasure equation, but that didn't help us. At that point we just decided it wasn't worth pursing further and they went back into the case.
Experience
I hate to admit defeat when I pay for a toy, so I took the mini suckers for a solo escapade a few days later. They were no less painful at first, though I found that by squeezing the dome and repositioning it slightly I could reach a more tolerable pressure.


But why stop there? Another reviewer mentioned using the nipple suckers down below, so of course I had to try it out on my clitoris. Keeping in mind the excruciating vacuum when I used them on my nipples, I was much more careful applying it to my nether regions. The mini sucker adhered well enough, but I soon realized that the sensation wasn't arousing. The pressure of the mini sucker lacked variation, I prefer lapping or rubbing. Also the outside of the sucker is shiny-smooth, but the inside is unfinished. I could feel the edges where the suckers were trimmed from the mold and it was not a good feeling.


So, a little soap and water, drying with a towel and back into their package they went. I'm not sure if they'll come out again.
Follow-up commentary
13 months after original review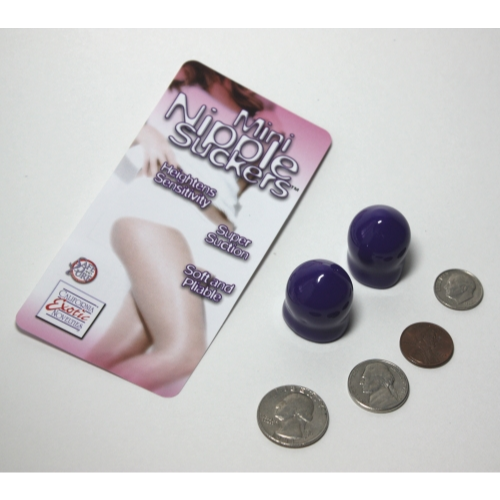 These just don't see much use. My husband doesn't care for them, and I prefer my
feathers
and
rabbit fur
to the 'slight pull' that these offer. Unless you're familiar with suckers and are specifically seeking out the sensation they provide, you don't want to bother with these.
This content is the opinion of the submitting contributor and is not endorsed by EdenFantasys.com

Thank you for viewing
Mini nipple suckers
– clamps review page!