My Heart Is On Fire Baby!
The heart's desire is perfect for those cold days and nights. I use the heart every time I have a sore back, it reduces the pain from my sore back or any other sore aches. Also the Heart is a great idea for adding that extra sensation during play time with you and your partner. It's amazing how it doesn't require batteries or need any electricity to heat it up and the Heart's Desire is always perfect for on the go!
Published:
Pros:
~Reusable~
~Helps with sore muscles~
~Perfect for winter~
~$~
Cons:
~Have to boil after every use~
USE
The Heart's Desire is a wonderful body heat massager. The Heart's Desire that I got is red, the other color it comes in is
pink
. There are so many ways you can use the Heart's Desire. One of my favorite ways to use it is on extremely cold days. Another wonderful way to use the Heart is by placing it on any part of the body that is sore. The Heart's Desire comes in handy on rainy days when my back or knees are in pain. The Heart's Desire is reusable. That means that is doesn't require annoying batteries that you have to replace ever so often, or have to use electricity. The Heart's Desire can also be use for temperature play with your partner. You can rub over any desire parts of your, or your partner's body for that extra sensation.
To turn on, there is a metal disk inside that you bend. The liquid then will start to become this white crystal thing that almost has the texture of snow. It will become incredibly warm. Not too hot that it will burn your skin, but warm enough to turn your skin red if placed on that area for a certain period of time. The Heart's Desire will heat up to 129 degrees F (54 degrees C). After you're done with using it you will have to boil it to reuse it. Place Heart in a cloth, then place the cloth in a pot of water, then bring to a boil. After it starts to boil, boil it for 7-10 minutes or until crystals dissolve. Carefully take out of the water with non-piercing tongs and place on a cloth to cool.
Before: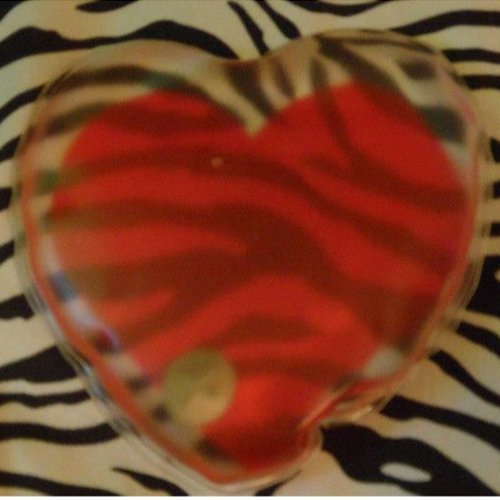 In between: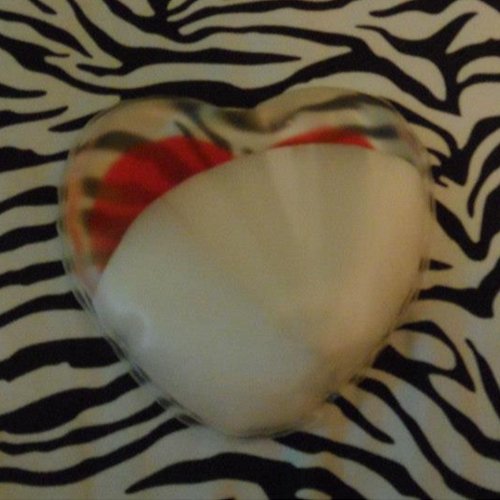 After: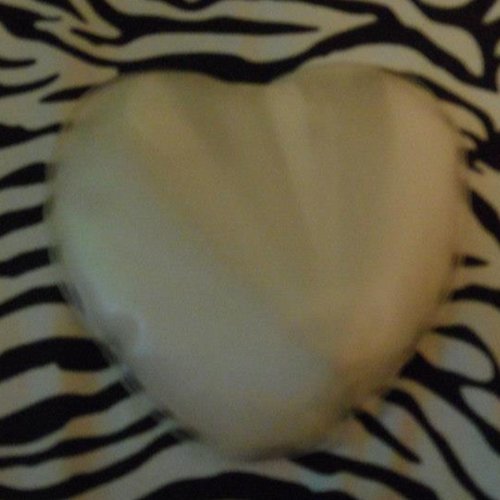 I love how on the front of the Heart's Desire it has a red heart printed on it.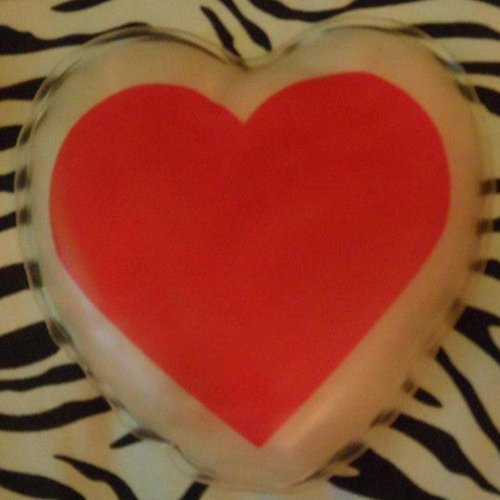 MATERIAL/TEXTURE
The material that the Heart's Desire is made out of is PVC. PVC has a safety rating of two on Edenfantasys. I don't think the safety is as important because you don't have to insert the Heart. I would not suggest to store the Heart with any other materials. If you do have to use lubricant with the Heart, than the only lubricants to use with it is water-based and silicone-based lubricants only. The Heart's Desire is very smooth and kind of squishy. When the crystals are inside of the Heart, the Heart is extremely stiff and hard. Around the edges of the Heart can be uncomfortable and kind of scratchy when rubbing over skin. I noticed that there is a slight smell to it. The smell is not overpowering at all and did not bother me.
SIZE AND COMPARISON
The size is actually cute to me. The total length is 5", and the width is 5". This would also be great for traveling around with because of the small size. I have two comparison pictures to show how big the Heart's Desire is.
Comparison picture between a pen and the Heart: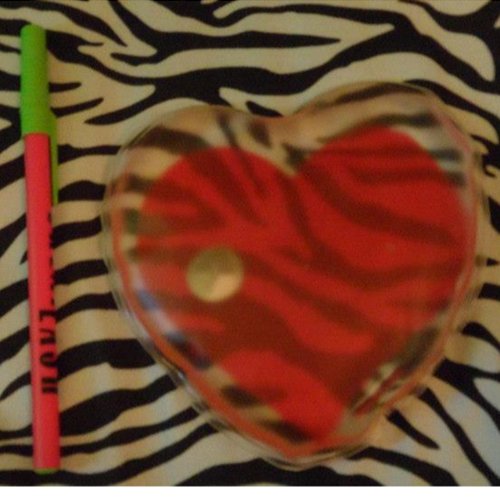 Comparison picture between the
Heart warmer
and the Heart's Desire: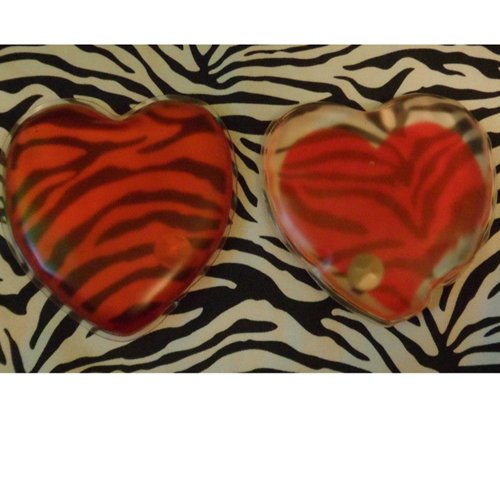 PACKAGING
The packaging is pretty simple. It has information on the front and back of the package. When I first got it, the package has clear plastic wrapped all around it. Then you slide the white box out and inside the white box is the Heart's Desire. The Heart comes in a clear plastic bag that is not reusable. I store my heart inside the box it came in.
Front of package: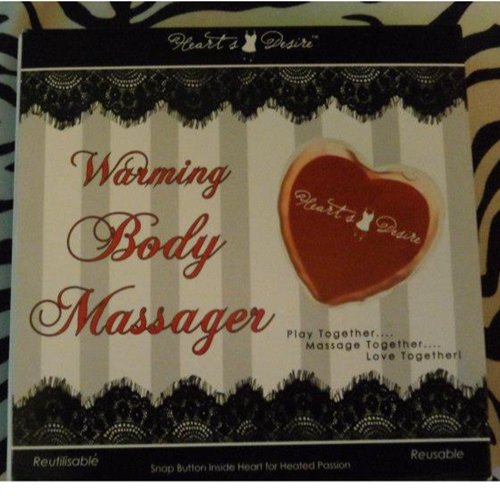 Back of package: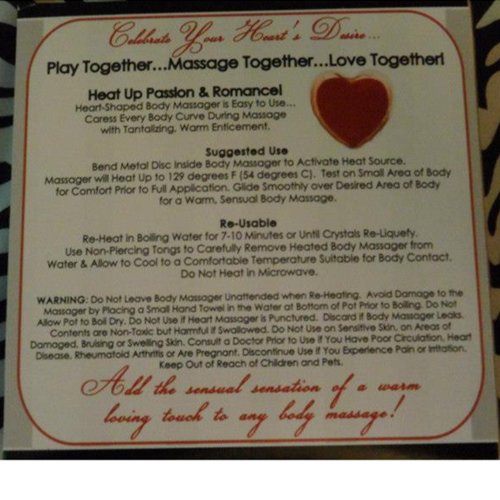 The Heart's Desire in plastic bag: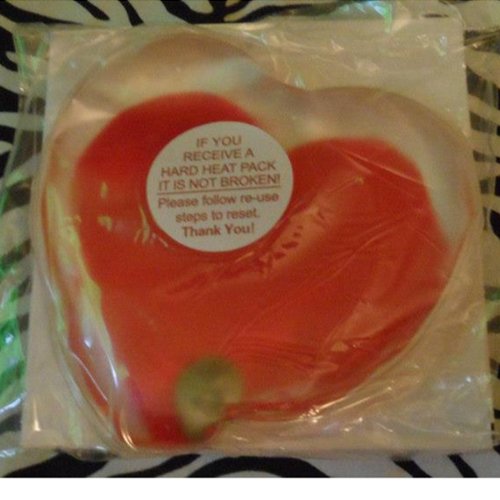 I think that the Heart is a great idea for gift giving. I don't see anywhere on the package that it screams sex toy! The Heart's Desire would make a perfect holiday gift.
Experience
It saddens me that the Heart doesn't last a long time. As soon as I bent the disk and it released it's white crystals, I timed it. The Heart's Desire stays warm for about 30-35 minutes. To me thats not really a long time. Since the heart warmers are not that expensive, I suggest to buy a couple of them to place around the body for that extra sense of relief, almost like an extremely warm blanket. I have two so far and will definitely buy more. Before you stick the heart on you or your partner, its best if you test a small part of the body first and see how much you can stand the heat. I don't really know why its called a massager, because there is no vibrations in the heart.
The
Heart warmer
and the Heart's Desire side by side after both disk have been bent: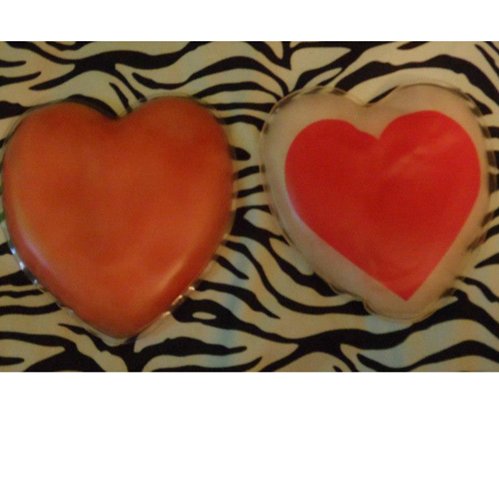 Follow-up commentary
2 months after original review
This thing has been amazing through the chilly weather! Lately my muscles have been sore and the Heart's Desire comes in handy. I recommend the Heart's Desire for anyone who needs a little relief when it comes to aches and pains or just chilly days and nights.
This product was provided free of charge to the reviewer. This review is in compliance with the FTC guidelines.

Thank you for viewing
Heart's Desire warming massager
review page!