This heart warms my heart (and body!)
Aches, pains, cramps, arthritis, sensual massage...is there anything the Heart's Desire warming massager can't do? Well...your homework and your taxes. It can't do that. But for just about anything you need a heating pad for, this has you covered!
Published:
Pros:
Travel friendly
Instantly heats up
Reusable
Sturdy
Cons:
Can't be microwaved
For those of you who know me, you know that there are two things on this site that I can't get enough of (aside from bubble bath!). Eden wipes, and the warmers! I have an entire collection of them, so of course, I saw this and had to get it!
Front of Warmer: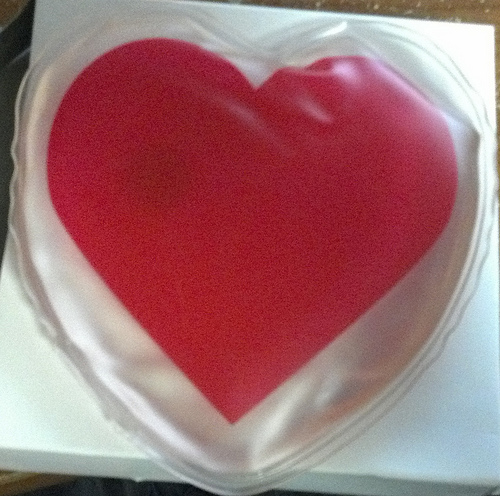 Back of Warmer: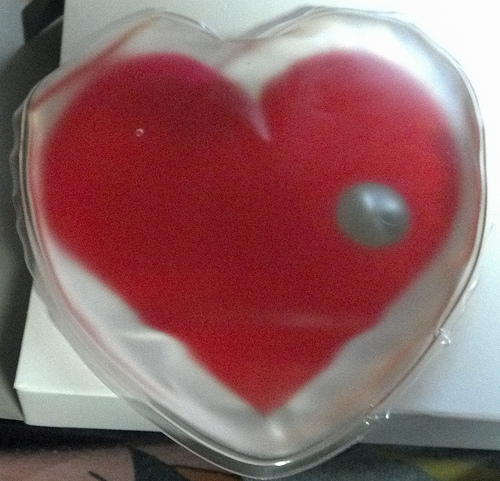 Who can use it
Basically, anyone can use the
Heart's Desire Warming Massager
, though the heart shape may be more appealing to women than most men. It is great for anyone who has muscle cramps of any sort, injuries that require heat to be applied to them, such as stretched muscles, or those who just need something to keep them warm!
Classic Erotica
went with a very simple design, just a heart shape which is mostly transparent, with a more bold and solid heart in the middle on just one side. Couples can also use this warmer for sensual massage just like a hot stone massage and can even add in oils or lubricants to make it glide across the skin more smoothly.
What is it made of
It is made of
PVC
for the outer casing, which is a flexible material that can withstand high temperatures and works well with
silicone or water-based lubricants
and can work well with
massage oils
as well.
The liquid inside is made of
cellulose
, activated carbon, water, salt and
vermiculite
.
How does it work?
They allow a reaction to take place inside of the PVC when the iron disc is clicked, by releasing energy which creates the heat, allows it to move through the encasing at an equal rate, prevents evaporation, and helps to hold in the heat. All of this goes on inside one small heart warmer! The process to reuse it actually reverses the entire process, which turns the hard substance back inside into a liquid again, by reversing the oxidization that the iron disc inside created. It basically
de
oxidizes the disc. The first time you use it, you will likely need to snap the disc twice, but after that it typically only takes one snap. Your warmer will be good for many uses; I tend to get at least 50 uses (and counting!) out of each one, so you won't have to worry about replacing it any time soon!
Packaging and Storage
Inside of the box, the warmer will be wrapped in a clear piece of plastic. The box is fairly simple, you push out the white box inside, which contains the heart warmer. So basically it is 2 boxes and plastic wrapper. The plastic prevents leaking, in the instance where your warmer may be broken, and the liquid can escape. This is rare, but it can happen. It is safe to store the warmer back in the box that it came in, or you can find another place to store it. The warmer itself is discreet so as not to draw attention to its use for sensual massage, and a lot of people are familiar with these warmers which are even sold in malls. On the other hand, the box is riddled with explanation to its intended purpose. I tend to keep mine in the boxes, just to prevent something from tearing the PVC, including my pets.
Front of box: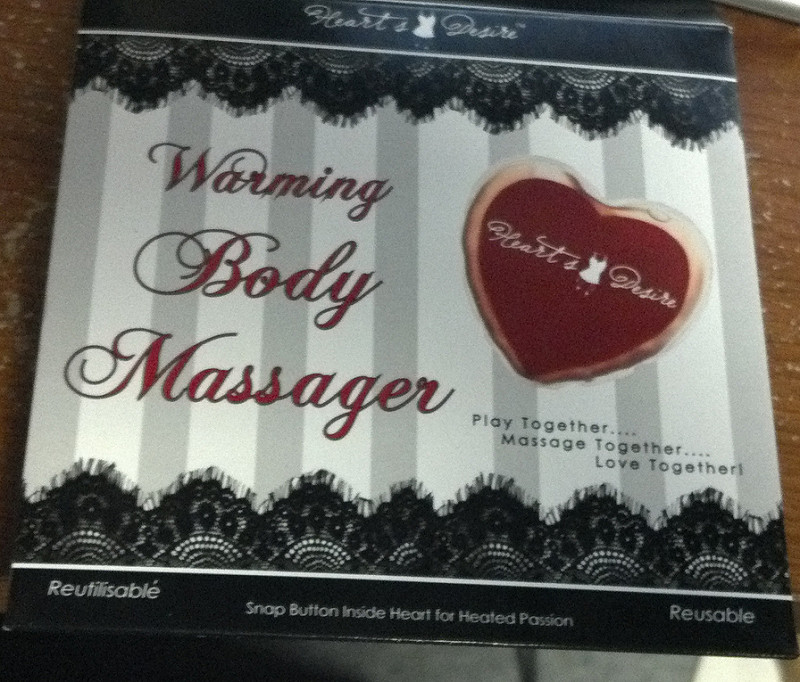 Back of box: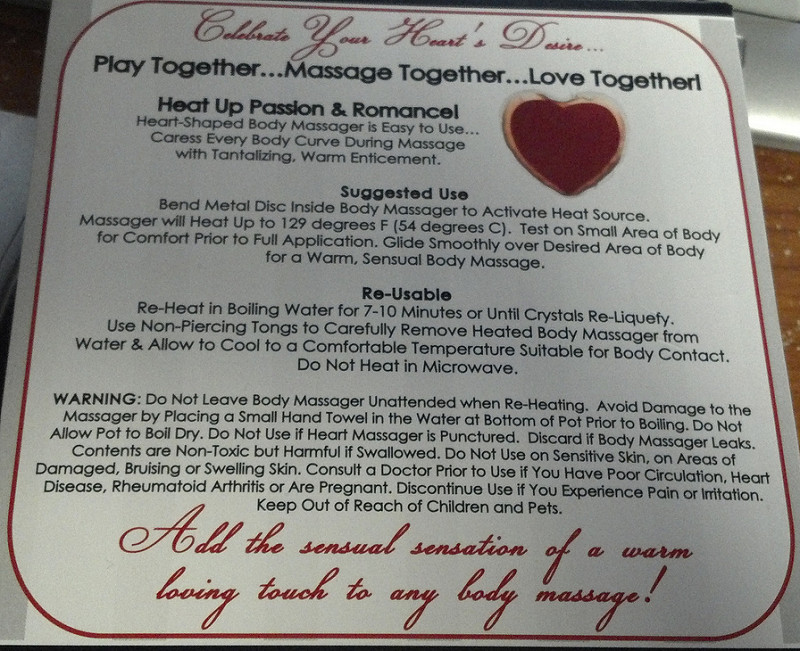 Warmer inside of internal box: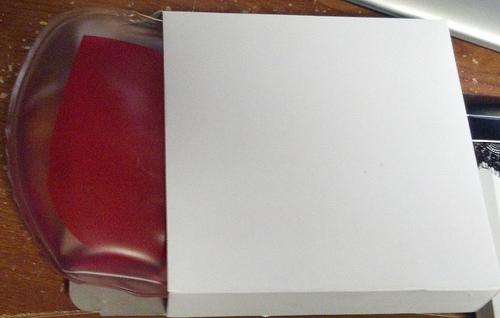 How to reuse it
Once you are finished with your warmer, you can boil it at any time prior to the next use. Simply get a pan, fill it with water, place a washcloth in it so that the warmer won't touch the sides of the pan, which can possibly melt it, and then place your warmer in there. While the instructions would tell you that it only requires boiling for typically 10 minutes, but I like to leave mine in longer, for maybe 15 or 20 just to make sure all of the crystals have dissolved. It won't work as well if there are any crystals left in there, and it could still be hard when it cools off.
You will want to be careful when removing your warmer from the water. I like to let the water cool off before I remove it, so I can just reach in safely and grab it. When it is hot from boiling, the PVC tends to be more weak, and able to be punctured more easily. If you choose to remove it from the hot water, simply get a pair of tongs with smooth edges and pull it out, placing it on a dry towel to dry and cool off. If you are careful, you can even use the warmer while it cools off, if you'd like!
Experience
Cautions
While these warmers aren't always extremely hot, they can reach up to 129°F/54°C which can easily burn the skin. It is recommended that if you use it on your own, you use it through clothes or put a towel between your skin and the warmer. For sensual massage, just be careful not to leave it in one spot for too long, to prevent burns. Some warmers do not reach this high temperature, but can still feel pretty hot if you leave it in one spot for an extended period of time.
Additional information
PVC always tends to have a rubbery smell if you put your nose up to it, but after a couple uses and boilings, the smell pretty much goes away. There is really no taste to it, though in use, I don't think you'll really be licking your warmer anyway. It feels incredible, and I love to put it on my neck to help with my chronic neck pain, occasionally holding it to warm my hands, which are always cold! It is small, which makes it easy to bring with you for travel, and when stood up it is just slightly smaller than a soda can.
I measured the height and width using jelly beans. Because jelly beans are awesome!
It measures 6 jelly beans in height: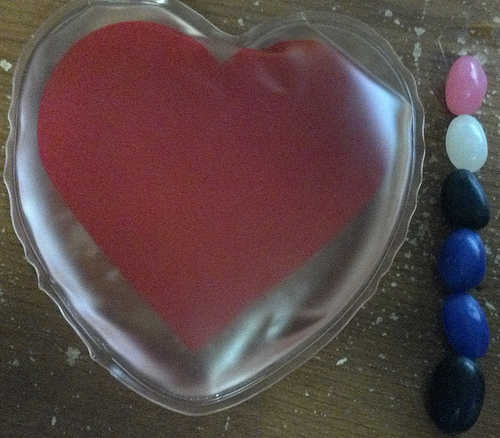 It measures 5 jelly beans in width: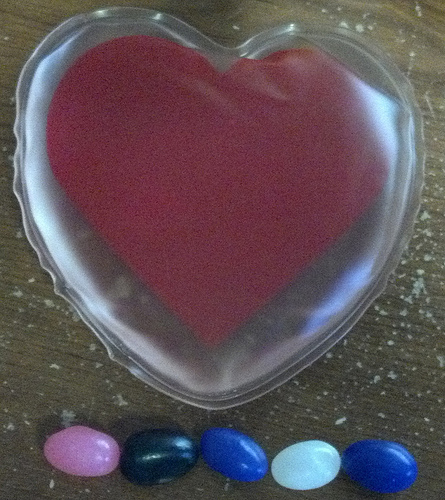 This product was provided at a discounted price in exchange for an unbiased review. This review is in compliance with the FTC guidelines.

Thank you for viewing
Heart's Desire warming massager
review page!