Warming Love for Everyone
The Heart's Desire warming massager by Classic Erotica is an easy to use, reusable, and affordable massager for those who love giving or receiving massages. Before starting your massage with this cute little heart, just bend the disc and watch the reaction as it heats up. Be sure to test it out on a small area of your own body to make certain it isn't too hot to use, and then glide it along the skin for a sensual experience.
Published:
Pros:
Reusable, warms evenly, glides along smoothly, warmth lasts a while.
Cons:
PVC has an odor, heart shaped (for some).
Use:
The best use for the Heart's Desire warming massager by Classic Erotica is gliding it along your partner's skin during a sensual massage to help relax the muscles and increase the intimacy you share. To use the warming heart, just bend the metal disc that floats around inside it and watch the reaction as it heats up. The gelatinous liquid inside will become whitish in color and a crystallized kind of texture while warming up.
This massager does get quite warm, about 129 degrees Fahrenheit (or 54 degrees Celsius as labeled on the packaging), so make sure you test it on a small area of your body before using to ensure it is a comfortable temperature for the skin. After it warms up, just glide it over whatever body area you wish to massage and enjoy. The crystals will harden with cooling; this is normal.
The warming massager could also be used as a hot pack for sore, achy muscles, or for those who suffer with terrible menstrual cramps. Just wrap it in a small towel before applying to dampen the temperature and avoid burning with direct contact.
To re-heat the massager, place it, along with a small hand towel, in the bottom of a pan of boiling water for about seven to ten minutes. The hand towel in the bottom of the pan protects the massager while boiling, to keep it from being weakened and in turn leaking or bursting. Use non-piercing tongs to remove the massager from the hot water and allow it to cool to a comfortable temperature before using. Do NOT heat this in the microwave: you will have hot spots and possibly burst your massager.
Material:
The Heart's Desire massager is made from PVC, or polyvinyl chloride, and it is light, water resistant, offers a long life cycle, and does not require much maintenance. It is very resistant to extreme heat and stretching, it is very smooth to the touch, and the edges are sealed very much like an inflatable pool raft. The PVC smells a lot like a pool raft, too, but it's not overpowering, and it somewhat, but not totally, dissipates with use.
The liquid inside the massager is a mixture of salt, water, vinegar, and sodium acetate, which is a food additive, and it will turn white and crystallize when the disc is bent and activates it. This material will also harden as it cools down, which is normal. Re-heating the massager will liquefy the crystals again.
Design:
The massager is shaped like a heart, and is mostly clear PVC with a red heart stamped on the front and sealed edges that slightly stick out. There is a small metal disc inside the massager, along with the liquid mixture, that warms up when activated. The entire massager is not much bigger than someone's palm, which makes it easy to hold while in use and a great size for traveling or storing it away.
Front: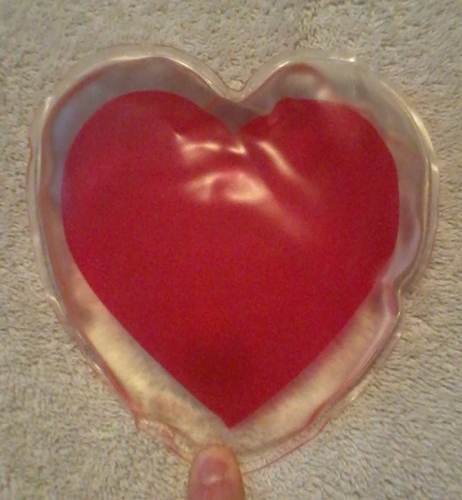 Back: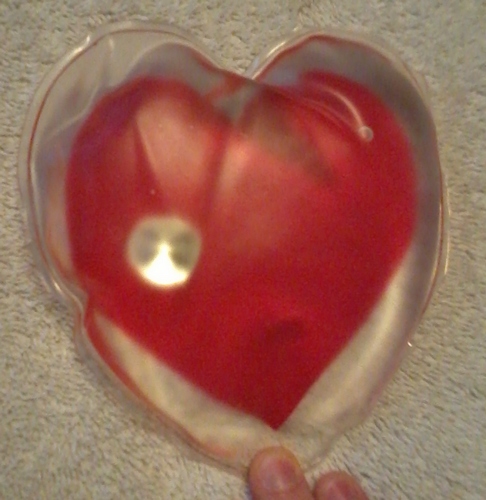 After the liquid has been activated: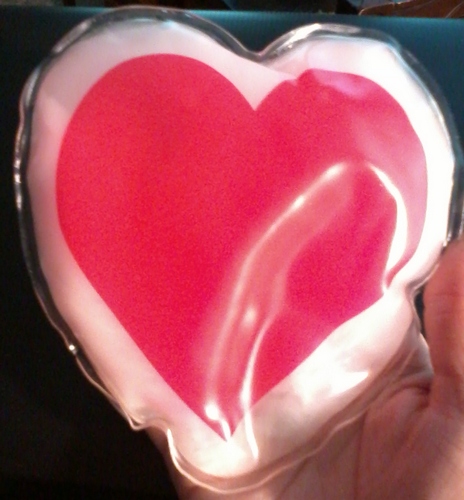 Performance:
After activating the liquid and crystallizing, the Heart's Desire massager becomes a little stiff, but if you work with it a little it will become more pliable. Once it's pliable it is ready to use, assuming it has been tested on skin for safety purposes first.
The massager glides along smoothly on its own, but if you would prefer extra slick gliding action you can use your favorite massage oil with it. Even water based or silicone lubricants can be used to give that extra slide to your massage.
It really depends on starting temperature and if you wrap it or not, but the heat from the massager will last for about thirty minutes to an hour after being activated, and probably about two hours after boiling. Just make sure you wrap it in a towel after boiling to avoid serious injury.
Since the warming massager is reusable, there is no limit on how many times it can be used, unless of course it happens to burst or get a hole in it somehow. Discard it immediately if puncturing or leaking occurs.
Experience
Care and Maintenance:
Cleaning the Heart's Desire warming massager is very easy: just wash with warm water and an antibacterial soap or toy cleaner. Dry off with a towel before storing, or follow directions for proper storage as found online when researched.
To store the massager just return it to its packaging after getting it back to its liquid state by boiling it and then letting it cool in the water. Dry it off once it's completely cooled off and store it away wherever you'd like keep it. Try to avoid storing it in extreme temperatures, as that may have an effect on the liquid inside the massager.
Packaging:
The massager was packaged inside a heat sealed plastic bag, that was inside a cardboard box with a flap opening on the top. This plain white cardboard box slides out of a cardboard sleeve that has all the information about the massager on it. The entire box, everything inside it, was shrink-wrapped for extra safety and insurance that the product had not been tampered with.
The sleeve clearly states the name of the product, has a picture of it on the front, and informs you that it is reusable. The back of the sleeve has use suggestions and instructions on how to properly and safely re-heat your massager. Also included on the back is a list of warnings, and the bottom side of the sleeve tells you it was Made in China and "No medical claims are warranted or implied by the use of this product."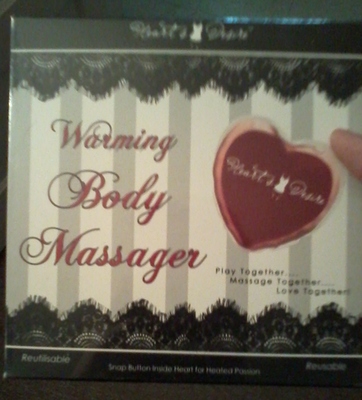 Experience:
The first time I snapped the metal disc nothing happened, and I wondered if it was supposed to take a while to heat up, so I sat there for probably about a good five minutes or so. After noticing nothing at all was happening, I decided to see if clicking the metal disc again would do anything and, much to my surprise, the activation was instant. It only took about 5-10 seconds for the entire massager to turn white and warm up. Definitely a handy little massager, since it's reusable and small enough to travel with.
Follow-up commentary
2 months after original review
I still love this warming massager, it's great for all sorts of massaging and warming needs. There hasn't been any tears or cracks in the material; so, there's no leaking going on.
This product was provided free of charge to the reviewer. This review is in compliance with the FTC guidelines.

Thank you for viewing
Heart's Desire warming massager
review page!