Warm My Heart!
The massager is great for using as a hand warmer or to get the blood flowing. It can help with tense muscles and even breastfeeding. Unfortunately, it's not a massager to me. I thought if it was like a glove and it warmed up to where you could massage, I think that would work better. I do recommend it as a warmer. I'm going to give it five stars, because I really like the warming feeling and it's re-usable.
Published:
Pros:
Warming, Heats quickly, Doesn't get too hot, Great at getting the blood flowing
Cons:
Not really a massager
Info
The heart's desire warming massager, by Classic Erotica, is still somewhat of a mystery to me. It comes in a 5" x 5" box that will explain everything you need to know about the massager. Of course, I am going to tell you all you need to know.
The massager comes with a small metal disc inside the heart that you crack open to activate the heat source the first time you use the heart. Instantly when you break the disc the heart begins to heat and after about one minute it's warmed up. It can heat up to about 129 degrees F or 54 degrees C. Before you apply to an area, you should test on a small area of the body to make sure it is comfortable for you to use. Once, you are ready for use you just slide gently all over the body.
The massager is also Re-usable, which makes this warming heart even better. To reuse the heart you place it into boiling water and let it sit for 7-10 minutes or until the crystals re-liquefy. Once the heart is ready, remove it carefully from the pot with non-piercing tongs. Then allow to cool to a comfortable temperature and begin use. Things to remember during re-heating are; do not leave the heart unattended, avoid damage to the heart by placing a small hand towel in the bottom of the pot before boiling, and do not allow the pot to boil dry.
There is a warning on the box. Do not heat in microwave. Do not use if heart is punctured. Discard if the heart leaks. Contents are non-toxic if swallowed. Do not use on sensitive skin or areas that are damaged, bruised, or swelling skin. Consult a doctor before use if you have poor circulation, heart disease, rheumatoid arthritis, or are pregnant. Discontinue if you experience pain or irritation. Keep out of reach of children and pets. The warning almost seems scary, but have no fear I don't see all of that happening. My wife is pregnant and we used this with no problem.
Extra Tidbits
This heart is made out of PVC. It's rated a two on the Eden scale, but I don't see this as a threat since you aren't trying to insert this anywhere. The heart is also very smooth, but has a scratchy edge where it seals the liquid in. The scratchiness isn't bad, I actually thought it felt very good. There is a plastic smell to it, but it doesn't bother me. The smell isn't strong.
I would also recommend using a massage oil in conjunction with the heart. Some other great ways this could be used are as hand warmers if you had two, feet warmers inside of a sleeping bag, on the back or abdomen to help with menstrual cramps, and placing the heart against the breast will help milk come down to make it easier to breastfeed. There are so many great uses for this warming heart.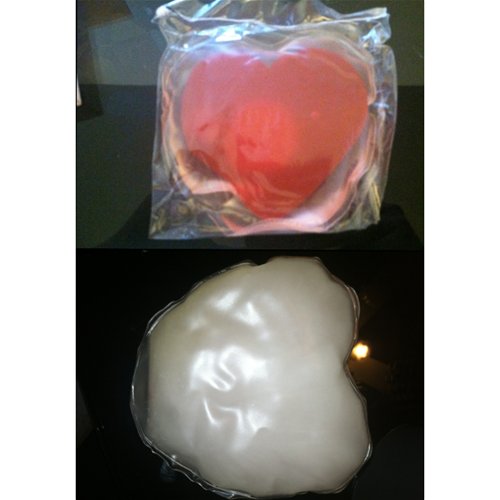 Packaging
The packaging is fairly discreet. It doesn't show anything naughty on the front or back. It also just says warming body massager on the front. So giving this away as a gift would be very easy or if you wanted to carry it around just slide the sleeve that contains all the details of the box then carrying it will be really easy.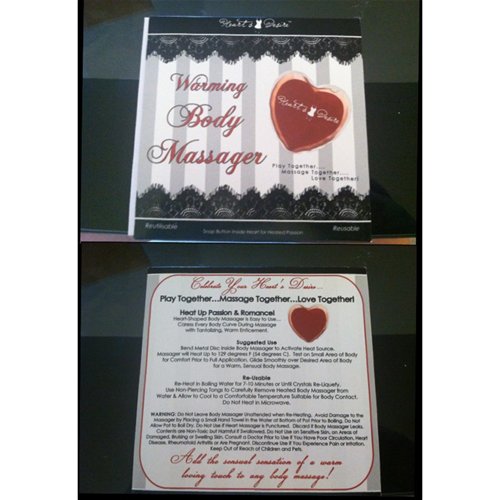 Experience
We had an amazing experience using the heart. It does almost everything it says, except massaging. This is more like those hand warmers you buy to go hunting or camping. It does work great though when it's warm and you are running it across your body. I could feel the blood flowing and my muscles relaxing. I would suggest moving this around for a bit, allowing the area to warm up and after a few minutes set it aside to massage the area.

I had no problem reheating and reusing. Just make sure you follow the directions so your massager doesn't melt to the pan. That would be a sad moment. Well it is bed time and the massager is reheating, so off to bed.
Follow-up commentary
9 months after original review
Very cool reusable hand warmer and nice massager for those specific spots that need massaging. It will keep that one place warm, also as I had mentioned before it helped my wife stimulate breast milk with the heat. So it does have many different uses and reusable.
This product was provided at a discounted price in exchange for an unbiased review. This review is in compliance with the FTC guidelines.

Thank you for viewing
Heart's Desire warming massager
review page!