Not for Everyone, but Not Terrible Either
These lubes come in cute durable bottles, but they are a bit hard to squeeze out. They are not flat on bottom which makes them hard for storage. I was very sensitive to these thin water based lubes!
Published:
Pros:
Smooth
Silky
Durable Bottles
Cons:
Bad Design
Ingredients
Price
Use:
These unique lubes have different purposes. Depending on if you like cooling or warming, there is one of each. It is ideal for clit stimulation, nipple, vaginal, and penis sensations. It can be used on the entire body, wherever you desire pleasure. The lubes can be used apart or together for a whole different sensation. They can be used with body parts by themselves or with toys (vibrator, dildos, etc.). The directions on the bottle say to only use with latex condoms.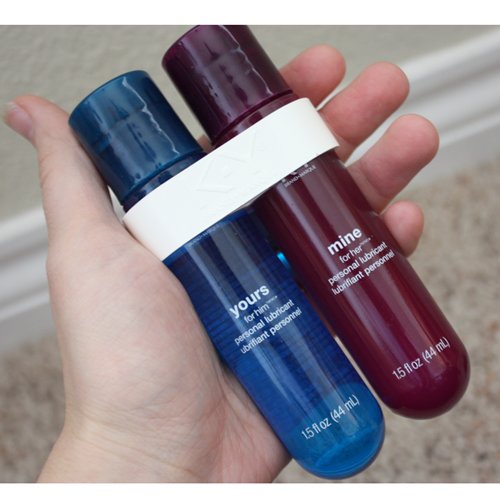 Texture / Consistency / Thickness / Viscosity:
This lube is water based and can be slippery and watery. The color of the lube is completely clear. Neither bottle of lube is thick, but medium to thin. They are both the same consistency. It can drip off your skin quickly if you use a large amount. This lube lasts a long time. Be careful of your sheets though - you might get them messy and greasy!
Taste / Aroma:
Unlike the texture, consistency and thickness, the lubes are quite different in taste and aroma. The KY mine (for her - the purple one) smells like menthol. It smells just like Bengay if you've ever used that. The KY yours (for men - the blue one) didn't have a distinguishable smell to me.
Although they are not intended for ingestion, I gave them a little taste. The KY Mine tastes kind of numbing - I think that was the menthol for ya! The KY Yours was bitter and bland. Neither taste was outstanding.
Performance:
Yours and Mine will last about 20 minutes if you put enough on. You will feel a tingling sensation from the blue tube and a warming tingling sensation from the purple tube. I found them a little too intense. Some might consider it uncomfortable. After about 20 minutes the lube is too thin, and sex can become rough. You may need to re-apply.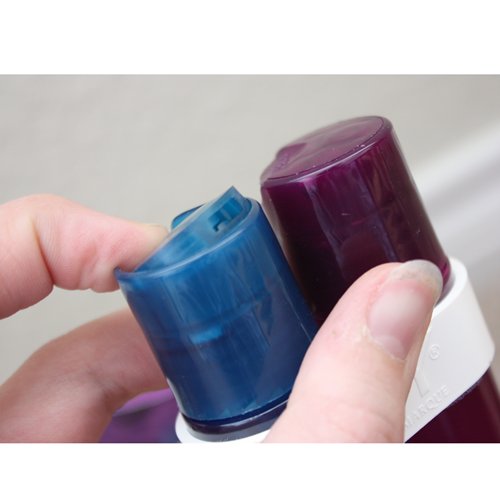 Packaging:
Yours and Mine comes in a narrow little black box with the a bright picture of the contents: two 1.5 oz. lubes. Inside the box you'll find instructions, the lube, and a locking device connector that keeps the lube together. (The picture in the description shows a black connector - I received a white connector!) The KY Yours comes in the blue. The KY Mine comes in the purple. Both have pop tops and are cylinders - they kind of look like science test tubes. The pop top is tight and should not leak. Since they are cyclinder they will not stand straight up, only can be set on their side, so make sure to close the lid to avoid leakage!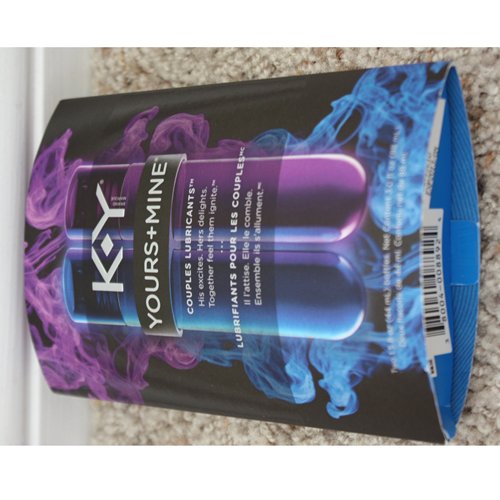 Volume:
3 fl.oz.
Special Features:
The List of Ingredients: Glycerin, Propylene Glycol, Maltodextrin, Honey (Miel), Methylparaben, Sucralose, Water, Propylene Glycol, Polysorbate 60, Hydroxyethylcellulose, Benzoic Acid, Menthyl Lactate, Methyl Salicylate, Parfum (Fragrance), Sodium Hydroxide.
After reading some other reviews, I found that you should be VERY aware of some of the ingredients like menthol and honey - because you might be sensitive to them. They have the potential to give you a yeast infection or cause break outs down there! So know if you have sensitivities or allergies to these ingredients! I didn't have any side effects, but I guess it is not uncommon!
My Experience:
Although the lube is on the pricey side ($27.99), I did enjoy it. I like the fact it comes it two bottles with two separate - opposite purposes. I did find the KY Mine to be a little strong on my sensitive zones (clit and inside vagina), but it worked well on my nipples and other body areas. I enjoyed the KY Yours more, and my husband favored it as well. They lasted a descent amount of time, enough to get us off!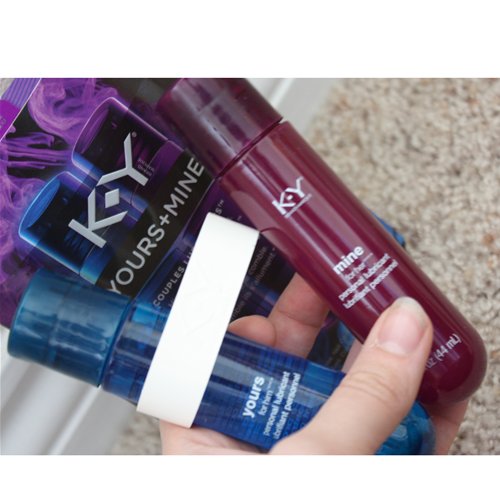 Follow-up commentary
5 months after original review
Talk about a burning sensation... sometimes? I don't know what the deal is with this stuff, but sometimes it burns and sometimes it is alright. It burns mostly when I use it on the outer parts (clit) or I feel the burn with toys. When we used it during sex, I didn't seem to feel the burn (maybe I was distracted?). It doesn't make much sense. but there is nothing worse than loosing sensations due to awful lube. So I really avoid this stuff unless it is the only thing there to grab. We prefer ALL other lubes before this one.

Also, it leaks! So unless it is completely upright, it will leak all over your counter, bed, bedside table, drawer... or all of the above. What a mess!
This content is the opinion of the submitting contributor and is not endorsed by EdenFantasys.com

Thank you for viewing
K-Y yours and mine
– lubricant review page!