SINfonia, yea I would say they got the name right.
It should be a sin for a toy to be this AWESOME... I absolutely adore my Sinfonia. It's very cute and comes awesomely packed. The Sinfonia is made from silicone and plastic. When I first ordered this I thought it was more of a red tone, yuck, but thank god it's totally PINK. So Cute!! :) I definitely think that they got the price right on this one, it's well worth it. The vibration patterns are what I would call "different" but very satisfying.
Published:
Pros:
Multiple vibration patterns, easy to clean, buttons easily accessed, and a bunch of ACCESSORIES!!
Cons:
The battery cap is a simple twist off instead of a laced screw on.
The Sinfonia is a g-spot vibrator with pin point precision. Made almost completely out of
silicone
this vibrator is definitely one of high quality. The only part that is not made from silicone is the base where you insert the batteries; it also has the control buttons, made from silicone, on it.
The Sinfonia
The shaft of the Sinfonia has a slight curve, which allows for the tip to easily rest upon your g-spot. If you don't like it or you can't get off to just a constant vibration on your g-spot you can thrust it in and out; letting the tip of the Sinfonia run across it. Now if you have yet to find your g-spot this vibrator is not one that will help you to find it easily (since the tip is so small). But it is still one
amazing
vibrator. It starts out at approx. 2 1/2 inches at the tip and then widens out to approx. 5 1/2 inches at the base (measurements are based on the circumference of the toy). The total length of the shaft is 6 inches (8 inches including the plastic base).The plastic from the battery case also encases the bullet; this extends half way through the silicone shaft. You can tell where it ends because the silicone will become bendable. To test its resiliency you can bend it backwards; however I would not recommend it to be bent
all
the way back. This could cause a tear in the silicone and ultimately ruining it.
Now the base of the Sinfonia is a simple twist off cap; it's not laced like a screw on cap so removal is quick and easy. Now some might worry that it could come off during use, and their right it can come off. But not to worry because the rubber ring under the cap not only keeps water and moisture out it also allows for a tight snug fit when closesd. You can make sure that it stays in place by always making sure that when it is submerged in water that you do not twist the Sinfonia. I have had mine for a little over a week and it has had plenty of use in water; and I have not had an issue with water seeping into it or the cap coming off during use. :) It took me a minute to figure out how to insert the batteries; and as soon as I figured it out.. tada.. there it was inscribed on the plastic. (I know I'm a little slow sometimes.) You can also find out how to insert the batteries inside the instruction manual.
Now there are 8 different vibration levels; some of which are rather irregular. Here is a picture of them from the book followed by a description of each level.

Steady Vibrations
Level 1
- Low steady vibrations
Level 2
- Medium steady vibrations
Level 3
- High steady vibrations
Vibration Patterns
Level 4
- Revs up to level 3 and then drops down to 0 (and repeat)
Level 5
- Pulsates at level 3 (and repeat)
Level 6
- Pulsates from level one up to level 3 and then does 3 quick level 3 pulsations (and repeat)
Level 7
- 5 quick pulsations at level 3 then a steady level 3 vibration (and repeat)
Level 8
- Level 3 pulse, a shorter level 3 pulse and 4 quick level 3 pulsations.
Packaging
The Sinfonia's packaging is what I would call "High Class". On the front of the box is a picture of the Sinfonia, along with a couple in the background. Also on the front is the Close2you logo at the bottom. There is a flap on the front that opens up to show you the Sinfonia resting in it's foam cut out. The front is held down with two magnets one near the top, the other near the bottom. When I first opened the flap on mine I couldn't wait to open the drawer and check it out. I must admit that when I saw it online the Rose Sinfonia looked more red than pink; but in person it is a lovely pink color YAY (similar to the rose colored MIMI). The back of the box tells you what material it is made out of, and a brief intro to the Sinfonia in 10 differant languages.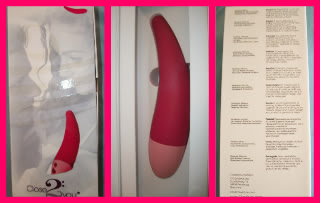 Continued in Experiance...
Experience
Now the box that the Sinfonia comes in has 2 drawers that open from the side. The first one holds the Sinfonia itself, snuggled nice and comfy inside of a foam cutout. And the second drawer holds all of the accessories!! Yay! You have to love accessories. The Sinfonia comes with two AAA batteries, a small bottle of Glissando water based lube, a toy cleaner wipe, instruction manual that comes in 10 different languages, a purple velvet storage pouch, and a purple silicone cock ring. As a matter of fact
every
Close2you vibrator comes packaged like this and also with all of these accessories. Wow what a deal!!

The storage pouch is a deep purple velvet material; with a double drawstring closure at the top. This pouch is by no means cheaply made. Sometimes velvet pouches tend to leave lint on silicone toys when they are stored in them. However this one doesn't which makes it a great place to keep your Sinfonia.
The instruction manual comes in 10 different languages:
German
English
French
Italian
Spanish
Nederlands (spoken in the Netherlands)
Danish
Russian
Polish
Portuguese
Okay now on to Cleaning and Storage. To clean the Sinfonia you can use toy cleaner, a toy wipe, or even some mild soap and warm water. Simple huh..? :) Make sure that you dry off the Sinfonia before you store it away; a lint free cloth would be your best choice. You need to store the Sinfonia in a dry place away from moisture and direct sunlight. The storage pouch that is included with the Sinfonia is a great choice for storage; or you can even leave it in the box along with all of its accessories.
I hope that everyone who orders a Sinfonia enjoys it as much as I do!!
This product was provided free of charge to the reviewer. This review is in compliance with the FTC guidelines.

Thank you for viewing
Sinfonia
– g-spot vibrator review page!