This vibrator doesn't make my pussy smoke
Dear Jopen, you've almost made the perfect rabbit vibrator. But what is with that whimpy clit motor? Your vr6 is waterproof, rechargeable, neon magenta colouring, perfect g-spot vibration... the only problem with your vr6 is that whimpy clit arm!!!
Published:
Pros:
g-spot arm is uber strong, nice and thick, waterproof
Cons:
whimpy clit arm, control panel is different from others
My experience with rabbit vibrators has been... somewhat bad.
My first ever rabbit vibrator shorted out while in use and resulted in a
smoking vagina
. So I really was hesitant to buy a rabbit vibe especially one at the asking price of $154.99. But I'll get to that soon!
Technical details first:
Material: silicone. He is not made out of 100% silicone through and through, I think he is silicone covered hard plastic. He feels more like a Lelo toy over a Fun Factory vibrator. This means he is not squishy and he has no give. However; he bends at the thinnest part of the insterable portion, making it a little on the challenging side to apply pressure to your g-spot. The clit arm is flexible both up and down and side to side making it easy to place it where you need it. The silicone is velvety, providing lots of drag.
Size:
Total Length: 7 1/2 inches
Insertable Length: 4 1/4 inches
Clit arm length: 2 1/2 inches
G-spot circumference: 5 inches
Clit circumference: 3 1/4 inches
Colour: my pictures all show the Jopen line to be an almost a dull purple colour. Sometimes a pink. BUT he is an almost neon magenta. Such a vibrant and intense colour. Some of the pictures I've seen and taken show the colour to be similar to the Lelo rose, but they are so so so very different. The rose is dull. The Jopen is vibrant!!!
Power Requirements: The entire Jopen line is rechargeable. The input is 100-240v 50/60Hz making it internationally friendly. The metal prongs will fit into power bars, but Aussie Landers might have to buy a prong adapter. When you plug it in for the first time, you have to let it charge till the red recharging LED light turns off. For me, it took about five hours for it's first charge. A fully charged battery, lasts about four hours on high. To recharge, the port is located on the back neck of the toy.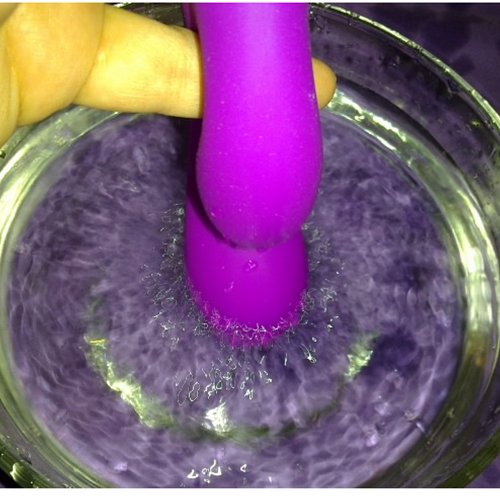 The Motors: The vr6 seems to have two different motors one in the g-spot and one in the clit arm. The g-spot motor seems to be a deeper and a more thumpy vibration than the motor in the clit arm. The g-spot motor is wicked deep and strong. (Yes, I used the phrase, "wicked deep and strong") The cit arm motor is weaker, (almost whimpy in comparison) and I found it a little buzzy. I do find that the clit motor is stronger when the g-spot motor is off. When I work both motors, the clit motor seems to weaken it's intensity. The picture, is of the Jopen on high in a bowl of water.
Control Panel: Two buttons control the whole toy. There is no dedicated on/off button and the two buttons that are there do require a slight learning curve. Unlike all other toys I've had where you click and hold to turn on, then press the "+" or "-" to increase or decrease the power vibrations, these controls I am not too keen on. You click once, and the toy turns on. You click it again, it turns off. If you want to increase the power, you have to click and hold. The red lights blink until you reach it's highest power level approx six seconds. Just remember. If you lift your finger from the buttons, if you press the button it will turn off. It takes some time to figure it out. (On a personal note... I am not keen on the whole vr6 control panel, but it is soooo worth figuring out!!!)
Packaging/Storage: The vr6 comes in a very cheap white box. Included in the box, you get some literature, a catalog of the Vanity line, the recharge plug and a large black storage pouch. I store the vr6 in the storage pouch that it came with. To me, he looks very much like a sex toy, so I'd not suggest leaving him out for company to see. Unless the company is interested in toys that is.
Cleaning: I use hot water and a mild soap to clean the vr6 and then let him air dry before I put him in the pouch to store. Have no worries about tossing him in the sink filled with water, the vr6 is totally waterproof.
Lube: I'd personally suggest water based lube. I use Fun Factory's Toy Fluid only with the vr6.
Level of Play: Because of the various intensities of vibration, I'd suggest this is a great toy for any level. From those who like light vibrations, to the power queens out there. However; the clit motor in my opinion falls a little short as I prefer deep vibrations on my cit to the buzzy kind.
Experience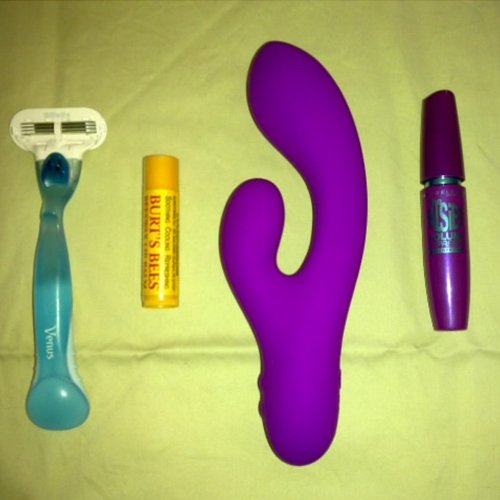 A pretty picture comparison for you all, and below a comparison of some other luxury toys.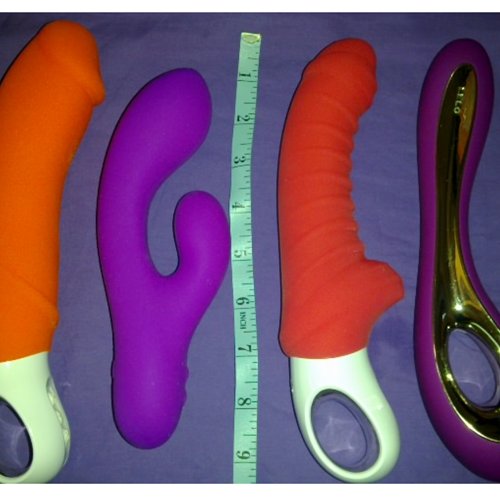 Even though looked at all the spec's on the product page, and I read all the reviews that were listed, this was my first vibrator since I had my incident with a cheapo rabbit I bought in China, where it shorted out while in use and my vagina started smoking. So you can imagine my hesitation at buying my first rabbit style vibrator since that incident.
But was it worth it? The astronomical price? The cheap packaging? YES!!!
Even though I read all the specs, I never thought that it would be this small. I thought it would be a little bigger, longer even. I have to admit when I first saw the size of the vr6, I was so very disappointed. I've always found that shorter length g-spot toys, they don't always work or provide me with much satisfaction because when you go to thrust, they miss their mark.
Little did I know that I'd not be thrusting much with a rabbit vibe.
Using a rabbit vibe for the first time, there is a huge learning curve to try to figure out how to make it work with your anatomy. Usually using a traditional vibrator or a g-spot vibe and a bullet vibe on your clit, just requires so much effort (for lack of a better term). You've got to hold it in place, but the size of the bullet vibe might slip because of it's size. Slip in your hand, slip off your clit, slip and fall out of your hands. Having the clit arm on the vr6 and it being flexible is a great idea. It provided more than enough pressure just where I wanted it without requiring lots of effort.
For me, using it, I found little thrusts sort of like a rocking motion worked best to have the bulge massage my g-spot.
Over the past few weeks, I've actually come to the realisation that if Jopen wants to make the perfect rabbit vibe, they need to get rid of that buzzy clit motor and replace it with the same motor that is in the g-spot bulge. For me, and from all the reviews I've read here at EdenFantasys, it seems women prefer the deeper vibrations on their clit's over the buzzy kind. I know I do!!!
For me, I am looking at buying the vr2 or the vr8 and trying to find a way to use it with the vr6. That big motor just makes me squirm and it is probably the most intense motor I've ever had. I feel it is deeper and stronger than the G4 line, and so much more intense than the Isla. To me, I don't really see the point in getting another Lelo toy if their motors are anything like the Isla. There would be no point. I'd rather buy more Jopens!!! I also prefer the Jopen over the Eroscillator Deluxe.
Follow-up commentary
1 month after original review
HOLY SWEET JUMPING JEEBUS ON MOUNT FREAKING OLYMPUS!!!!

I don't like the Jopen Vanity vr6. I LOVE IT!!!! And yes. I have broken a few rules by typing all in caps. But that is just me really screaming about how much I love this guy.

Well... I still hate the whimpy clit arm. But that g-spot motor? I am in love with it and the vr6 really has become the only vibrator I bother reaching for anymore. If you have followed my blog, or you have read me in the Forums, you know I have been in love with the G4 Tiger and its previous incarnations for quite a number of years. All my Fun Factory toys have been replaced.

I still hate the clit arm. I really really do. But in my opinion the g-spot motor makes up for it in spades. My good news? I am upgrading to a different Jopen that is not a rabbit style vibrator for that strong vibrator. I am thinking of the vr9 or the vr2 (I am leaning towards the vr9).

So let me be the first to tell you, if you enjoy strong and deep rumbly vibrations, and want something better than any of the G4 line, better than anything Lelo has out, better than any of the Zini line, better than the Fairy Wands, better than the Eroscillator... hit up something from the Jopen line. It's the strongest and deepest vibrator I have in my collection.

Spoil your clit! Get a Jopen! I wish I had a car. I'd make that a bumper sticker.
This content is the opinion of the submitting contributor and is not endorsed by EdenFantasys.com

Thank you for viewing
Vanity Vr6
– dual motor rabbit vibrator review page!