This Former Girl Scout Approves
You won't receive a merit badge, however you will gain an understanding of bondage from a slew of safety guidelines, 13 knots, and 24 ties. And who doesn't like sexy margin space for note-taking?
Published:
Pros:
+ Designed for beginners
+ Emphasis on safety
+ Supplementary site with videos
Cons:
- Black & white pictures
- Very few ties for the male body
- Size and binding of the book
Overview:
Known as the Two Knotty Boys (TKB), Dan and JD collaborated with several people to bring this book together, such as: Larry Utley, photography; Ian Phillips, cover and interior design; and Anyssa, the cover model. As rope tops on the kinky scene since 1999, these two men have had a good amount of hands on experience with bondage. Although TKB retired in August 2012 from workshops, their legacy continues on in their first publication by Green Candy Press.
This book does NOT teach suspension.
I cannot stress this enough because safety is top priority with bondage. Do not attempt suspension without proper literature and training, such as Douglas Kent's
Complete Shibari Volume 2: Sky
AND attending suspension workshops. Even if you are not attempting suspension, I would suggest finding a mentor and/or attending workshops for bondage in your community because having another pair of eyes can help spot a faulty knot, a tie that is too tight, etc.
The book's specs:
Only available in paperback
, the book is 79 pages with all the
photographs in black and white
. The sequel,
Two Knotty Boys Back on the Ropes
, has color photographs; it is no longer available on Eden Fantasys.
Because it does not have Flexi Cover binding, the book
will not lie completely flat
. A tool I learned to use while playing piano that will flatten the pages is a
page holder
, which can be bought at music stores or online. This book is
not discreet
because of its size and the front cover. At 10 ¾" long and 8 ¼" wide, it's a bit too large to be a nightstand book in comparison to a smaller book (see below).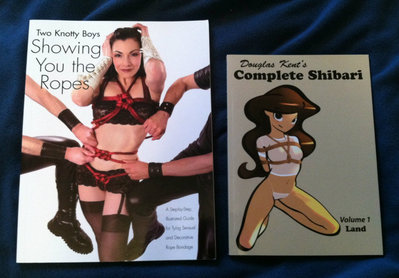 Preface Section:
A short Foreword by fellow bondage handbook author
Jay Wiseman
and acknowledgements start off the book, to be followed by this TKB motto in the Introduction:
"You're not tying rope; you're tying people."
TKB explains that their desire is to share their wisdom regarding step-by-step explanations they would've found helpful when starting out.
Before any knots or ties are taught
, "Rope Bondage Safety" outlines some key dos and don'ts including: make sure the restraints are not too tight by following the
"two fingers loose" rule
, having a pair of EMT shears (found at pharmacies), and open communication. "A Few Lines About Rope" wraps up the preface by discussing the most common types of rope (nylon, cotton, and hemp), as well as size and how to take care of rope.
An example of the style of instruction:
There is a uniform format throughout the book that includes: name of the knot/tie with a summary of its uses, rope length and diameter suggested, a picture of the completed knot/tie, and a numbered step-wise process with pics and captions. The language of the instructions focuses on
visual analogies
, e.g. "...place the right-hand rope over the
P
so it looks like a pencil in front of an eye,"
to help remember certain steps
. I found this helpful when I do not have the book in front of me. Did I complete the
Double Coin Knot
below in my first go? No, but I did on my second try.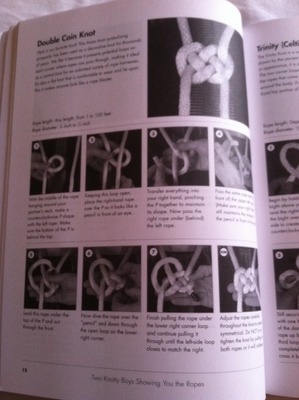 The chapters:
1 //
The Knots
If the Basic Bondage chapter is the bread-and-butter, then these 13 knots are the dairy cows that get the whole process started.
2 //
Basic Bondage
These 7 ties are the bread-and-butter for limb restraints (plus a simple harness), including one of my favorite limb restraint, the
Cat's Paw
because it doesn't strain my wrists.
3 //
Decorative Bondage
Thought bondage was restricted to immobilizing ties? This chapter might be an eye-opener with 6 ties, especially the
Rope Gauntlet
which is great for displaying bondage pride.
4 //
Dominance Bondage
As the title implies, this chapter is mostly harnesses and gags that can be used to reinforce a scene involving dominance and submission. These 7 ties restrict body movement more than the ties in other chapters and includes the
Double Coin Knot Bra with Wrist Tie-Back
which has a rope leash as the tie-off.
5 //
Sex Bondage
The smallest section, this chapter has 4 ties designed for use during sex such as the
Seated Chair Tie
, great for restraining a male partner and being on top.
A few added perks are a glossary and suggested readings near the end of the book.
Two Knotty Boys Showing You the Ropes (the book) vs. the online videos
You might be asking yourself, "Why buy a book when I can watch tutorials
online
for free?" A valid question.
I would persuade you to do both.
1.
Unlike the videos, the book has captions with the corresponding photographs.
2.
The book is portable without needing an internet connection.
3.
The margin space for personal notes.
Experience
In 2010 I discovered that I had an interest in bondage, so I decided to watch TKB's online videos and I liked them. After taking a hiatus from bondage, I decided I wanted to invest in reference material as a refresher and to try new ties. Most of the time I am the one doing the tying (with a male partner), so I am disappointed that there were only a few specific male-bodied ties. However, this seems to be common in most bondage or shibari literature because traditionally rope bottoms are female.

In regards to the sexy margin space, I use it to take notes on when I want to learn the tie, did I prefer the smaller diameter of the suggested range, etc.
Follow-up commentary
8 months after original review
Since buying this book last fall, I had the opportunity to skim over the sequel, Two Knotty Boys Back on the Ropes (2011), at a play party. I was surprised to see how many knots and ties were covered, 61 to be exact (24 more than the previous book).

Published 5 years later, Two Knotty Boys Back on the Ropes feels more polished in comparison because of the color photographs and greater variety of bondage ties. Although I do still like Two Knotty Boys Showing You the Ropes, I would really only recommend it to beginners to bondage because 37 knots and ties can be learned rather quickly in comparison to 61.
This product was provided at a discounted price in exchange for an unbiased review. This review is in compliance with the FTC guidelines.

Thank you for viewing
Two Knotty Boys Showing You the Ropes
– book review page!