Two Knotty Boys Review
I got this book because I had no idea what to do with the rope I ordered. Now I can't wait to get more rope so I can try everything in this book! It has five wonderful sections of rope tying, each with it's own beautiful rope work. You'll go from knowing nothing about rope to making amazing rope designs like these guys, from the Over & Back Harness to the Rope Panties!
Published:
Pros:
Step-by-step illustrations and instructions, a lot of different knots and rope designs
Cons:
You need a lot of rope for most of the designs
I'd like to start off by saying that I really don't have that much experience with rope work of any kind. I had gotten some silk rope from EdenFantasys and when I got it out of the package, I realized that I really had no idea what to do with it. I had heard good things about the Two Knotty Boys before and I had watched a couple of videos of them, so I figured I should try the book too.
Think about when you're on your computer and you look up "How to tie a tie". Generally, you get crudely drawn pictures, that don't show you what's happening at all, and a description that leaves you with a knot in your tie and no idea how it happened. This book isn't like that at all. It gives you step by step instructions, and pictures of how they're doing it with actual rope on actual people.
Just like this: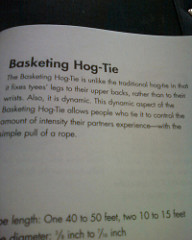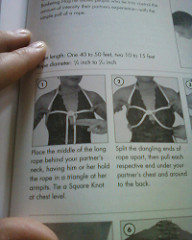 There are five different sections, all with several different kinds of rope designs. The sections are: The Knots, Basic Bondage, Decorative Bondage, Dominance Bondage, and Sex Bondage.
Some of the knots look a lot more complex than others, but with the guidance of the authors you'll be able to make beautiful rope designs as well as them. For most of the designs you do need quite a lot of rope - anywhere from 20 feet to 80 feet. I only have 6 feet, so I'm unable to do the very complex rope designs. They show a few small knots in the beginning that you can do with any length that aren't very hard to do.
The cover isn't very discreet at all. It shows a woman with rope arm cuffs, a rope bra, undies, and belt, and two sets of hands pulling the ropes. So if you leave it sitting on a coffee table, someone's going to know you're into rope play. Especially because in the corner it says: "A Step-by step, illustrated guide for tying sensual and decorative rope bondage".
If you're looking to spice up your love life with a little rope play, and have no idea where to begin, maybe you should give this book a try. Even if you're experienced with rope, you may want to have a look. They can probably show you things you've never seen before.
Remember, when using rope always have a pair of safety shears around, in case you need to get out fast.
Follow-up commentary
2 months after original review
Still a great book. It has it's own spot on my shelf, where I'm hoping it hasn't been noticed by too many people. Sadly, I haven't had a chance to experiment with everything in the book yet, but I really can't wait!
This content is the opinion of the submitting contributor and is not endorsed by EdenFantasys.com

Thank you for viewing
Two Knotty Boys Showing You the Ropes
– erotic book review page!