A Final Touch
Dona rose petals are a really sweet addition to a sensual evening with that someone you love. Whether you're planning an evening at home or away, these petals are a delicate touch to a beautiful evening! The petals aren't the best quality and the raw edges make the petals fray, but as long as you don't mind cleaning up the little strings left behind, these are a fun buy for you and your special someone.
Published:
Pros:
- Reusable
- Decorative
- Multiple Uses
Cons:
- Raw Edges
- Quality Concerns
What It Is
Dona from System Jo is a line of products that are designed to help set the mood with their sensual body care and aphrodisiac infused items. Each of the items has a step to help you get well on your way to creating the perfect sensual experience. There are five steps;
Relax, Nourish
,
Cleanse, Illuminate
, and
Engage
. Dona Rose Petals are designed for the final step in your sensual evening, the engage stage.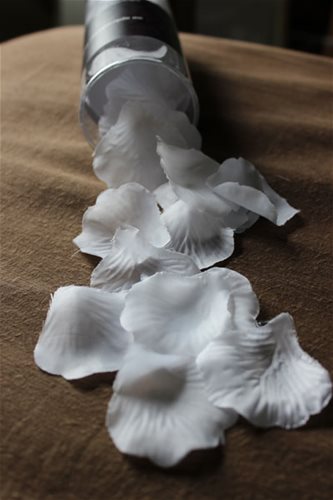 Use/Design
Dona Rose Petals are very different from most of the products in the line. Unlike the other items, these aren't actually
infused
with any type of aphrodisiac, nor are they scented. This simple product is designed to be used in a very simple way; to help set the scene for a romantic evening or to be used as a decorative item.
Create a trail that leads your lover to a candlelit dinner, a path to a warm bubble bath, or straight to the bedroom. These petals can be spread randomly, shaped as a heart, and if you purchase enough you could even spell out a message with them. They make an excellent filler in a romantic gift basket, can be dropped by a flower girl at a wedding, and look beautiful spread out on tables at receptions and anniversary parties. Get creative and use your imagination! There are a variety of things these sweet looking petals can be used for.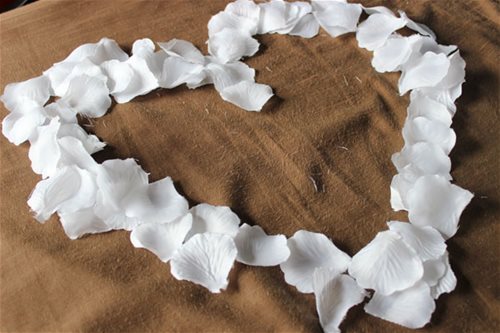 If the fact that these petals are scentless bothers you, you can always spray them with your favorite perfume or room spray. Lay them out and spray over them, once they're dry put them back into their packaging and close the cover. The petals will then be scented with the spray and it should last a long time.
Material/Texture/Size
These petals are made out of
polyester
and are available in six colors; pink, coral, pink/white mixed, black, red, and white. Polyester is a great material for these petals since it's durable and can be used over and over when properly cared for.
The material feels pretty smooth, but does have a light texture to it. Some of the petals are nearly smooth, but others have veins and wrinkles. They also aren't flat but are shaped like actual rose petals. The edges are sort of randomly scalloped and then have angled edges that come to a soft point. They are fairly thin and slightly transparent, but you can't see completely through them. There is also a light stretch when you pull on either side of the petals.
The petals are all slightly different in size but are approximately 2" tall and 2" wide at the largest areas. They are naturally sized which gives them even more of an elegant look.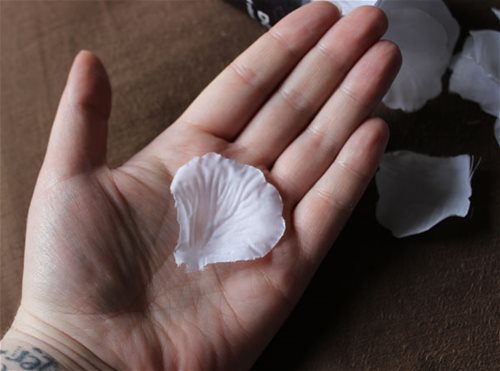 Quality
The biggest issue with these petals is that they fray and leave all sort of little strings wherever the petals are placed. The edges are raw so there's nothing preventing them from coming apart. It doesn't seem like they will completely fray and turn into a pile of strings, but each piece does have areas where the material is coming apart. This is fine if you're using it once in an area where you can easily sweep them all up, but it can be a little frustrating if you're placing them on a bed or other fabric surface since you would then need to brush off the strings once the petals are removed. You could try to singe each of the edges, but this would take a long time since there are so many individual pieces. It doesn't seem worth it to try, but certainly would be okay since polyester won't burst into flame. It will shrink away from the heat source. Still, use caution if you plan on trying this.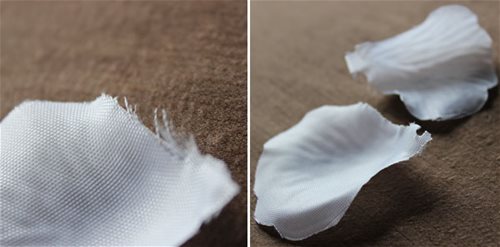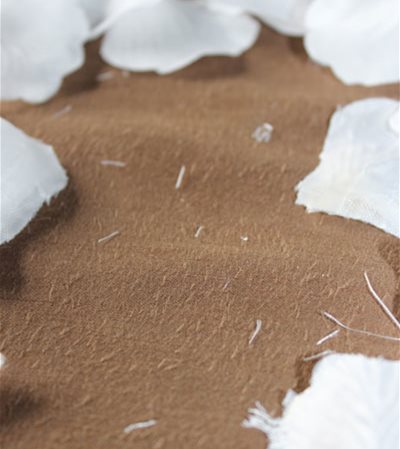 Experience
Packaging
These fabric petals arrive in a clear plastic tube with a cap on the end of it. The label has the same look as the rest of the Dona line; a purple colored background and a black lace pattern over it. The label isn't discreet and prominently states that it's, "an aphrodisiac infused ritual". This product itself isn't aphrodisiac infused, but it's a part of the rest of the line which is. The rest of the label mentions sprinkling them around the bedroom, and gives a little company information. It's not a discreet label, but it's not exactly inappropriate. It would be safe to assume this product is used for some type of a romantic plan, but if you would rather keep that private, the label can be removed or the petals can be transferred into a plastic sandwich bag. Putting them in a bag also makes them a little more travel friendly since it's easier to slip them into a suitcase or purse if you're planning a special night away from home. The packaging can be recycled with the rest of your plastic items if you choose not to use it.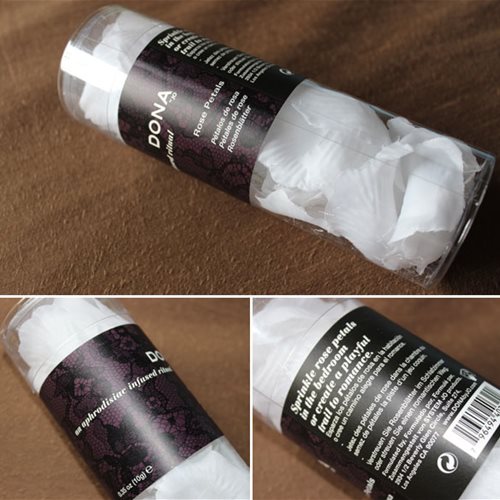 Experience
I grabbed the petals to jazz up all the adult gifts I gave my husband at Christmas. They were just the thing to make the gift look that much more presentable and sexy. He overlooked them, but I thought it was a cute addition to the gift. I put them back into the container and will be using them for a sensual evening together again. It's great that you can use them multiple times and for different purposes, but they won't last forever. The little strings that come off the petals are annoying and I've refrained from using them since because I haven't wanted to deal with the mess.
Should something spill on one (or some) of the petals, you can either toss them, or try cleaning them with some soap and water. They are pretty resistant to liquids and shouldn't stain. Though if some do, it shouldn't be a very big deal. My tube came with 77 petals, but the amount will vary slightly.
This content is the opinion of the submitting contributor and is not endorsed by EdenFantasys.com

Thank you for viewing
Dona rose petals
– sensual kit review page!