Doesn't Smell so Rosy
Want to add some extra romance whenever the feeling strikes? You might want to consider some reusable rose petals by Dona. They might not look real and they can reek at first, but it is easily corrected. You sacrfice realism for versatility and options.
Published:
Pros:
Affordable, reusable, can add some romance.
Cons:
Not that realistic, need to fix smell.
Dona has rose petals too?
The Dona line does its best to be all inclusive. Dona is a bath and body product line run by JO (they are known for their lubricants). In addition to edible products, lotions, washes, shaving needs and more, Dona also has these rose petals. They are not scented with any of their fragrances. Instead, these rose petals come in different colors such as white, red, pink and peach.
The smell can be helped, though! While some might prefer the use of real rose petals, there are benefits to using these fabric ones. They are reusable. To could use them in a tub and they can be dried fine. Clean up is more of a breeze. These petals won't break up and get dye anywhere. If it's how, these petals won't wilt and die. If you're a romantic, you can travel with these petals and won't have to worry about border inspections. Some locations won't allow you to travel with plant matter, but you can travel with these petals. They are also cheaper than buying rose petals themselves.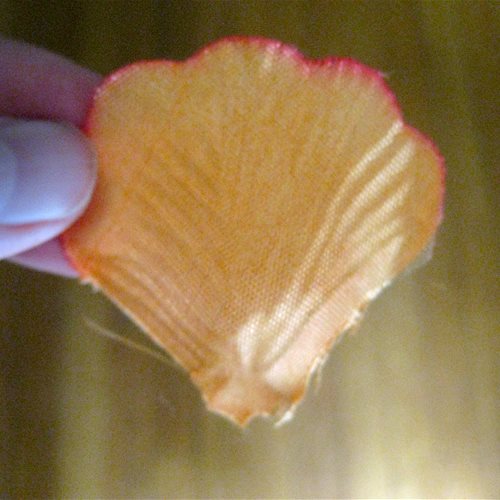 As you can see, the petals are fabric. They remind me more of a sea shell close up as opposed to a rose petal. Then again, rose petals do have a form of striation, just not as much as these fabric petals do. You will also see some frayed or extra ends on the petals. They will not unravel at the drop of a hat or anything. If the appearance of the loose ends bother you, you can simply grab a pair of scissors and snip the extra fabric off. Do note that this could be time consuming since you have quite an amount of rose petals and each one tends to have a couple of stray strands on it.
You mentioned scent. How did they smell?
This was really my only gripe with these petals. I didn't expect the petals to actually smell like, well, roses (that would have been a super awesome plus, but it would not have lasted long anyway when you think about it). However, be prepared to jump back if you get a whiff of these petals without assisting them. The smell is hard to describe. They smell like burnt factory smell mixed with some other rank smell I can't identify. It might have been the plastic container that was the culprit (at least the inside, you couldn't really smell much from the outside). Do not sprinkle these around the bed without curing them of their foul odor. The odor will ruin your planned sexy times.
You can remove the smell of the rose petals in a few ways. If you want to use these petals within a few hours, you can wash them. To wash them, pour your petals into a pillow case or similar item and tie it tight. This will keep rose petals from being a crazy confetti in your washer. Use a great smelling detergent and use a light wash cycle. Then you can spred them on your bed and let them dry. Since the plastic cylinder is fairly bulky, you can change where you house the petals. You can place them in almost any container, but a drawstring pouch might be your best bet. Make sure the petals are dry when they are stored. It doesn't hurt to throw in a paper towel with the petals or leave the bag partially open to make sure things are dry. I bet you could throw the petals in the dryer on a tumble setting with the pillowcase, but I prefer not to.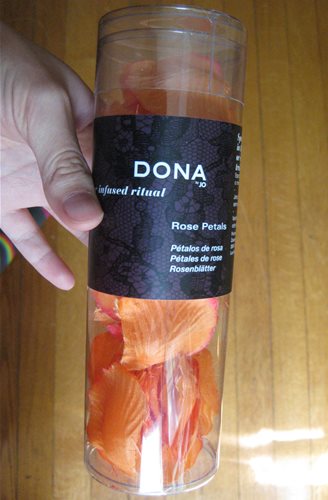 Another thing you could do to change the smell is throw in a piece of dry soap in the container. The better and stronger smelling the soap, the better. Over time, the petals will absorb the smell of the soap and lose their offensive odor. However, it could be a turn off to some to have their sexy rose petals smell like soap. You could wash the petals with a non scented detergent and then spray a desired scent on them.
Experience
Overall, I think these petals are a good deal, especially if you don't want to deal with real rose petals. Some people do have allergies to flowers and this could be a great alternative to them. It could be sad to discover the scent of these petals, so it is best to get them and change their smell before using them. The smell issue is easy to overcome. This is a nice product to have on hand. You can make a sexy trail to the bedroom or bathtub. You can create the traditional heart on the bed with them (putting chocolate in the center of the heart is a plus). You can throw rose confetti at your partner. You could throw it in the tub to spoil yourself. There are quite a few options.

I enjoy having this product on hand. Since they have been "detoxed," I can use them whenever the urge strikes without issues. My partner and I are not the most romantic people, but I can use the rose petals as a form of communication. If I use them to make a trail or put them on the bed, it inspires my partner to me more slow and loving during our sessions. It sets a certain tone, if you will.
This content is the opinion of the submitting contributor and is not endorsed by EdenFantasys.com

Thank you for viewing
Dona rose petals
– sensual kit review page!