My lovely little candle!
Want a candle to set the mood with its flickering light? A candle to keep you company at your desk? A candle that will make your bath a wonderland of amazing scents? The Champagne Lights candle by Kingman has you covered!
Published:
Pros:
Fantastic aroma
4 scents to choose from
12-hour burn time
Cons:
Possibly expensive for the size
Scent won't fill a large room
The
romantic candle
by
Kingman
comes in 4 different scents: French Vanilla, Champagne Rain, Midnight Romance and Apples & Cinnamon. So far I have owned 3 other products by this manufacturer and have not been let down!
Of the 4 scents available, I chose the
French Vanilla
. The candle weighs 4oz and isn't as big as you'd expect for something which is supposed to burn for a total of 12 hours. This candle is all-natural, disposable, contains pheromones and is a sensual enhancer, according to the product page. Pheromones are meant to be subtle, and not really noticed at all. They are meant to affect you naturally, so I can't say whether or not they worked, but I certainly did enjoy this candle!
PACKAGING
Inside of my Eden box the candle was wrapped in regular brown paper to keep it safe and from breaking. The candle itself is inside of a glass jar with a tin lid. The jar is round and barely taller than a dollar bill if the bill is lying horizontally. It is about as wide around as a soda can. The clear glass jar allows you to see the wax inside which looks really neat when you first get it! On the front of the jar it says "Champagne Lights scented candle with pheromones". I'd say that this is fairly discreet, as not too many people will question pheromones these days. There is no other wording on the jar to indicate that this is from an adult toy store site! The lid screws on pretty tightly, so if you want to take this candle on travel it shouldn't spill. If you are concerned about the jar breaking or the lid somehow coming unscrewed, just place it in a plastic bag. For storage, I just put the lid back on and stack it in my candle drawer!
Here are images of the front and back of the jar: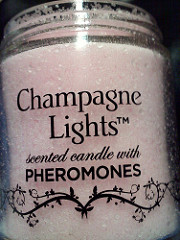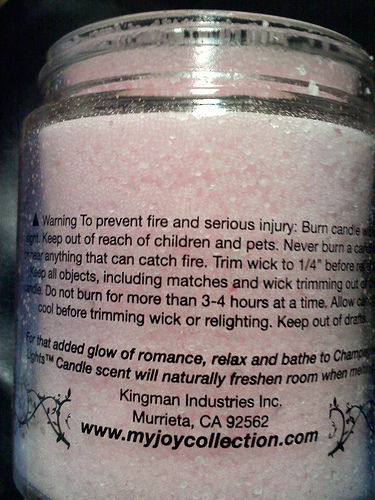 AROMA
As I mentioned before, I'd chosen the French Vanilla scent for my candle. It reminded me almost of a vanilla shake! If it were a beverage it would be smooth and creamy! The scent wasn't too terribly strong when removing the lid, and I did have to get somewhat close to the candle to smell the french vanilla scent.
TEXTURE
The thing I found most interesting about this candle was the wax itself! Unlike most candles which come as a solid or gel, this candle came in the form of tiny little wax beads with the wic in the middle of them. Of course, once lit and the wax melts, it turns into a solid and stays that way. While it melts, the beads harden and solidify outward, but you can still see the wax beads through the glass on the lower part of the candle, the hard wax on the upper part. Really cool looking if you ask me!
I already started to burn it, but here you can really see the texture - look at those wax beads!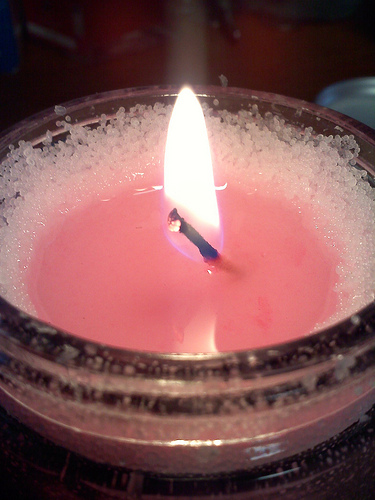 THE COMPANY REMINDS YOU
* Do not burn while unattended!
* Keep away from children and pets!
* Trim the wick to 1/4" before relighting
* Do not burn for more than 3-4 hours
*** If you don't like this candle, Peggi will - send it to her!
My size comparison: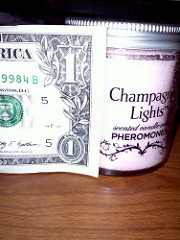 Prior to burning: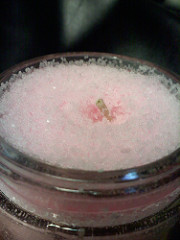 Right after lighting the candle: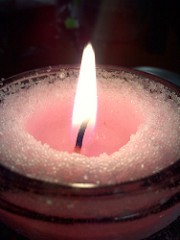 Experience
My first time using the candle, I decided to us it in the bathroom while I took a bath. Lighting the wick, the candle-light glow filled the room. I'd read some reviews about this product while waiting for my own to arrive and had seen review after review state that the candle didn't do much in the way of creating the wonderful aroma throughout the room. I beg to differ, if you light it in a smaller area. In the bathroom, it worked wonderfully! I used a non-scented bubble bath for this occasion, so that I could really enjoy the smell of my candle, and I could certainly smell it!

The french vanilla relaxed and soothed me; I was in candle heaven!

On my desk, the candle didn't do too shabby either! My guy, who sits at another computer desk a few feet from mine, commented on the way the candle smelled; he rarely comments on my candles! He could smell it from about 2 feet away. I will note, though, that from 3 or more feet away, you can't detect the aroma at all. You can somewhat smell that a candle is being burned, but no wonderful fragrance. So, if you are using the candle as a nice desk candle or for some light during a bath this is perfect! If you want to fill your whole house (or even a larger room) with wonderful smells, I'd choose another candle.

I can't say whether or not this will last me 12 hours or not, but I feel that this is accurate. I've burned it off and on so far for about 3 hours and it barely looks like I've touched it!

NOTE ON MY RATING
I gave this candle 5 stars. I was absolutely torn between 4 and 5 stars. For my own purposes it was perfect. It did what I intended it to do with no problems, I didn't mind that it didn't fill a huge room with scent because that's not what I needed. Burn time was great and it was easy to store and use. I debated 4 stars because while I love this candle, it may not be as fantastic for just about everyone! I chose 5 stars, because it worked well for what I used it for, and my review was surrounding that purpose.
Follow-up commentary
4 months after original review
Since receiving this candle, I've purchased several since then. I love the different scents for these candles, but the French Vanilla is still my favorite scent so far!
This content is the opinion of the submitting contributor and is not endorsed by EdenFantasys.com

Thank you for viewing
Romantic candle
– mist review page!