Hi ho, Hi ho, It's off to work we glow!
If you enjoy unique candles that only slightly perfume your room, you will probably enjoy this one. If you don't enjoy having to work to get a candle situated, I'd steer clear of this one. It is overall a decent candle, but not an everyday purchase in my eyes.
Published:
Pros:
- Long Lasting
- Elegant
Cons:
- Loose Wax & Wick
- Weak Scent
The Champagne Lights Scented Candle With Pheromones is one of those products that can go either way, depending on the person. It wasn't what I expected, and I doubt too many people were NOT surprised by this. Whether that's a good thing or bad thing really depends on the individual. This makes it hard to rate.
Packaging
The candle arrives in a simple glass jar. The glass is thick and of good quality. I would compare it to a small mason jar, and even has a screw on metal lid. The lid makes this travel friendly if you feel like having to rearrange the beads again. There is delicate printing on the jar that makes it elegant, instead of those annoying stickers many have. However, there is a bar code sticker on the bottom that isn't easy to peal off. Since the candle sits on it, I just left mine on and it's unnoticeable. This was also much smaller than I expected. See measurements below.
2.75" High
2" Wide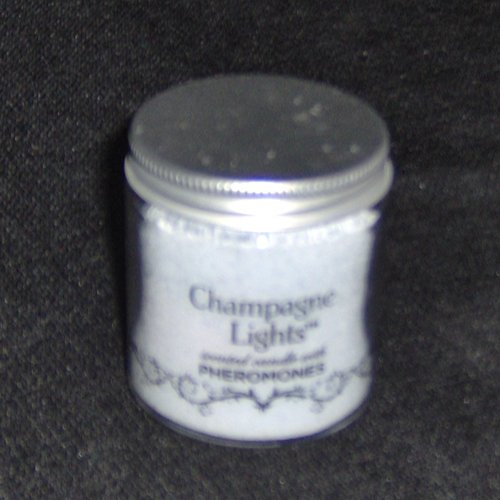 Before Use
Interestingly enough, when you open your jar you find unusual wax. I've never seen the like! BE CAREFUL! Make sure you don't have your jar tipped when you open it or tiny wax beads will spill everywhere! This wax has the same look as sugar granules. This wouldn't be a problem on its own, however, the wick isn't secured to the bottom. When I opened my jar the wick was completely sideways. It took a careful operation, but I was able to get it completely straight in the jar and centered. When you do this, carefully use one finger to gently push around the beads till you get your wick centered. Then push slowly on the metal part of the wick till it hits the bottom. Afterwards you need to handle the jar carefully so it doesn't slip. After the first burn, some of the wax will harden around the wick and you won't need to worry about it anymore.
The candle has a very nice and powerful fragrance before lighting. I am completely in love with the smell! It's not too powerful for me but enough to make me feel all cozy inside. As for the pheromone part, I've never noticed anything with them. This is usually the case though. It's the rare individual (at least in my experience) that is affected by them in these sorts of products.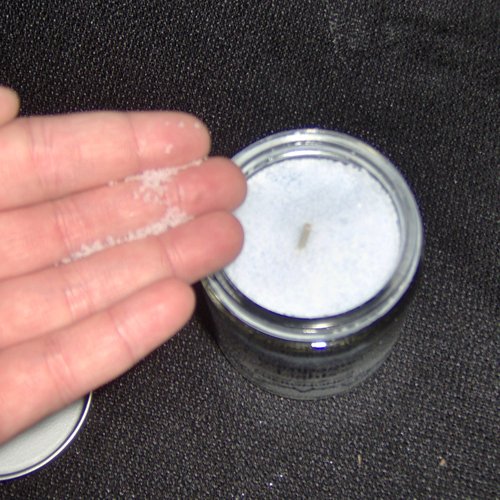 Burning
I first burned this in my very tiny bathroom while I took a bath to see how much aroma filled up the room. Unfortunately, I have to say this did a poor job of filling up even that tiny room. Perhaps the steam from the bath doesn't mix well? I've burned it on my desk as well and didn't notice a scent unless I was hovering over it, but at least it has a nice glow. I SHOULD mention that I'm a smoker as well, cause it's possible the scent is being used to mask other odors and this is why I don't get a big fragrance.
The wax beads don't burn very evenly the first time. If you push around the wax to flatten it after your first burn, it should burn nicer the second time. This was my experience. As for the speed of burn, so far I've burned mine a total of 3 hours and the wax is only about a forth of an inch lower from the top. The wick hasn't burnt below the line either. This is great! For the size of the candle versus price, this is the only thing that makes it kind of worth it. Note: On the candle it states not to burn for more than 3-4 hours at a time.
The picture below shows how the outer wax beads haven't been melted yet. I pushed them down with my finger to become even with the rest of the wax because after the first burn they were too high.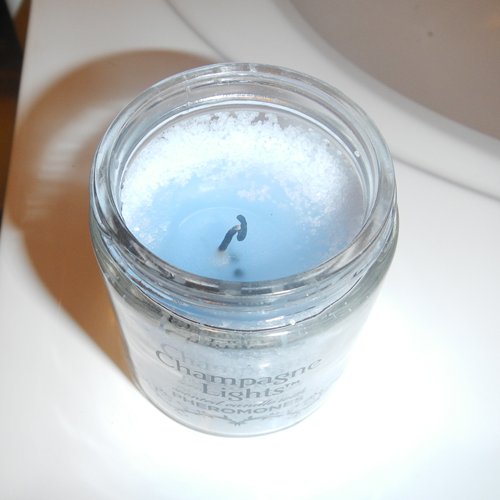 Experience
Overall this candle was decent, but nothing I can see spending the money on consistently. The wax is long burning, but was WORK to get situated. The smell wasn't powerful enough for me either. I do love candle light though, and if I have the money, I'm sure I will purchase again.
Follow-up commentary
2 months after original review
Although it's an oddball and it really didn't last me too long, I did enjoy the candle enough to get another one eventually. The price could be better for this since it's not a high class gal, but overall I liked it well enough. If you're expecting something better, don't bother. I never noticed much in the way of scent and nothing for the pheromones.
This content is the opinion of the submitting contributor and is not endorsed by EdenFantasys.com

Thank you for viewing
Romantic candle
– mist review page!