Coochy Competes but Can't Conquer
It's a shame there is no way to tell you what the price per inch is to shave with this creme. Coochy shave creme holds its own next to similar products, but it just can't seem to dominate the way it should. For the price, amount of product needed, and for a barely noticeable difference, I'll stick to my old shaving creme unless I have the Eden points to spare. 3 stars for an average shave creme.
Published:
Pros:
Bottle won't leave marks in your shower.
No bumps.
Less stubble.
Cons:
Must apply a large amount.
Expensive.
You CAN'T skip a day of shaving.
Strong floral scent.
If you are like me, you may be used to shaving your bikini (or mankini) area, your legs, and your armpits. This is a pretty large area to be shaved on a daily basis, and so when I read that Coochy shave creme boasted that "You can skip a day of shaving," I was all in.
I then decided to start my review with what the bottle offered...
"You can skip a day of shaving."
"Protects and soothes skin."
"Helps prevent embarrassing shave bumps."
It also offered to work as an all-over shaving cream (including face) and a hair conditioner.
For reference, I did get out a brand new blade for my usual razor before testing this product.
I can tell you that my stubble was less than I usually have after a day, though Coochy did not provide adequate results to skip a day of shaving if you intend to do the horizontal polka (Thank you, Steve Urkel), especially with a new partner.
Did it protect my skin from nicks or irritation? I rarely (and I mean maybe once a month) cut myself while shaving. I seriously cut a freaking pattern into the side of my knee the first time I used this shave creme. This is clearly the cause of my cheapness combined with a creme that cannot be used stingily. Really, this product does not go a long way (especially for the price). You have to apply an ample amount of this shave creme and then rub it on the skin long enough for the clear creme to turn whitish before it properly protects the skin from the blade.
One squirt of this product...It goes on clear until you rub.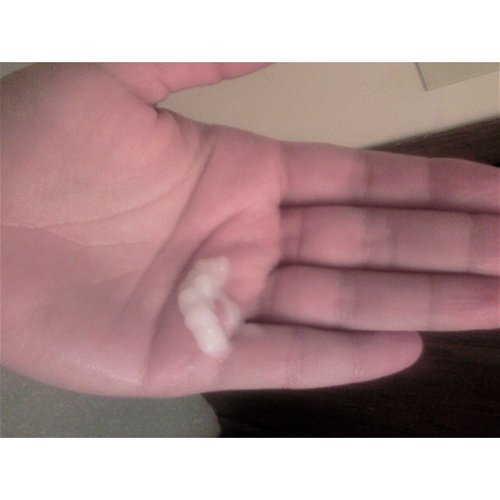 What the creme looks like lathered on the skin: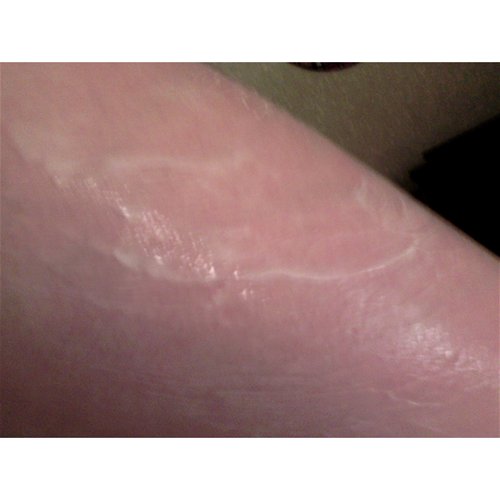 Does it help with ingrown hairs or shave bumps? I used this product two days in a row, and it's now been about a week. I did not notice a single bump or ingrown hair. However, I also conform to practices that rarely produce ingrown hairs anyway such as shaving in the direction of growth first and then in the opposite direction.
I have no facial hair, though I considered pulling out some men's Rogaine and rubbing it on my chin just to appease my audience with this review. Anyway, I can't tell you how it works for that, but I did try it as a conditioner for my hair. Conditioner? Ha! I don't know who would buy into that, but I have reasonably thick and curly/wavy hair. Several squirts in, it felt like I might never be done conditioning. I didn't even bother to continue before grabbing my cheap Suave conditioner that costs a buck, yet works better than this creme.
Overall, I wasn't overly impressed or disappointed in the product's performance compared to other shave cremes except for that Coochy shave creme is quite a bit more expensive. It'll work for armpits or bikini areas with just a little less stubble as a result, but for the amount of product that needs to be used for legs, I'd rather stick to my "beard buster" from Barbasol.
Just a couple more things to mention:
The bottle contains 4 fluid ounces, is green and plastic, has a clear cap, and squirts about the amount that a Suave lotion bottle does in one squirt. The good news is it won't leave a rust ring in your shower.
This is not meant to be ingested, and the bottle actually says to keep away from children.
Ingredients include: Water, Cetyl Alcohol, Cetrimonium Bromide, Stearyl Alcohol, Hydroxyethylcellulose, Glycerin Stearate SE, Jojoba Oil, Lanolin, Keratin Protein, Panthenol, Allantion, Sodium Hydroxide, Fragrance
This product once contained parabens, but it's my understanding that it no longer does.
Does not contain sugar (sugar being a no no for your "down under")
The smell is very floral. I get nothing of green tea of it. It's a bit strong for me as I have a sensitive nose and hate floral fragrances.
Made in the U.S.A. This is fantastic for those who are bent on supporting our own country and economy.
Follow-up commentary
7 days after original review
Dear Coochy shave creme, it's not you. It's me. Well, it IS partly you. I suppose I just enjoy foam more than creme, and if I do use a creme, I want it to be thicker or lather or something. This just feels like I smeared some melted chapstick over my bits. My biggest complaint is the scent. It's overpowering for me...like an old lady rolled around in her flower bed. I ordered the original at the same time though, so I'm hoping Coochy shave creme can redeem itself in that aspect at least.
This content is the opinion of the submitting contributor and is not endorsed by EdenFantasys.com

Thank you for viewing
Coochy shave creme
– cream review page!