Dona pass this up...
I can't say it enough that I LOVE this product. It made my skin so soft, smells heavenly and my husband even noticed how soft my skin was after using it. The Mangosteen is like a strong cup of coffee with soft fruity undertones and the Goji Berry reminds me of a fruit smoothie. They smell good enough to make my mouth water while making my skin the softest it has been in a long time.
Published:
Pros:
wonderful smell, loved it so much I have to buy more, affordable price
Cons:
loved it so much I have to buy more
My favorite qualities of these products are that they smell wonderful and they leave my skin feeling noticeably softer. I still have yet to see anything sexually exciting about this product but it does help me to relax.
DONA by JO is a new line of bath and body products from by System JO. According to their facebook page it launched in December of 2011. The line consists of 20 different products. Each product is infused with one of six known aphrodisiacs: acai, blue lotus, camu camu, goji berry, mangosteen and pomegranate.
From the DONA by Jo facebook page-
DONA is meant to serve not only the basic functions of cleansing, moisturizing, and hydrating - it goes even beyond that by making the experience of taking care of your body a sensual one. Each product in this dynamic line is infused with one of six known aphrodisiacs.

Designed as a series of steps, or a ritual, DONA is intended to help guide you through an indulgent, pampering experience. Taken as a whole, using the products within each step of the ritual will truly nurture your mind, body, and sensuality.
1.
Relax
---
Slow down and set the sensual tone.
Massage candle, bath salt, bath milk, arousing herbal essence, sensual chromatherapy bath treatment
2.
Cleanse
---
Purify your body using luxurious lathers, exfoliators, and gels.
Body polish, body wash, bath foam, shave gel, lingerie wash
3.
Nourish
---
Make your skin touchable and kissably soft.

Body mist lotion, body lotion, body butter
4.
Illuminate
---
Enhance your natural beauty and space.
Linen spray, lip balm
5.
Engage
---
Share the fun with sensual play products.
Massage oil, body drizzle, pheromone gel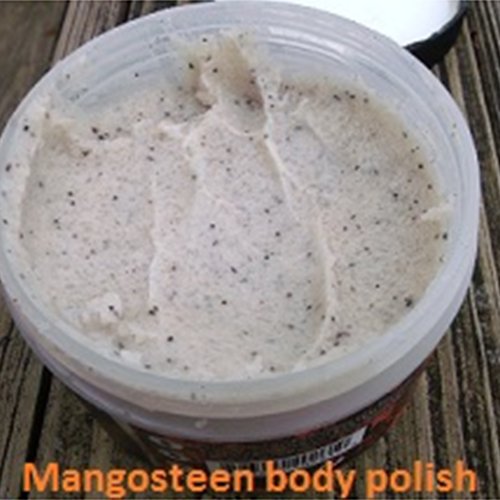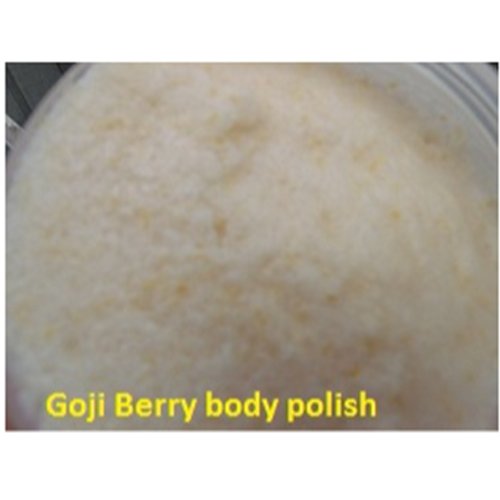 Ingredients:
Sodium Chloride, Carthamus Tinctorius (Safflower) Oil, Glycine Soja Wax, Isopropyl Myristate, Modified Corn Starch, Sodium Lauryl Sarcosinate, Cetyl Palmitate, Sorbitan Palmitate, Sorbitan Olivate, Cetearyl Olivate, Tocopheryl Acetate (Vitamin E), Vitis Vinifera (Grape) Seed, Laminaria Digitata (Algae), Passiflora Edulis (Passion Fruit ), Oriza Sativa, (Rice), , Orbignya Oleifera (Babassu), Euterpe Oleracea (Açaí) oils, Luffa Cylindrica, Garcinia Mangostana (Mangosteen) Fruit , Fragrance, Coffee Arabica(coffee) seed, Lycium Barbarum(Goji berry)
Sensitive skin users
Test a little on your skin to ensure that you don't have a reaction to the ingredients in this product.
I have used the mangosteen scent, the goji berry scent as well as the pomegranate scent( although the pomegranate was in the bath milk not the body polish) I think so far there is a tie for which scent I like the most. I like the mangosteen to start my day and the goji berry to finish it. They offer strong scents that don't dissipate too fast.
The polish has a thick consistency. It starts off rough but add a little water and it softens a bit. I used it first with damp hands and then added just a tad bit of water to my hands. It goes on easily. You can definitely feel the salt and coffee in the polish. It may feel harsh to sensitive skin but felt just right on my own.
In the small tub you get 9.5 ounces which equates to around 95 cents per ounce. It doesn't take much to get the job done, although I recommend not getting any in your genital area, just to be on the safe side. I used the polish over most of my body and saved the body wash for the more sensitive areas. It washes off very easily and doesn't leave a greasy feeling behind
I didn't notice any particular problems that I had with using this in the tub. Most everything rinsed clear except for the coffee seeds, which were easily washed down the drain. I will just remind you that if you use the mangosteen body polish to go back after the tub drains to make sure any excess coffee seeds gets rinsed down the drain.
The polish comes in a small plastic jar, wrapped in a plastic bag. Although it does say, an aphrodisiac infused ritual on the side, it is still very discreet. I will admit to not being able to figure out what exactly makes this polish an aphrodisiac. It didn't excite me to use it although the goji berry was relaxing and the mangosteen has a kick to it. After using this product I felt so clean and refreshed. I had to tell my husband several times to stop sniffing me, and he simply said," I can't help it, you smell good." I don't know if it makes anyone else sexually excited to use it, I will simply say that I am excited to use it. It is one of those little things that make me happy.
Baby soft skin, even at the elbows and knees makes this product line a must have in my bathroom. I hope Eden will carry the rest of this line as well.
Experience
Note about Goji Berry polish:After using this polish in the shower I noticed the bottom of the shower felt a little slippery to my feet so be very careful when using the polish. My husband suggested that we get the mat that can go in the bottom of the tub to prevent slipping.

This product has be a Godsend for me. Where I live we have what is called "hard water". It makes my skin dry all year round and in some spots dry to the point of having scale-like spots on my body. It has never been really bad but after using the body polish from the DONA line, I know that it doesn't have to ever be that way again. After just one week of using this, I have switched from the mangosteen to the goji berry and back again, my skin is soft to the touch. I even made a point of going over the really tough spots of my skin, my elbows, knees and the bottom of my feet. I can see a marked difference in how my skin feels and how much better I feel. The first time that I used the mangosteen body polish I was a little tired. After using it I seemed to have a burst of energy, it was like I had taken a shot of espresso. My bathroom smelled like I was brewing a strong cup of coffee with fruity undertones. A couple of days later I tried the goji berry body polish, thinking that it couldn't possibly be as enjoyable to me as the mangostten body polish was. I was so wrong. It was a different kind of pick me up. It felt like an end of the day pick me up. The kind where you come home and you get a drink, whether it be coffee, tea or wine. The drink that helps you to reach that calming place we all need to get to after a hard day. I am so thankful for Cookie Monster Mike and
Hot 'N Sexy TexasMama for bringing this to my attention. It is a fabulous product that deserves a ton of praise. I don't normally like to do a lot of bath products, give me a simple body wash or bubble bath and I am good to go. This product line shows me that spa quality products don't have to be out of my reach. They are affordable and wonderful to use.
Follow-up commentary
3 months after original review
I still love the body polish, but have been a little disappointed that the last few that I have purchased. Mangosteen is my favorite so I ordered it several more times. The problem is that the jar says mangosteen but it has actually looked more like goji berry, at least to this reviewer. I don't know what the issue is but I hope it gets straightened out soon. I would love to order more of this.
This content is the opinion of the submitting contributor and is not endorsed by EdenFantasys.com

Thank you for viewing
Dona body polish
– scrub review page!