Gotta love the name "coochy shave creme"
If I could actually detect the smell, this would rank much higher with me. The bottle appears small, but it also seems like it will last awhile, especially if you only use it on small areas like bikini or underarms. It did not work perfectly for me, but did work pretty good.
Published:
Pros:
-works pretty good, leaves little irritation
-several uses
Cons:
-not enough scent!
-kinda small
I really liked the Body Boudoir "make me blush" body spray that I purchased, so I knew I wanted to try some of the other products available. I kind of have mixed feelings about this Coochy Rash Free Shave Crème from Body Boudoir. It does seem to work well, but it is a somewhat small bottle (4 fl.oz./118ml) and the smell is not even detectable to me.
As far as being rash free, it does a decent job. I have almost always had problems with getting little red bumps when I shave my bikini area, so when I first started using this product, I already had some irritation from my previous shaving. Using this did not make that irritation worse on this occurance, and as I use it more and more I have less red bumps. Also, I do notice that my skin in that area is staying hydrated so I am not experiencing any dryness or itchyness.
I purchased the slick chick pear berry scent and unfortunately, there is barely a smell. I was so disappointed that in order to smell it I have to have it very close to my nose, and even then the smell was not very noticeable. It does smell good, but you can't really smell it so that factor does not really matter in my opinion.
I was not really used to using a shave crème as opposed to a shave gel or foam like I would usually use. My mom had gotten a great deal on some Aveeno shave gel, so that is what I had been using up until I got this. The crème is somewhat thin consistency, a little thinner than lotion. I was mostly pleased with the way it works, but I do like the shave you get from regular shaving cream better, but that's my opinion. I have yet to find a shave cream that does not leave me irritated with those little red bumps, but this shave crème does that job the best I have found so far. It also says in the directions to follow with coochy after shave protection mist and after shave powder, but I did not since I do not own those products, and that may also have affected the fact that I did still experience some red bumps. I also would not say that the shave that you get from this lasts any longer than any other shaving cream you might use.
Yay for it also being made in the USA and they do no animal testing! The bottle also states that this is sugar free, paraban free, sulfate free, and safe for all skin types. Uses include intimate shaving as well as legs, underarms, face, and body. I was pretty pleased when I used it on my underarms. It also says it is so luxurious you can use it to condition your hair after shampooing. I did not try this use since I use a lot of conditioner and don't want to go thru this bottle that quickly.
size comparison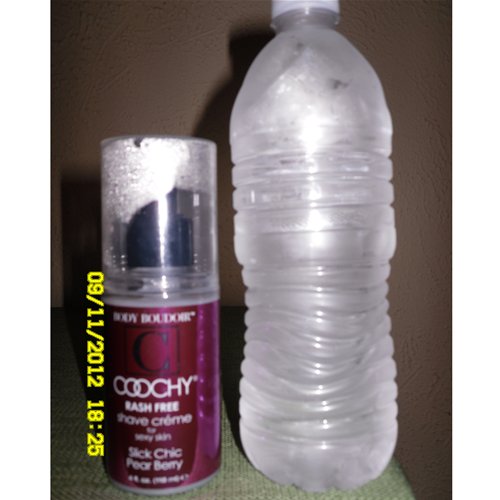 Follow-up commentary
6 months after original review
Unfortunately you cannot even get all if it out of the container, or at least I could not. And it wasn't a small amount that I could not get out either. Overall I am just not very pleased with the performance of this shave gel.
This content is the opinion of the submitting contributor and is not endorsed by EdenFantasys.com

Thank you for viewing
Coochy shave creme
– cream review page!