Great shaving creme to achieve smooth, soft skin everywhere!
If you are looking for a shaving creme to use over all of your body to achieve soft, moisturized skin, look no farther! Coochy creme delivers a razor burn & bump free shave that will make your coochy happy! It is definitely one of the best shaving cremes out there to prevent razor bumps and burns. For the price, it is well worth giving it a try if you battle stubborn ingrown hairs, razor burn or bumps and want a quick and cheap fix!
Published:
Pros:
Pump bottle is easy to use
Smell is pleasant
Protects and soothes against razor bumps and burns
Cons:
Small bottle
Slippery when using wet since there is no texture or grips
I have always been one of those people that just trim their lady bits, and not bother shaving. I have had bad experiences in the past shaving down there, as I have very sensitive skin and always end up with terrible razor bumps and ingrown hairs. I recently tried to shave there again, with the same results. I decided I would break down and try Coochy creme! All of my friends have recommended it to me in the past, so I just decided to go for it and give it a try. I ordered it in "Oh So Original", and in the 4oz bottle. I thought the price was a little steep for such a small bottle, but ordered it anyway. It came quickly in the mail and this is what my bottle looks like: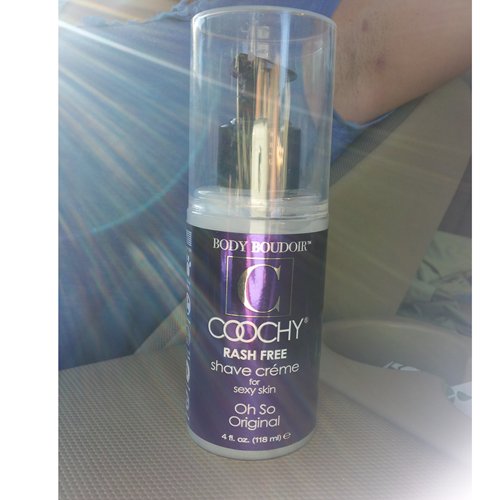 As you can see, I need to use it on my underarms as well.
On the back of the bottle it states:
It is made in the USA
No Animal Testing
Sugar Free
Great for All Skin Types
Paraben-Free
Sulfate-Free
Suggested Use:
Wet area to be shaved. Using hands, smooth Coochy shave creme to skin. Shave and rinse. Follow
with Coochy after shave protection mist and after shave powder to maintain that sexy, smooth, just-shaved look.
I just bought the Coochy shave creme, and did not purchase the mist or the powder. It also listed the ingredients on the back of the bottle as well.
Ingredients:
Water, Cetyl Alcohol, Cetrimonlium, Bromide, Stearyl Alcohol,
Hydroxyethylcellulose, Glyceryl Stearate, PEG-100 Stearate, PEG-60 Lanolin,
Simmondala Chinensis, Jojoba seed oil, Hydrolyzed Keratin, Panthenol, Allantoin,
Phenoxyethanol, Methylisothlazolinone, Sodium Hydroxide, Fragrance
Whoooo! That's a mouthful!
I had already shaved a few days prior to receiving the shave creme, but I was starting to get hair back in that I wanted to shave. When I first tried pumping the bottle to use the creme, nothing would come out of the pump. I had a full bottle of the creme, I shook it, and nothing came out when I pumped. I was a little irritated thinking I had a broken pump and would have to send it back. But it eventually started pumping out the shave creme.
I shaved my legs and coochy with this. I put a couple pumps in my hand and lathered it on my legs and coochy and let it soak in for a minute or two. The consistency feels like very moisturizing conditioner, it was not too thin or thick for me. It felt pleasant on the skin, and very moisturizing. The smell was light and pleasant, and did not linger on my legs or coochy after using it.
After shaving, my legs and coochy were baby soft. I did not get any nicks while shaving and it made for a very smooth and quick shave. Even my coochy with its stubborn coarse hair was easily and smoothly shaved. I did not have irritated like I usually do after shaving it. This creme is great for sensitive skin! It's been two days since using the Coochy creme and I don't have any razor bumps or burn to speak of! My skin that I shaved is soft and moisturized. I am so happy that I decided to try it, my coochy is in heaven!
Experience
I used Coochy shaving creme at the end of my shower, so that my pores were open, making it easier to shave the hair. One pump was enough for both of my legs. To err on the side of caution, I used 2 or 3 pumps on my coochy to make sure it was moisturized. I then shaved in the direction the hair grows first, making sure I did not shave over and over the same spot in a row. After shaving most of it this way, I shaved against the grain to get the smoothest and closest shave possible. After I got out of the shower, I sprinkled some baby powder on my coochy area to make it soft and close the pores. The baby powder is a really good trick to keep it from getting irritated and rubbed raw from clothing and other adventures.
Follow-up commentary
1 day after original review
I am really disappointed to say that I do not like this product anymore. It's been 4 days since I shaved, and I have broken out in a huge razor burn rash and bumps that are even bigger than before. I must have had some kind of delayed reaction from it or something. I will keep trying to use it when I shave, and see if it get better with use.
This content is the opinion of the submitting contributor and is not endorsed by EdenFantasys.com

Thank you for viewing
Coochy shave creme
– cream review page!