I Sort of Wanted To Eat The Candle..It Smells AMAZING!
This was our first time using candles during massage.. We LOVED the smell, but using it for a good massage? Meh. This is a great product, and we will purchase it again just because it smells so amazing, but we will most likely look for another type of candle for massage in the future.
Published:
Pros:
scent, strength of scent, price
Cons:
some may not enjoy the strong scent of the candle, oil is extremely thick
My partner and I purchased this candle because we were interested in trying temperature play. We had never used candles before during sensual massages, so we were eager to try it out. Since we have not used any other products like this before, we do not have anything to really compare it to in terms of quality, but we will share our experience as beginners.
There are 4 different fragrances to choose from for the Pheromone Soy Massage Candle:
-Cinnamon Leaf- "Sin in a Tin"
-Strawberries & Champagne- "Foreplay"
-Berry- "Horny"
-Vanilla Sugar- "Wish"
We had purchased the Vanilla Sugar scented candle labelled, "Wish". Each tin is 4oz.
The ingredients in the candle are as follows: Soybean oil, Coconut oil, Hemp seed oil, Apricot oil, Jojoba oil, Avocado oil, Fragrance, Vitamin E, Copulandrone, Copuline-alike, Reconstituted andronone.
The candle did not come in any outer packaging, just the tin that the candle is in. Though there is no outer packaging, I think the tin is so cute that it could be given as a gift just the way it is. The "Wish" candle that we have could be given to a partner, or a friend, or anyone really for that matter. The "Wish" tin is the subtlest of the four. The other scents have sexual titles on them that you may not feel comfortable giving to a family member or friend. The picture below is the candle after we had used it. I forgot to talk photos before lighting the candle.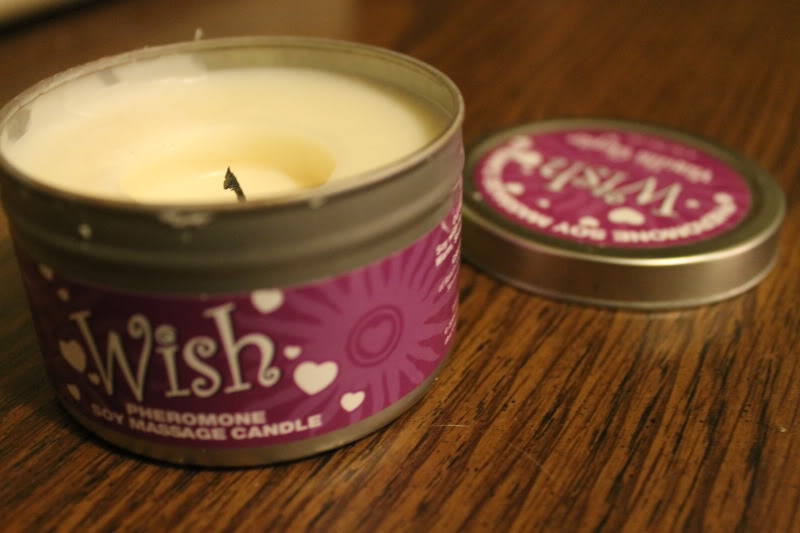 When I opened the tin, I was met with a very strong scent of vanilla sugar. I've tried thinking of something I could compare the scent to, but my mind draws a blank. It is an amazing smell though that smells like it would be the most delicious dessert I've ever had. I'm extremely impressed with the scent, and the strength of the scent as well. Personally, I enjoy strong scented candles over weak scents. If you have a sensitive noise and prefer more subtle aromas, this may not be the product for you.
The burn time of this product is 30 hours. Since we have not finished the candle, I cannot say for sure if this is accurate, but I think they are over exaggerating a bit. I would say that the candle burn time is probably somewhere between 20-25 hours.
Since I had never used a candle for massaging before, I had looked online to see exactly what I needed to do. I had read that I was to let it burn for 15-20 minutes and that by that time, there would be enough oil to give a full back massage. After 25 minutes, it still seemed like a very small amount of oil, but I used it anyway.
I blew out the candle and dripped the oil onto my partners back. The candle does not come with a spoon, and does not have a spout to make pouring less messy. I decided to just drip the oil right from the candle.
My partner really enjoyed the warmth of the candle. He said it was not hot, but it was a nice heat like getting into a warm bath.
As the giver, I have to say I was not extremely impressed with the experience. I poured the oil onto his back and had a hell of a time trying to make the oil spread to give him a full massage. The oil is ridiculously thick, so spreading it around to make it even, and give a nice massage that "glides", was not possible. Thank goodness we keep our other oils beside the bed, or it would have ruined it entirely. Since the oil from the candle was not spreading well on my partners back, I grabbed an oil that we had, and applied it with the oil so that I could give him a good massage. There is no "slippery-ness" with the oil from the candle. I am not 100% sure if all candles are like this because as I had stated above, we had never used candles before… but I most definitely did not like that.
As for the pheromone aspect of the candle.. I can't say whether or not it made us more sexually excited or not. When I lit the candle and let it burn for 25 minutes before using it, I did feel happier but not in a sexual way. It was just an amazing smell that would make anyone go, "Mmmmmm!" My partner and I both agree that the smell is amazing, both when the candle is lit, as well as when using it during the massage.
Experience
..continued..
You can see in the photo below that after pouring the oil from the tin, it does make the tin a bit messy. This isn't a problem for us, but if you are concerned about it, use a spoon for application.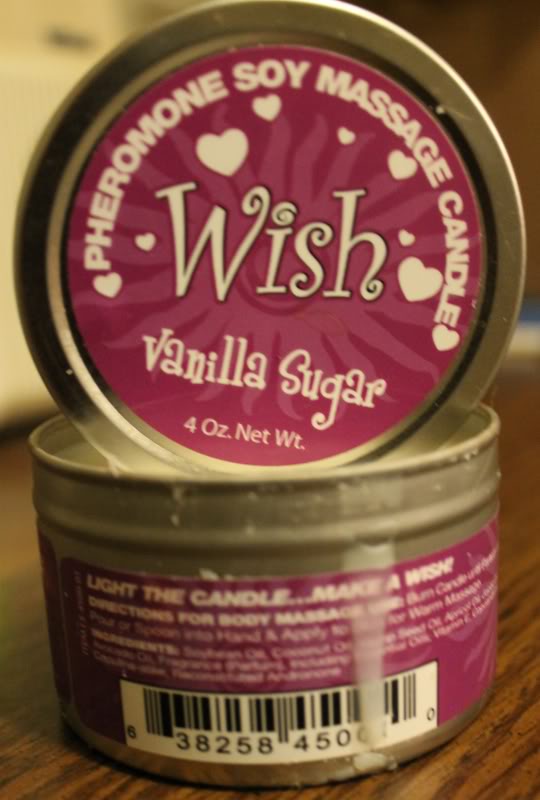 From our experience, I would make the following suggestions if you plan on using this product:
1. The burn time before applying the oil is at your discretion. 15 minutes was not enough for us, but if you feel it is enough for you, blow it out and apply. For us, 30minutes or more would have been better.
2. Apply thinner oil onto your partner before pouring the candle oil onto the area of their body that you plan on massaging. This will allow a much easier, slicker massage.
We plan on trying out the other scents available. Next time we use the oil from the candle for massage purposes, I will apply thinner oil first, that way I can massage his entire back with ease.
Overall, I give this product a 4 out of 5 stars because it does smell phenomenal, it's a decent sized candle, which will last for many applications, it's inexpensive and the tin is extremely cute. The candle loses a star because in order to use it for a good massage, I have to apply another product beforehand, which I feel I shouldn't have to do.
Follow-up commentary
3 months after original review
I still LOVE this candle for the delicious scent it provides. Since the review, I have used this candle a few times for the scent while taking a relaxing bath. As I mentioned in the original review, the oil was a bit too thick for a good massage, but the scent is so phenomenal that once this candle is finished, I will buy another.
I've tried another candle for massages which works much better than this candle. If you are interested in a better massaging candle, the
Tantric Massage Candle
is an excellent choice.
This content is the opinion of the submitting contributor and is not endorsed by EdenFantasys.com

Thank you for viewing
Pheromone soy massage candle
review page!