Sickeningly sweet wine cooler for your hands and feet!
I am somewhat disappointed in this product simply because of the scent. I didn't realise that it would be so strong when I purchased it. However; I did love how the sugar granules felt over my hands or my sore and tired feet. If you can wing it? When you go for a pedicure, see if they can massage your feet with it! You can thank me later!
Published:
Pros:
I love the sugar granules they feel divine!
Cons:
Sickeningly sweet/fake chemically smell, price
Ok. How do you use this?

1) Open in the bathroom.
2) Take a small spoon, insert and stir.
3) Remove spoon and slide your hands around the spoon. Add more if needed.
4) Rub hands together, massaging the sugar and the oils into your hands.
5) Rinse under warm running water.

Warnings: DO NOT GET ON THE FLOOR, DO NOT USE IN THE SHOWER (you cannot see the slick oil covering the floor, and trust me when I say... it's friggen slippery!!!)

Ingredients: Sugar, Grape Seed (Vitis Vinifera) Oil, Coconut (Cocos nucifera) Oil, Avacado (Persea gratissima) oil, Sweet almond (Prunus Amygdalus dulcis) Oil, Tocopheryl Acetate (Vitamin E), Milk amino acids, Phenoxyethanol (and) Caprylyl glycol (and) sorbic acid, parfum (Fragrance), red 17 (CI 26100), Violet 2 (CI60725)

Bottle: see through plastic bottle 4.9oz.
Texture: I do not know how to explain this... but it's partially oily and partially oil suguary. When you mix it together it is oily suguar!!!

Scent: Usually I am very good with scents and figuring them all out... but to me, this had a chemically scent and had nothing naturally smelling about it. According to some of the reviews I've read, it smells like a vanilla raspberry. I do not smell it at all. I found it over powering, and actually nauseating. For me, I cannot even open the bottle without smelling it for the next few days throughout my apartment. Even after a period of time, I still found it sickeningly sweet. So if you are sensitive to scents, please be warned.

Findings: I do find that it does do the job well. My rough patches of skin on my feet are rubbed down, my cuticles are less ragged. However; there is a horrible oily residue left behind.

Extra: One day, I so need to try to get this used as a back massage. I think it would feel AMAZING!!!! But... I would first need to get over the scent.
Experience
After I used this product, I found my hands were left with an oily type residue, and smell chemically fruity. Almost sickeningly sweet. After I have re-washed my hands with the strongest soap in my house a few times, only then do I get the oily feeling off my hands. When I have used this on my feet, or have had this used on my feet, I just put on a pair of socks and try to forget how my toes feel like they've got lard stuck between them.
Now... if you want something so very decadent... massage your legs with this stuff. Rubbing the sugar over your legs feels amazing! But the after effects of trying to get the oil off is quite literally a pain in the arse.
I refused to taste this product, so I have no idea how it tasted! I mean... the ingredient says "frangrance" and then food dye! Yikes! No!
Things I would change:
1) Make the scent less potent!!!! Pretty please? Or just take out the fragrance and colouring altogether.
2) Make it easier to dispense, like a spoon fixed to the inside of the lid.
3) The price. This is almost 20bucks!!! Seriously!!!
These are the reasons why I only gave it a two out of three.
After I got this and figured out the scent was just not for me, I decided to dabble and make my own body oil scrub. I mixed 2tbsp each of course ground sugar and coffee grinds and ground up green tea leaves, 1tbsp coconut oil, 1tbsp olive oil, 1tbsp raw honey and some drops of your favourite essential oil (I liked my scrub with no added scents, But you can use citrus for glowing skin, lavender or tea tree oil for problem skin, rose for sensitive skin, frankincense and myrrh for aging skin to name a few). Use just like any body scrub in the shower but be very careful of the slippery floor.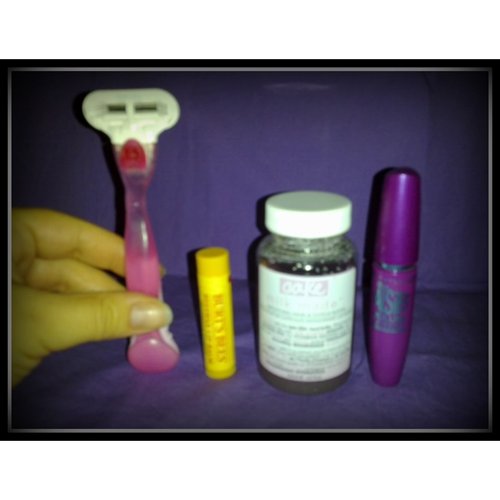 This product was provided at a discounted price in exchange for an unbiased review. This review is in compliance with the FTC guidelines.

Thank you for viewing
Milk made smoothing hand buffer
– hand cream review page!