Let Them Have Cake In the Tub!
If you are willing to spend the money to try this, and happen to have the same experience as I did, the price is worth it. It may still be a pocket puller, but I loved the scent and usage so much that I spend the money the same I would my favorite expensive perfume. As it sometimes hurts to be beautiful, it sometimes kills the wallet to feel beautiful as well!
Published:
Pros:
- Great Scent
- Versatile
- Long Lasting
Cons:
- Pricey
==========================================
Milk Made Nourishing Bath & Shower Bubbles
by Cake Beauty
17.4 fl. oz
Made in the USA
Company in Toronto, Canada
==========================================
I've tried a Cake Beauty product before and wasn't impressed, so I didn't expect much of this one. I decided to buy it because I was ill for a month and couldn't go to the store to buy more bubble bath and I was bathing a few times a day. Overall, this is a great product that is overpriced.
==========
Packaging
==========
This arrived without no additional packaging, just the bottle in my box. I was a little turned off that my bottle had dirt on it and parts of the label was nicked. When you pay this much for a bath product, you would expect more. I'm guessing that these bottles sit in the warehouse without any covering. If you have sensitivities to dirt, dust, etc... please have someone else open your box and wash the bottle.
The bottle is 515ml, 17.4 fl.oz. It stands 6 1/2" tall and 2 2/3" Wide. The bottle itself is a mostly firm white plastic that is easily squeezable in the middle. From squeezing normally to get out the goodness inside, the bottle has dented for me. This is definitely not a high quality package, but it works. The lid is a pop top cap that screws on tightly which will make this decent for traveling. The fluid inside is filled till about a half an inch from the top.
The label states:
"Nourish & gently cleanse your skin with this rich & vitamin packed body wash. Infused with scents of whole vanilla milk & baked raspberry, this dreamy lather will moisturize, comfort, soothe and protect your skin. This is the ultimate in bubbly goodness (hottie Milk Man not included). Suds daily for the ultimate in soft, clean skin. Au lait!"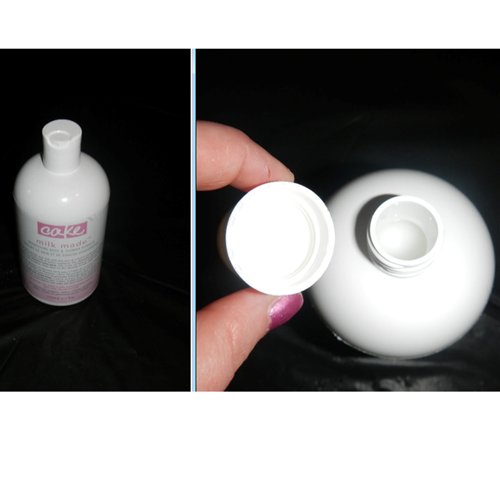 ==========
Product
==========
Ingredients
: Water, Sodium Coco Sulphate, Coco-Betaine, Coco-Glucoside, Aloe Barbadensis Leaf Juice, Glycerin, Stearic Acid, Laurel Glucoside, Fragrance, Potassium Sorbate, Butyrospermum Parkii (Shea Butter), Althaea Officinalis (Marshmallow Extract), Hydrolyzed Milk Protein
This is a mix of good and bad ingredients (if you are big on less chemicals). If you're paranoid about ingredients in skin products, I wouldn't worry about this one unless you have super horrible allergies. Always rub a bit of a product on your skin before using to make sure.
Scent
: I've read people saying that the scent on this is too strong. For me, it's pretty light, actually. Perhaps I got an old batch? Either way, mine is perfectly in the middle of being too light and too strong. The smell IS very sweet. You can smell the raspberry more than anything. Personally I LOVE the scent and think it's lovely.
Texture
: This product is very milky and creamy. It's light enough that it won't cake (see what I did there?) up on your skin, but thick enough that it doesn't leak out too fast. It's white but also semi-clear. This makes me feel good that they didn't put too much binders in it. If you shake the bottle and there is product left, it will slap against the sides.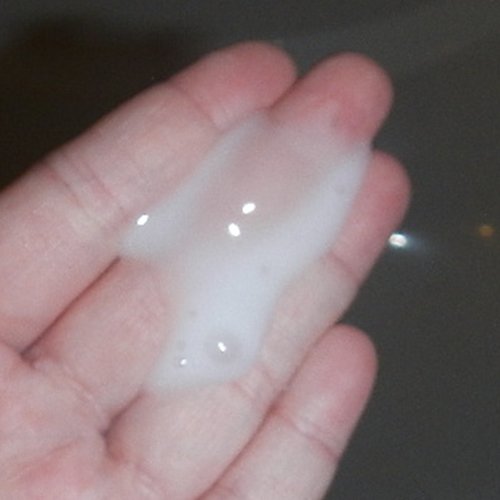 Experience
==========
Bubble Bath
==========
This makes a pretty good bubble bath. Depending on your tub size, you will need about a cap full to get a decent bubble base. The bubbles are light and fluffy, somewhat nicer than a regular store brand product. The bubbles formed quickly and mostly stayed around for my typical thirty minute bath. The scent wasn't strong enough to perfume the room, but I did notice a slight scent left on my skin right out of the bath. I normally have itchy skin, and while I was laying in the tub I noticed that normal itchy parts were soothed. About an hour after the bath my skin still didn't itch and felt smooth. My skin is also a bit sensitive and this product didn't irritate it at all.
If you use a cap size per bath, you should get a good couple dozen baths and more out of this. However, for a really nice bath you should use two cap fulls. This would equal about a dollar per bath.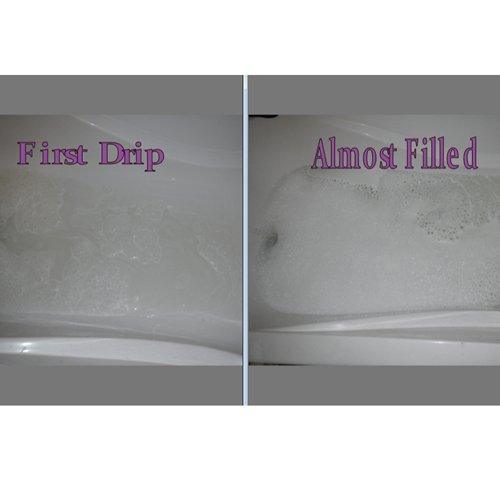 ==========
Body Wash
==========
Using a dime sized amount like I do with my normal body wash didn't work for me. I needed about a cap full to get a good enough lather for my whole body. I found it weird that it didn't lather as well as it bubbled in the bath, but it did eventually go on really nicely. This didn't irritate my sensitive skin and it cleaned well. The scent made me feel more feminine as well, even if it doesn't last very long after the shower. I would suggest using a sea sponge that retains more of the soap then other washers so the product lasts you longer.
If you use between a cap full and two cap fulls, this product will equal no more than a dollar a wash. This may be expensive to a lot of people, but overall it's not too bad.
==========
The End
==========
Overall I am happy with the quality and usage of this product. It IS expensive, but it lasts longer than I thought it would. The scent itself is so divine and feminine that it makes me want to spend the money anyways. If the body products that go along with this is the same quality, it will definitely have to become a new routine for me. It's hard not to feel girly and sexy with this one. With my sensitive and itchy skin, it actually soothes and softens! I would give this one a try if I were you!
Thanks for reading and happy bathing!
Follow-up commentary
2 months after original review
This lasted me a whole month of bathing AND using it as a body wash twice a week for a whole month. Overall, I am happy with this purchase and will definitely buy again. The baths took more of the product the using it as a body wash. Since I take a bath almost everyday and used this half the time, it did a great job of making it worth the expense. If you're on the fence about this one you NEED to give it a try!
This content is the opinion of the submitting contributor and is not endorsed by EdenFantasys.com

Thank you for viewing
Milk made nourishing bath and shower bubbles
– bubble bath review page!