My Lip Balm is Ballin'
It's for everyone, even those with sensitivities. They don't test it on Fido, and mother nature has a big hand in the ingredients. It's USDA certified organic and gluten free. If I haven't sold you by now, look elsewhere.
Published:
Pros:
Easy to find container in purse, 95% organic, natural, gluten free, not tested on animals
Cons:
Must be reapplied often, tingling sensation disappears within ten minutes
EOS organic lip balm has a lot to offer! Here are some of the reasons why this lip balm impresses me:
For $3 through Walmart, it can be an economically sound choice as far as price per use and is also priced well for a lip balm that is 100% natural and 95% organic all while not being tested on animals and boasting that it is gluten free.
The shape of the balm is unique in that the container and the actual balm within are rounded. The bottom is flat to keep your balm from wobbling like a weeble. There is a thumb imprint on the side for an easy twist to open. On the very top of the container is a plastic piece that seems to keep the balm from sticking to the container itself.
See the thumb print in this picture: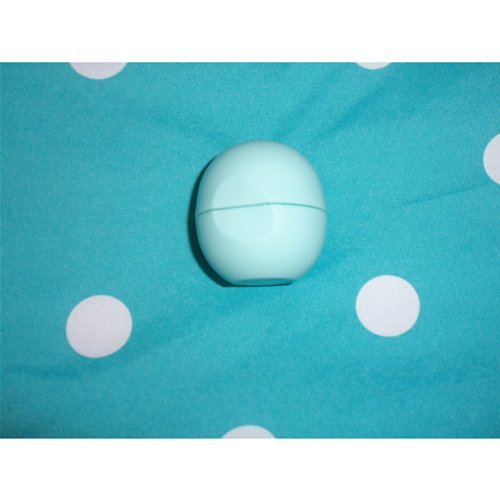 See the balm when twisted open in this picture: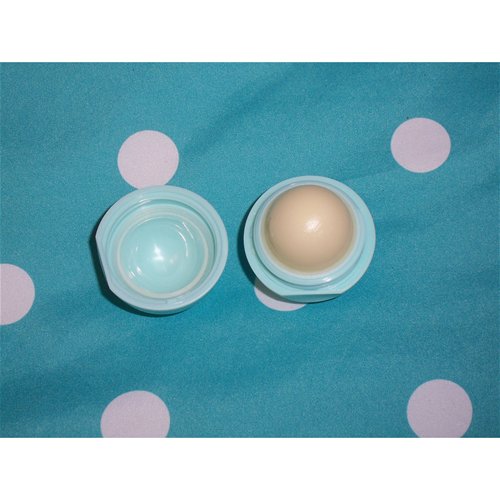 The packaging also clearly states ingredients, and it even has directions for application that state: "Twist off top. Pucker up. Smooth on. Smile." See picture showing package: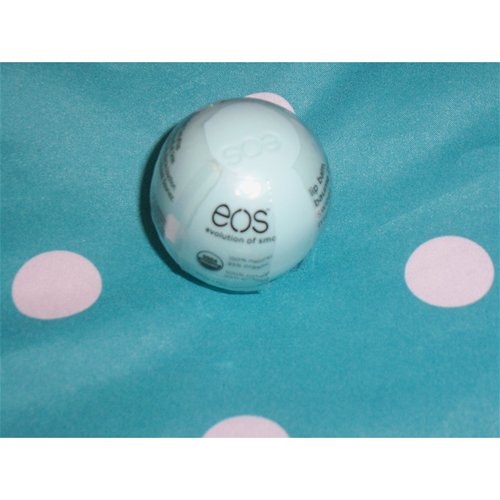 Now, let's talk about these gluten-free, 95% organic, natural ingredients. The ingredients are listed as:
Olive Fruit Oil
Beeswax
Coconut Oil
Jojoba Seed Oil
Natural Flavor
Shea Butter
Stevia Rebaudianam Leaf/Stem Extract
Tocopherol
Sunflower Seed Oil
Blueberry Fruit Extract
Strawberry Fruit Extract
Peach Fruit Extract
Linalool
I personally bought the sweet mint, which has peppermint oil in it, which gives it the tingling effect. The only other flavor available in my Walmart store was summer fruit, and I have no idea which fruit is summer fruit. With the sweet mint, you will notice the tingling feeling lasts less than 10 minutes, and the balm needs to be reapplied often.
The sweet mint does smell very minty. You don't have to put your nose to it to smell it. However, when the container is closed, I really don't detect much of a smell. The balm also goes on clear and has no color to it. It tastes like the Orbit sweet mint gum, but it'll numb your tongue.
I personally give this product a 4 out of 5 stars because of the constant reapplication and short-lasting tingling sensation. I was hoping I would be able to plant a kiss on my bf and have him feel the effects, but the sensation is just too short-lived. However, the ingredients in this are fantastic for all kinds of sensitivities.
Experience
I was wondering if this balm would be good to treat dry skin besides the lips, so I rubbed a little on the back of my foot. I really didn't notice that it had any moisturizing effect on the area. However, the area stayed "balmy" for quite some time, and I eventually washed it off with soap and warm water.

On the upside, I left this in my car on a warm day for an hour or so, and when I realized, I stuck it in the freezer for a quick setup. Upon opening it, I didn't notice any real deformations, and it didn't leak out of the packaging at all.

I also tried this balm on my nipple. It didn't offer any stimulation even when blown on and didn't tingle at all.
Follow-up commentary
1 day after original review
So, first and foremost let me mention that when I listed this product as being sold at a more competitive price elsewhere, my intention was not to dissuade anyone from buying from Eden. I simply intended to do what I've seen in many reviews, which is to encourage someone on a budget to save points for the item, to take it as a buy out review, or to wait for a sale. After all, free with points is more competitive than any price.

I also intended to provide an honest review, which only benefits Eden through informing them of a competitive price for the item. I noticed that this particular balm had no product reviews, and I believe this is one of the reasons. I have also noticed in the review/comment section on the product page that many others have noted this as well.

Finally, Eden offers a much greater variety of flavors for this balm, which is more than enough encouragement for buyers.

On a different note, I have noticed that this lip balm left no white residue on my lips even after several applications over the course of the day, which is an important advantage of this lip product over others.

I also want to note that the ball of balm is large and may, as one comment suggested, be too large for application on just the lips. This could be solved by rubbing your finger over the balm and then applying, but I feel like this applies a very minimal amount of the product as most of it will stay on your hand.

Wishing you all healthy lips!
This content is the opinion of the submitting contributor and is not endorsed by EdenFantasys.com

Thank you for viewing
Organic lip balm
review page!