Owie on my Coochy
If you're used to shaving without any product, have tough skin, and don't often develop rashes or skin irritation from products, this may be up your alley. If you have skin on the sensitive-side, and don't enjoy funky residue on your razor after shaving, this probably is one you should pass up.
Published:
Pros:
Pleasant fragrance.
Made in the USA.
No animal testing.
Cons:
Skin irritant.
Uncomfortable residue.
Parabens.
Glycerin.
Before I ordered this product, I read all the reviews, as I always did. I weighed the pro's and the con's, and I figured that at only $6.99 it was worth it -- especially since I tossed it in with my big ordered and saved 30% over the holiday season. I'm glad that I only paid as little as I did, because this is certainly not going to be a product that I will use for it's intended purposes. That being said, it's not totally worthless to me -- it just isn't going to be used "down there", which is what it's main purpose is.
My mama gave me some good advice when I was first starting to shave, and she told me "Honey, never shave your thighs, because it's a pain in the ass and the hair there is so fine it's not worth the trouble" -- she was right, so I only shave from the top of my knee down, and my thighs have very little hair on them. My leg hair, even after shaving for nearly 20 years, is still pretty fine, and not at all coarse like some of the prickly hairs I've felt/seen on other female friends of mine. I'm rambling, but my point with all of that is, I don't need as much as many people do when it comes to shave gel or cremes, so I didn't go overboard on the application. I had read a lot of reviews that claimed that it got gunky, funky, and sticky if you used too much, so I opted for about a quarter, and started with my legs. Even with just a quarter's worth of creme on my calves, I still had to rinse my razor off more than usual, because it was developing a very strange residue on the razor. Every swipe, I'd rinse, and then have to wipe off the razor with a wash cloth every few rinses -- You know that bizarre feeling you get under your arms when you try to wash them after applying deodorant recently? Yeah, it's sort of like that -- it's as if this stuff was repelling water on my razor. After doing both legs, I washed my hair as usual and tested it as a conditioner, as the bottle states that it can be used for such.
Flash forward to the next morning. My legs itched. Badly. I didn't have razor-burn, per se, but they also lacked that comfortable feeling that nicely moisturized, freshly shaved legs should have. I immediately got back in the shower and scrubbed my legs off again, this time without shaving, just to try to get off what I thought may be any residue or something that had gotten left behind. It wasn't residue, and they still felt kind of gnarly to me. My hair felt like it would if I had used any type of cheap conditioner, and didn't have much going for it in that department, either.
Packaging wise, this comes in a small-ish plastic container with a push-top cap. For travel purposes, I would suggest taping it, because it's on the loose-end when it comes to push-top packaging.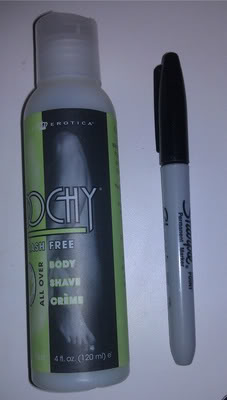 I purchased mine in the green tea scent, and I did find this to be the most pleasant part of the experience. It's light and fragrant, without being overpowering, but it doesn't have a scent that's memorable to me. It also didn't linger on my skin after the shower, so it won't leave you smelling any different than you usually would when getting out of the shower.
I haven't bothered to taste this, since it's not a product that's meant to ever be consumed in any fashion, and texture-wise, it feels exactly like conditioner. In fact, that was its best purpose in my experience, and even that is sub-par in comparison to most other conditioners in my arsenal. I would put it in the same category as VO5 or Suave.
I wish I could have found this product to be useful to me, because it was on the inexpensive end, and it had such good reviews from most people. For me, however, it's going under my sink with the rest of my miscellaneous bathroom items. Maybe one day I'll pull it out if I run out of conditioner without realizing it, but it's definitely not going anywhere near my bits or my legs ever again.
Ingredients:
water (eau), cetyl alcohol, cetrimonium bromide, stearyl alcohol, hydroxyethyl cellulose, glyceryl stearate, peg-100 stearate, peg-60 lanolin, aloe barbadensis leaf juice, simmondsia chinensis (jojoba) seed oil, hydrolyzed hair keratin, panthenol, allantoin, methylparaben, prypylparaben, diadzolidinyl urea, fragrance (parfum), blue 1 (c.i. 42090), yellow 5 (c.i. 19140), hexyl cinnamol.
Experience
A few days later, for the sake of a good review, I decided to brave the creme again. This time I did my underarms and my pubic area. I didn't fully shave, because I never do, but I do shave my labia and a bit on the sides of my mons pubis to freshen it up a bit. I used a bit more creme this time, thinking that maybe the issue with my legs was a fluke and I just had bona fide razor burn. After a few minutes, I could already tell that wasn't the case. It just didn't have the same feel on my skin as I would usually find, even if I just was using soap and water. I tried mixing it with some shave gel, as others had suggested, and that did lessen the discomfort. In my head, though, that doesn't make the product usable -- if I have to mix it with something else just to be able to tolerate (note: tolerate, not enjoy) it, it isn't a product that I will endorse as quality. The only place this didn't leave me feeling uncomfortable after-the-fact was under my arms, and that very well could just be because I usually shave them using only soap and water, and there's only one or two swipes of a razor to get the job done.

In short, I wanted so badly to like this, I just can't.
Follow-up commentary
4 months after original review
I wish I could like this. I wish this worked for me. I wish I wish I wish! I still like how it smells, but I've resorted to mixing it with shaving creme, just so I don't waste the product. This makes my shaving creme go farther, and also makes this product usable for me.
This product was provided at a discounted price in exchange for an unbiased review. This review is in compliance with the FTC guidelines.

Thank you for viewing
Coochy shave creme
– cream review page!