Perfect For Post Fun Cleanup
As a free gift, I love these wipes. I'm not sure if they are worth the retail price, but these are going to be my go-to free gift from EdenFantasys. I do wish they were a little more discreet, and there were more wipes. A single package of wipes goes very quickly.
Published:
Pros:
Great Free Gift,
Short List of Toy and Body Safe Ingredients
Cons:
Few Wipes For the Retail Price,
Glycerin May Be an Issue For Some,
Not Discreet
I always like to have some sort of cleaning supply in my toybox for when things get messy, or when I want to clean off a toy without making a trip to the bathroom. These wipes work perfectly well for these purposes, but there are a few things I'd change if I could.
These wipes are quite large, larger than I would want them to be. I would rather have more smaller wipes than just 10 large ones. With a larger wipe you're going to be using it to clean multiple toys, and I would rather use separate smaller wipes for each toy that needs cleaning up. Sometimes I have only used a single small toy, and using a huge wipe to clean it feels like a bit of a waste. I also made sure to store the packaging in a sealed plastic bag. I am not sure if the closure on them is enough to prevent them from drying out; I would rather be safer than sorry.
These wipes are also not discreet. The packaging is fun and tasteful, but it says "The Sex Shop You Can Trust" in big letters on the packaging. You might not want to store these in your bathroom if you require discretion.
For the retail price, 10 wipes is a bit underwhelming. For about the same price you can buy a 50 pack or so of antibacterial wipes that aren't branded for sex toys. However you will need to pay attention to the ingredients list and do a little research to make sure they are toy compatible. With the Eden Wipes you know they are safe for toys, and there is a relatively short ingredients list. Just 6 things. The only thing that might be of slight concern for me is the glycerin. Some people have sensitivities to this ingredient, so they might want to be careful and do a second wipe-down with a regular wet cloth for toys inserted vaginally.
There is a noticeable soapy smell to them. Not too overpowering or strong for me. The smell seems to quickly dissipate in the air, and I did not notice any lingering odor on my toys. They are moist enough to get my toys clean, but not too wet to be drippy or messy themselves.
Another thing to note: my wipes were stamped with a 2011 date. I talked to EdenFantasys' support and they explained to me that this is the "born" date, and that they are good up to 3 years after this date. I would like for this date stamp to say somewhere that this is the "born" date, and not the expiration date. There is also nowhere on the packaging that says these are good for 3 years; I had to ask customer support to find out. This can lead to some confusion that can easily be avoided with a bit clearer packaging stamps.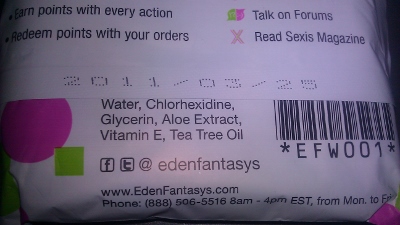 *Date stamp with no indication if this is an expiration date, or how long these are safe to use after this date.
This content is the opinion of the submitting contributor and is not endorsed by EdenFantasys.com

Thank you for viewing
Eden toy and body wipes
review page!