Quick Clean
These All-Purpose Wipes offer a quick means to clean. The astringent ingredients will disinfect, while the Aloe and Vitamin E hydrate and moisturize. Ten freshly scented wipes come in a package. This is a body safe product.
Published:
Pros:
Free, Pleasant Smell, Work well
Cons:
Expensive if purchased
Eden's All-purpose wipes are essentially baby wipes that maintain a pleasing fragrance and do not contain extra, unnecessary ingredients. One package is available as a free gift with any purchase. An unlimited quantity can be acquired any time for $4.99 a pack. There are ten wipes in every packet. These are lovely as a free gift, but $.50 for each individual wipe is expensive.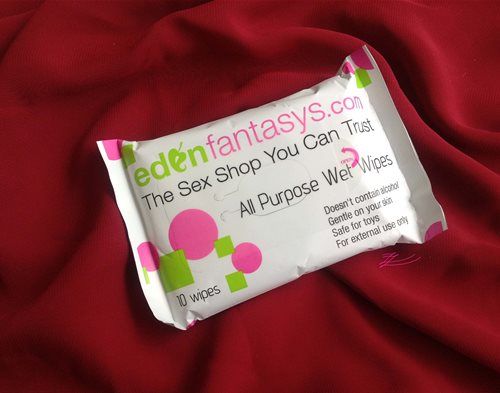 Packaging
The container is a soft, white plastic that runs a little larger than the size of an index card. On the front of the package, in the center, is a resealable opening. Prior to opening the packaging for the first time, the sticker tab is tamper sealed. The ten wipes are nestled together inside the package between foil lined walls that prevent them from losing moisture. As long as the sticker is tightly secured, the wipes stay moist. Depending on how long it takes to finish the package, the sticker seal may lose its fastening ability.
While these may be used as multifunctional wipes, their packaging is not discreet. The front and back of the container is swathed in information about edenfantasys. The words, "Sex Shop", are boldly displayed across the cover. If anything, pulling these things out of your purse would act as a beacon of notification. While it might act as a nice little advert for the site, it's not exactly practical for mixed company.
The date printed on the package is not clearly marked. The forum discussions suggest that it is the date of origin; the day it was made. Since the package itself does not address what the date means, and it is not clearly marked, it is fair to be skeptical. It could possibly be the expiration date and if that is the case, the ingredients listed should not cause you problems. The only real concern would be receiving a dried out packet of wipes. If that did happen, just add a little water to reactivate the solution. Or, just don't worry about it; they were free.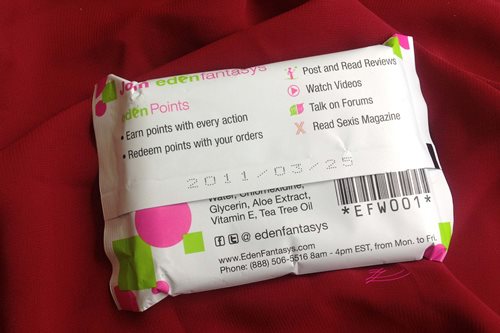 Ingredients
The solution added to the wipes is fairly straightforward. Only six ingredients are listed on the packaging: Water, Chlorhexidine, Glycerin, Aloe Extract, Vitamin E, Tea Tree Oil.
Chlorhexidine is a chemical antiseptic, which is the ingredient that does the cleaning. This chemical can be harmful in high concentrations, but is mostly safe in small quantities.
Glycerin is probably the only item on this list that would raise any concerns. It can dry and irritate skin.
Tea Tree oil is responsible for the fresh scent. It is an astringent that has drying qualities, however the Aloe and Vitamin E are added to hydrate, sooth and moisturize.
How well do they work
When comparing these with baby or cleaning wipes, the wipe itself is thin and not nearly as strong. The fibers are not woven tightly together, as a result these wipes will rip apart if the right force is applied. While these are not overly plush, they do have a nice smooth texture.
The wipes are not dripping with liquid, but instead have a light, moist consistency. They work fairly well for a quick and dirty cleaning. They are safe to use on skin and can be utilized to wipe off any number of things that may be in need of a swift cleansing. This is not the be-all and end-all of cleansers, but it is a simple product that will get the job done. For a free gift with anything you order, they are certainly worth adding.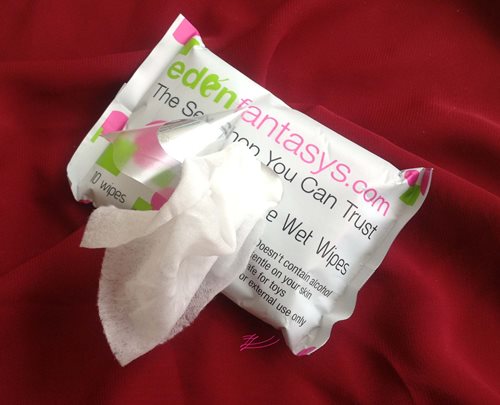 This content is the opinion of the submitting contributor and is not endorsed by EdenFantasys.com

Thank you for viewing
Eden toy and body wipes
review page!