Quick And Easy Clean Up
The Eden Wipes are safe to use on your body and your sex toys and makes clean up a breeze! These wipes are currently free with another Eden purchase, but are quite expensive if you plan on purchasing them alone. They work really well when it comes to giving your toys a good wipe down, but don't work the best on your body. With the great scent, clean feel, and compact package; they are a great free gift to receive, but probably aren't worth purchasing on their own.
Published:
Pros:
- Free Gift
- Great Scent
- Compact Packaging
- Safe On Body And Toys
Cons:
- Expensive
- Not Discreet
- Poor Resealing System
What It Is and How It's Used
Eden Toy and Body Wipes are all purpose wet wipes that are great for cleaning up after your sexual adventures. Every pack of Eden Wipes contains 10 wipes to use however you need. This product is great for giving your toys a quick clean before and after use, can be used to remove excess lube from your hands, and can be used to clean up any mess on your body caused by your playtime.
Apart from sexual uses, you can use these wipes to remove make up, clean up little spills, and can even be used to simply freshen up when you don't have the chance to shower. If you don't care about the packaging being indiscreet, you can tuck these into the glove compartment of your car, or even carry them around in your purse for spur of the moment quickies or accidental messes.
With only six ingredients, there is little concern that these should bother anyone. They do contain glycerin, so if you have sensitivities to that you will want to avoid using it on your skin. These can still be used to clean your toys without much concern, just make sure your toy is totally dry before using it.
Ingredients
Water, Chlorhexidine, Glycerin, Aloe Extract, Vitamin E, and Tea Tree Oil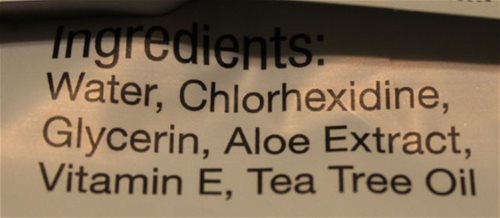 Feel / Scent
When these wipes are first removed from the packaging, they have just the right moisture level to them. They aren't so wet that you can wring them out, but they are moist enough to clean up any mess necessary. They are soft and comfortable and don't feel rough or itchy against the skin.
The wipes have a little stretch to them and are very thin. The thin part is great for helping clean smaller creases in your toys, but make cleaning up your body a little more difficult. It's easy to accidentally stretch the wipe and push your finger right through it while you're trying to clean up.
These wipes are white and have no texture to them, no images on them (like some baby wipes), and feel totally smooth to the touch. When you look closely at them you can see that some areas are thinner than others and can see all the little fibers pressed together.
The scent of these wipes is awesome! The first time I opened a packaged I expected to smell a strong disinfectant odor, even with knowing the ingredients are primarily safe. I was met with a fresh, clean, and light scent that I truly love! After cleaning your toys, the scent lingers until the excess moisture has evaporated. After that, all that's left in its place is a clean, scentless toy.
Size / Packaging
These wipes come in a little pack that's 5 1/2" long and 3 1/2" wide. The packaging isn't at all discreet and is used to promote edenfantasys.com. The package is mostly white but has their typical colors, green and pink, that make up a lot of the design and some of the text. It's fairly informative, giving the website at the top, the website's motto below that, what they are, how many wipes are included, and some of the key points that are important to know; they don't contain alcohol, are gentle on the skin, safe for toys, and for external use only. The back of the pack tells you the ingredients, but mostly gives you information about the website itself. It does include a date on it, but doesn't tell you what that date is associated with.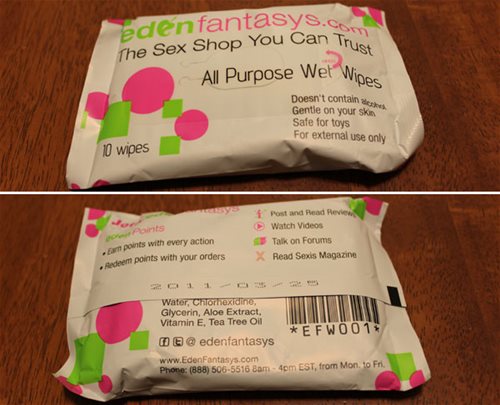 In the center of the pack there's a little sticker that says 'open' on it and shows you an arrow. You're supposed to lift up this sticker, and gently pull it back. If you pull it back too far, you'll tear the packaging in an area where the sticker won't cover and your wipes will dry up. Trust me, I've done it many times. The wipes are easily removed from the oval in the center and the sticker can be easily resealed. Just make sure all the air is out of the packaging before laying the sticker down again.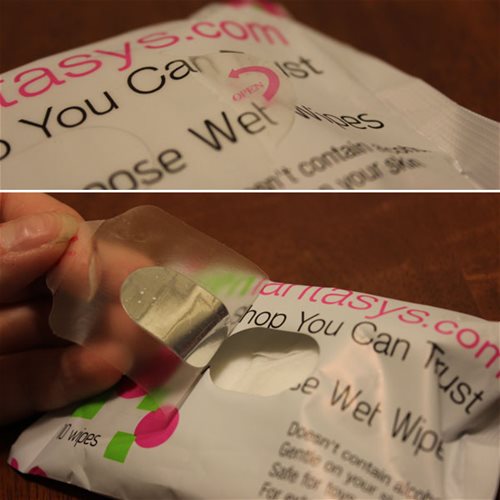 These wipes are approximately 7" by 7 1/2"; the size of each slightly differs since they aren't all cut perfectly and have the ability to stretch. The size of the wipes are very similar to baby wipes only they aren't nearly as thick. If they were a little bit thicker they would have worked better for cleaning the body but they work great for cleaning toys.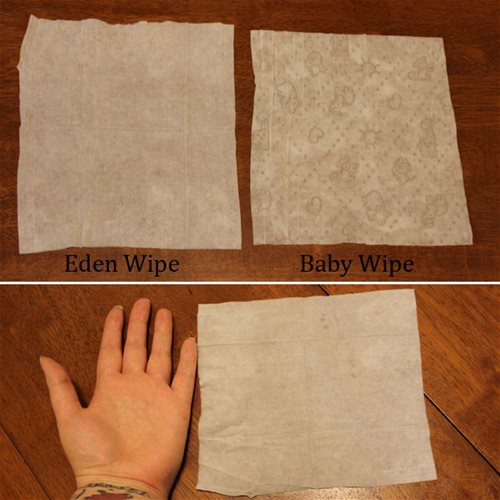 Experience
There are a lot of things I really appreciate about these wipes and a lot of things I don't care for. For cleaning toys, these wipes are great, but you'll want to stick with something that doesn't have a lot of texture to it. It's difficult to get into all the little nooks and crannies of the more textured pieces and some even end of shredding the wipe rather than getting cleaned by it. Some of the silicone and toys of a similar material will grab right a hold of the wipe and make it difficult to rub down because of it's tacky nature. Other than that, they work really well for cleaning toys.

For body use, I've not been impressed. I'm used to cleaning up with baby wipes after every session. I didn't feel like these wipes were thick enough to clean me the way I'm used to. They work in a pinch and when I don't feel like walking to the bathroom to clean up, but I prefer other wipes to these for that type of clean up.

The scent is lovely and is probably my favorite feature of these wipes. Don't tell anyone, but there have been times I've only opened the package to take a good whiff of them! Though I love the smell, I also appreciate the fact that when all the extra moisture evaporates, the scent goes along with it.

The packaging could have been a little more informative. It doesn't tell you what the date on the back of the package is for and it doesn't tell you how to dispose of these wipes. For that reason, I would suggest throwing them away rather than flushing them. You can do the same for the package once the wipes are gone.

The way the wipes dispense is nice, but the sticker system could have been improved. It's too easy to accidentally tear the packaging, making your wipes dry out faster than you can use them.
This content is the opinion of the submitting contributor and is not endorsed by EdenFantasys.com

Thank you for viewing
Eden toy and body wipes
review page!