Pucker up!
Delicious smelling and tasting lip balm in an easy to open container sold on Eden. How could you go wrong there? With 6 great choices and a low cost for the amount you get, your lips are bound to smell great and feel kissably soft!
Published:
Pros:
~Smells good
~Tastes good
~Discreet Packaging
~Easy to open/close
Cons:
~Doesn't last as long as I'd like
Organic Lip Balm
made by
Evolution of Smooth
is a moisturizing, scented/flavored lip balm made to make the lips kissably soft. Women are most likely going to be the one owning this product, however, for men who enjoy scented lip balms, this may be something they'll enjoy as well.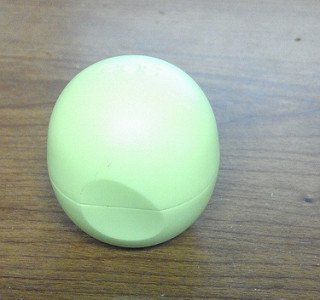 These balms come in 6 flavors/scents at the moment: Sweet mint, Honeysuckle, Lemon, Summer fruit, Strawberry Sorbet, and Tangerine. This particular review features the honeysuckle flavor. You get 1.4 oz of product in each balm, which is actually a great deal in comparison to the size of most lip balms.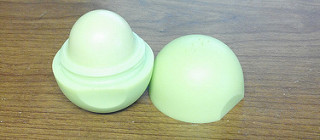 The balm comes in a colorful, almost egg-shaped container. The egg can be unscrewed to reveal your balm and because it has a flat bottom, for the most part it sits nicely on a desk or any other flat surface when not in use. It does tend to roll easily, though, so be careful not to bump it unless you want your egg going for a tumble!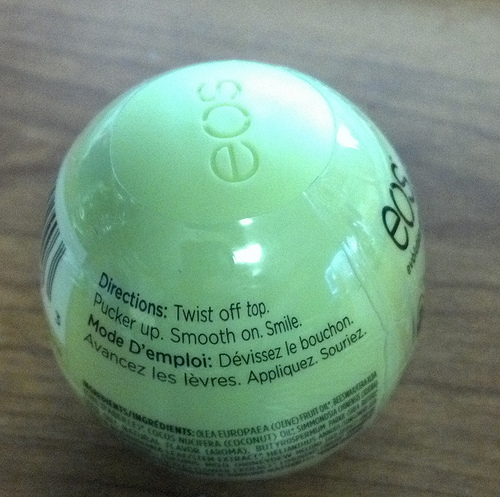 The lid is easy to unscrew, but does not easily become undone if you leave it in your purse. There is a logo engraved on the top of the egg which says "EOS", but the egg is otherwise completely discreet. You will not need to worry about kids, roommates, parents, anyone seeing this and knowing you bought it where you buy your sex toys!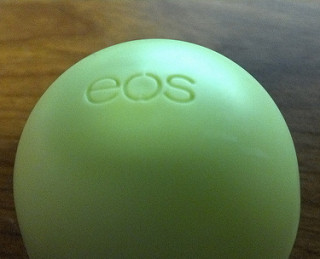 The balm itself is attached to the bottom half of the egg. It is a large half-ball of balm and does not need to be pushed up by turning a dial like some chapsticks require. It smells more like a fruity scent than honeysuckle, but still smells sweet and very good! It is not overwhelming but is strong enough to be noticed while wearing it. The balm also tastes very good! It has a sweet flavor to it, again almost fruity.
An excellent thing about this product is that it is all natural. There are no added parabens or phthalates which can be a big turn off for a lot of people, plus it is not tested on animals so animal lovers can rejoice!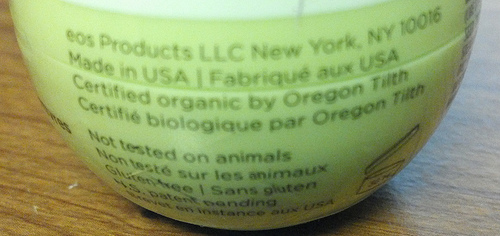 The ingredients list is not too terribly long: Olea Europaea (Olive) Fruit Oil, Beeswax (Cire D'abeille), Cocos Nucifera (Coconut) Oil, Simmondsia Chinensis (Jojoba) Seed Oil, Natural Flavor, Butyrospermum Parkii (Shea Butter), Stevia Rebaudiana Leaf/Stem Extract, Tocopherol, Helianthus Annuus (Sunflower) Seed Oil, Vaccinium Angustifolium (Blueberry) Fruit Extract, Fragaria Vesca (Strawberry) Fruit Extract, Prunus Persica (Peach) Fruit Extract, Linalool.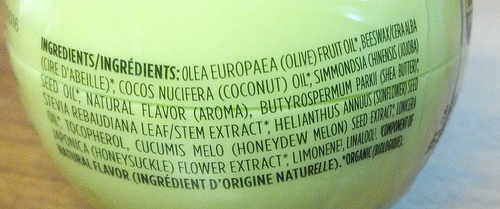 Experience
Size comparison laying next to 2 quarters: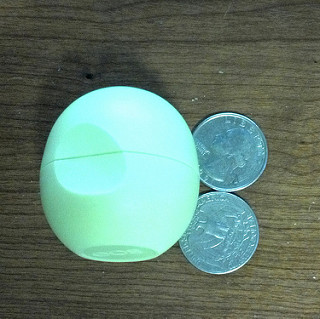 Size comparison standing up with a quarter sitting on top so you can see how much wider it is: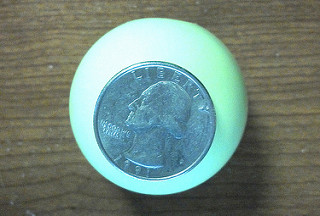 I really enjoyed the taste and scent of this lip balm, and I do use it often, but that is my only issue with this balm. My lips get very dry and I frequently apply something to keep them moist. I am what some would even consider "addicted" to applying chapstick. Because of this, the lip balm did work nicely but needed frequent reapplications for me. I tend to use
Aquaphor
often, which works for me well. I will continue to use this lip balm, and I will most likely try all of the other flavors as well! I love this balm, I just wish it lasted longer!
This product was provided at a discounted price in exchange for an unbiased review. This review is in compliance with the FTC guidelines.

Thank you for viewing
Organic lip balm
review page!