Silky Soft and Slightly Scented Shave Creme Does the Job
Cootchy Shave Creme is a thick, rich shaving lotion that nourishes and moisturizes skin while providing lubrication for a fairly close shave. The air free pump bottle provides four ounces of Shave Crème, which should last a long time for most users. This product reduces or eliminates irritation and shaving bumps, reduces cuts, smells great and makes shaving less of a chore.
Published:
Pros:
Prevent irritation
Rick and Thick
Smells wonderful
Cons:
Not the closest shave obtained using product
As the name implies, Cootchy Creme is mainly for shaving the pubic area, but it can be used anywhere you shave. Some of the scents may even be appropriate for the more masculine among us for their shaving.
The new bottle Cootchy Shave Creme comes in has a handy pump, which dispenses a small amount of product per pump.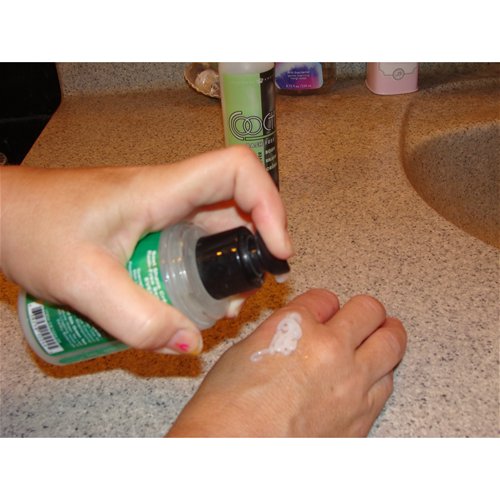 I found this much easier to use than the older packagings Pop Cap, which was subject to clogging. Some people will be able to get by with one pump per genital shave, but others will prefer 2 or more pumps per shave depending on the size of the area on which they will be using the product.
The product does not foam like many other types of shave cream. Others have described it as being similar to hair conditioner, and I think that's a fair assessment of the texture. The cream is thick and white and will actually stay on the skin, even under the shower or even when plunged into a full tub. I find I have to sometimes actually rinse very carefully to get all the product off my skin.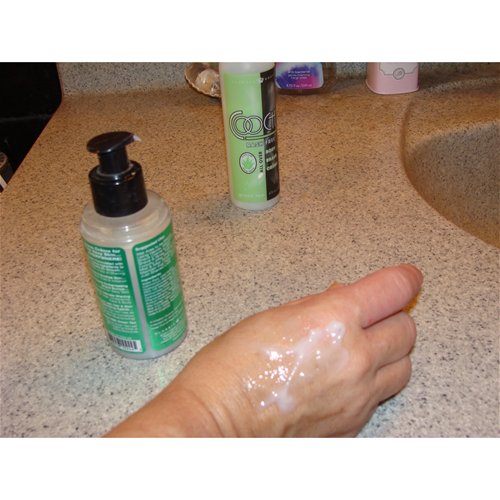 (Yeah, Yeah, I
know
what it looks like.)
The scent, I chose Naked Silk Green Tea, should not interfere with one's other fragrances as Cootchy Shave's scent is very mild. Although mild, the Silk Green Tea scent is beautiful and I always like to anticipate my husband's reaction when he first "noses" the area when I have just shaved with this product.
I really enjoy the Green Tea fragrance and have purchased my second bottle in this scent. (Green Tea in the old packaging and Naked Silk Green Tea, new packaging, are nearly identical in scent.)
Although this product doesn't not assist in the
closest
shave I have ever had, it does live up to its claim to be "rash free" and leaves you free from "embarrassing shaving bumps" as the label says it will. After shaving with the product the skin is left soft and silky and lightly scented.
When shaving the pubic area, being assured of comfort after and during the shave may indeed be a better choice for many than the slickest shave possible. Many people experience irritation and shaving bumps especially when first starting to shave the pubic area, others always experience these discomforts. Cootchy Shave Crème will most likely work for many to eliminate or at least ameliorate those problems.
I've used it not only in the pubic area, but also to shave my underarms and my legs. As the product doesn't foam, it does spread a long way, and provides a substantial cushion for the razors blade to rest upon while shaving. Then the ingredients in the crème go to work to keep the skin soft and comfortable. I have never had a cut or nick when using this product, and razor bumps are far and few between.
As per the label, the product is made in the USA, is not tested on animals, paraben free, sulfate free and "safe for all skin types." The ingredients are common ones used in inexpensive hair and body products. They include: Water, Cetrimonium Bromide, Cetyl Alcohol, Stearyl Alcohol, Hydroxyethylcellulose, Glycerin Stearate SE, PEG 100 Stearate, Jojoba Oil, Lanolin, Keratin Protein, Panthenol, Allantion , Fragrance. None of these are of particular note, although some people may be allergic to Lanolin if they are allergic to wool, so that should be kept in mind. Also,
Propylparaben and Methyloparaben were
included in the older formulations and
are still listed on the Eden website
, but this chemical has been removed for the newer packaging, allowing the product to be paraben free. |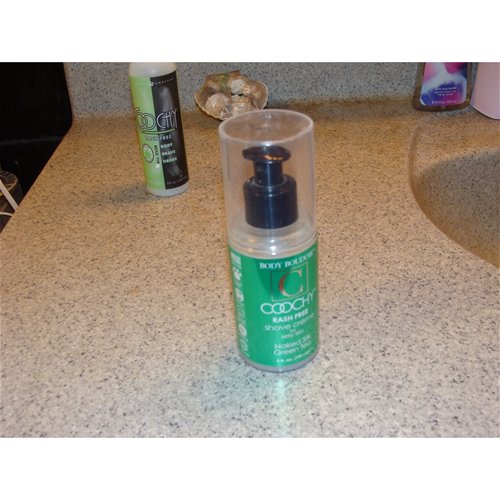 It does seem to stop irritation, although my skin does not get as irritated as it did when I first started shaving the pubic area. Nobody likes to be itchy and uncomfortable and this product will help quite a bit with that issue, as well as providing smooth skin and a nice aroma after use.
Experience
The bottle also says you can use it to condition your hair. As much as I enjoy the fragrance, it may be a bit pricey to use for that, in my opinion. I may try it as I purchased as second bottle before my first bottle was gone, to get the new air free pump and newer labeling and paraben free formula. I must say I like the new bottle much better than the old one. The air free pump is easier to use than the pop cap of the old bottle and the reflective foil design of the new bottle is more attractive. Below, the older bottle and formula is on your left and the newer bottle with pump on your right.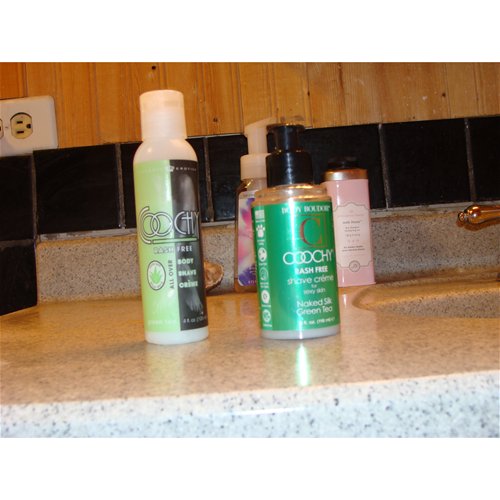 The pump can be capped with a clear top, included, but I leave the clear cap off for easier access in the bath or shower. I'm sure the clear cap comes in handy during shipping or while on store shelves.
The shave it provides, although not quite as slick as to be perfect, is nice enough for my needs and I use the product about every other shave. I cannot "skip a day" as the bottle suggests using Cootchy Shave will allow you to do, but my hair grows quickly and I usually shave daily or at least every other day to stay smooth.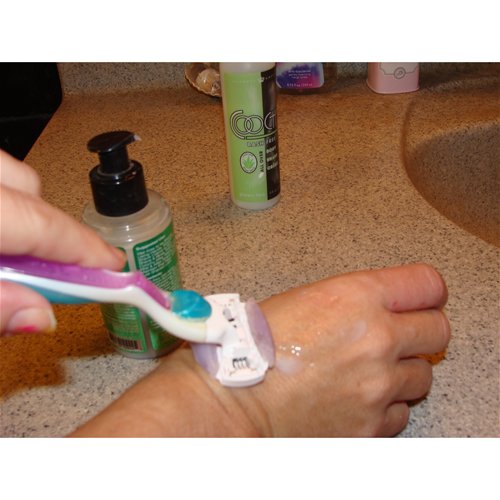 I do feel soft and sexy and both My Man and I enjoy the nice aroma after I use this product.
This product is great for every day shaving or alternating with your regular shave product.
Follow-up commentary
10 months after original review
I still love the smell and features of this shave creme. It has lasted a lot longer than I expected it to and it does the job well, with a much better scent than most drug store shave cremes. Even after many uses, the pump top works well and that is something that often doesn't last long with some products.

I use it on legs, underarms and pubes and it performs admirable in all places.

I have two bottles of this, and haven't run out yet. I'll most likely buy more when I do run out.

Good quality for a good price. The Green Tea Scent is subtle and my favorite.
This content is the opinion of the submitting contributor and is not endorsed by EdenFantasys.com

Thank you for viewing
Coochy shave creme
– cream review page!