Spray Anything Your Heart Desires!
The Dona linen spray is a great product to use around the home for various purposes. Whether you are freshening your sheets or using this product as a body mist, the light scent is sure to please!
Published:
Pros:
- Smells great
- Versatile
Cons:
- Scent doesn't last very long
The Dona Linen Spray is one of the many products available in System JO's bath and body line. There are various scents available, but I have purchased all of my products in the blue lotus variety. So far, each of the products that I have tried compliment each other quite well.
"Give your linens and sheets a sensual touch."
The Dona linen spray is designed for use on your bedding. It is infused with aphrodisiacs for a heightened sexual experience. In addition to using this product as a linen spray, you can use it as an air freshener, fragrance for clothing and furniture, and much more. This spray can be used for so many purposes; let your imagination run wild!
Directions:
Spray on fabric, wait, and breath in happily.
In order to prevent excess wetness on fabric, hold the bottle approximately a foot away. Additionally, if you are spraying a specific article of clothing, you can spray the mist into the air and actually move the item into the spray. Either option will work well for preventing any sort of fabric discoloration, especially since the liquid is clear. However, if you do spray too close and get fabric wet, there is no reason to worry. Unless you hold the trigger directly on the item, once the spray dries, there won't be a visible stain.
As mentioned, I have purchased my Dona products, including the linen spray, in the blue lotus fragrance. When the mist is first released from the bottle, it reminds me of cucumber. I was a bit disappointed at first since I'm not the biggest fan of that particular scent. However, once the mist dries, it takes on a light, floral scent, which I enjoy.
Whether or not the infusion of aphrodisiac actually makes a difference, I cannot be sure. Scientific studies cannot say for sure if such an effect is possible or if it is more of a placebo effect. Speaking from personal experience, I didn't notice any difference whatsoever in libido of boyfriend nor myself. While we both enjoy the scent and find it quite soothing to crawl into bed with lightly scented sheets, our libidos have gone unaltered.
In addition to containing aphrodisiac, this product has a few other special features. The Dona linen spray is natural, cruelty free, and paraben free. All in all, this is a product you can feel good about using!
My only suggestion is to be careful if you have sensitive skin. There are many difference types of oils and fragrances in this product. Therefore, I highly recommend you check the list of ingredients for any known allergies.
Ingredients:
Purified Water, Caprylic Capric Glycerides, Polyglycerol-6 Dioleate, Glyceryl Caprylate Caprate, Propanediol, Saccharide Isomerate, Passion Fruit (Passiflora Edulis) Seed Oil, Rice Bran (Oriza Sativa) Oil, Açaí (Euterpe Oleracea) pulp Oil, Babassu (Orbignya Oleifera) Seed Oil, Phenoxyethanol, Ethylhexylglycerin, Garcinia Mangostana (Mangosteen) Fruit, and Fragrance.
Additionally, it is a good idea to spray only a small article before coating your linens with this spray. While I found the scent to be light and airy, it may be bothersome to others.
Overall, I absolutely love this linen spray. It is versatile and is an easy way to pamper yourself. My only negative comment is that the scent doesn't linger as long as I would like. Therefore, you may need to reapply the product every few days (depending on your personal preferences). The 4.5 fluid ounce bottle will be gone before I know it since I spray my sheets every 3 days or so!
If you find a scent you really enjoy, I highly recommend that you check out some of the other Dona bath and body products as well!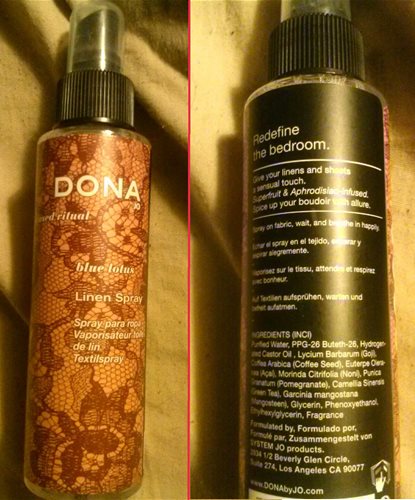 This content is the opinion of the submitting contributor and is not endorsed by EdenFantasys.com

Thank you for viewing
Dona linen spray
– mist review page!