Sweet & Sensual
We loved the Shunga Body Paint! It smelled and tasted great and really added to our foreplay. It was so sensual licking this off of each other's bodies. I highly recommend this to couples who want to spice things up!
Published:
Pros:
-sweet tasting
-very fun
-nice bottle
-smells good
Cons:
-residue
The Shunga body paint is a flavored liquid used for body painting. To use you dip the stick into the liquid and draw, write, or doodle on the body, then lick off. We purchased the Strawberries & Champagne version. The Champagne scent is very strong followed by a Strawberry like taste. It's sweet but not overly sugary.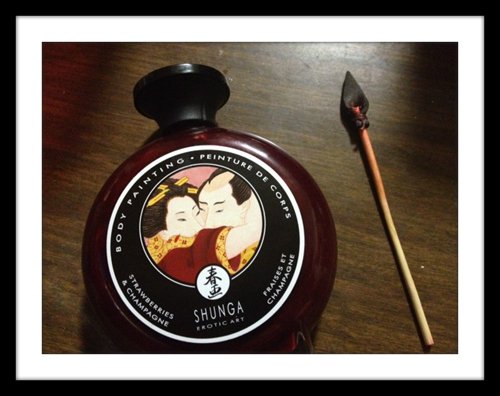 The ingredients are very minimal, containing sugar, flavor, preservatives, and food coloring. The ingredients are: Sugar, water, glucose, modified cornstarch, FD&C Red #40, FD&C Blue #1, malic acid, potassium sorbate, flavor, salt, xanthan gum, and titanium dioxyde.
The bottle is a clear glass that is heavy and thick. The label on the front depicts an Asian couple in embrace. The back shows the ingredients and weight of the bottle along with some use suggestions. It states this can also be used for skin care and as a face mask. I don't think I would use this other than for painting because it is thick and a bit sticky. I wouldn't recommend this as a face mask. The top is a unique design made of hard plastic. It will tighten securely preventing any leakage after closing.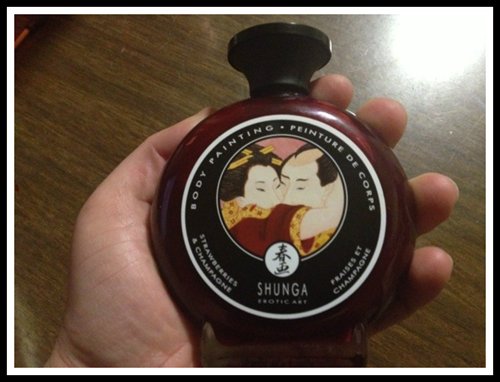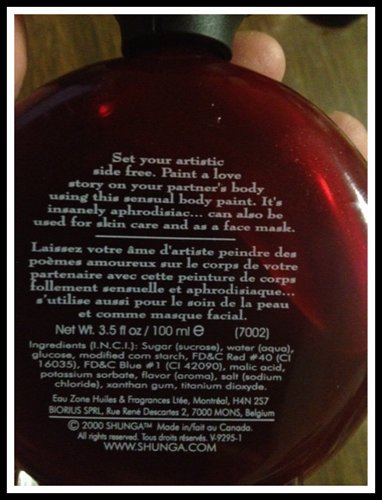 The pen that comes with this is a wood stick with a foam tip securely fastened to the tip. It is easily cleaned with water. I would suggest rinsing after use to prevent it from hardening and being useless. The foam is very soft and does not stab the skin while painting. It is formed to cup a small amount of liquid to disperse during painting. You will need to dip frequently to get the effects that you desire. The pen makes it easy to draw on the body.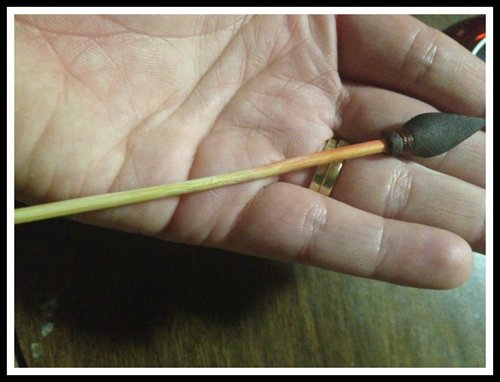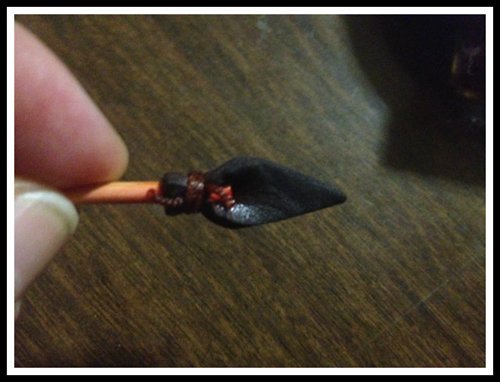 This can be poured into a small dish for dipping or into a dish with a spout for pouring. We just dip the tip straight into the jar. You can get very creative with the way you distribute it on the body and with the type of drawings you make. This is especially sensual when licked off of erogenous parts of the body, such as the nipple, inner thigh, and other places. I would definitely not recommend applying to the penis before intercourse because this contains sugar and you can get a yeast infection if you get sugar into the vagina. If you do want to lick off the penis, please be sure to clean it before insertion so you don't get an infection.
When we doodled on each other's bodies and licked it off it sort of smeared a big red mark over our bodies. It was a little bit sticky and needed to be wiped off with a wet cloth. We were red all over after use and couldn't quite lick it all off as it kind of just smeared everywhere. It was still very sensual and fun to use.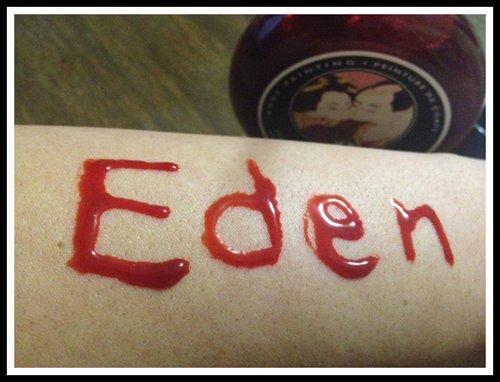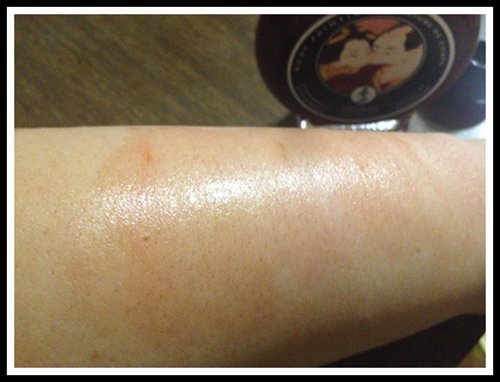 The liquid is thick but will run when you apply it to the skin. It is the consistency of fountain drink syrup. If you press the foam tip on the skin and limit the amount of liquid it will not. We had a run drip on the sofa and I was afraid it would stain the fabric. I grabbed a wet cloth (only used water) and wiped it away. When the area dried there was no stain and no evidence that some was spilt. This will stain certain things. The stick used to draw was stained. It is wood and was stained red closer to the foam tip.
If this leaks on the glass bottle it will dry into a waxy/gummy type substance you can easily remove with your fingernail. I noticed a little was splashed on the outside of the bottle the next day we used it and it was easy to clean up. A spot even got on the label and didn't stain; I could wipe it off with my finger and no cleaner or washcloth was required.
The Shunga body paint was absolutely fun! It was sensual, playful, and tasty. We will be adding this into our foreplay from now on. It truly worked as an aphrodisiac and the time we took to lick this off of each other added to our desires.
Follow-up commentary
3 months after original review
This is still amazingly fun to use and we have a TON of product left over. I highly recommend this for anyone who wants to add some playful fun in the bedroom. This will last a very very long time. I honestly predict this bottle will last me a couple of years. Super cost effective and very playful.
This content is the opinion of the submitting contributor and is not endorsed by EdenFantasys.com

Thank you for viewing
Edible body painting
review page!