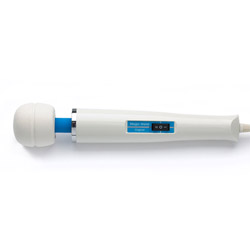 Magic Wand Original
Wand massager by Vibratex
The should capitalize HIT because it certainly is...
This device is capable of buzzing you to infinity and beyond, just make sure you to use in moderation... Oh man... Did I just make a Toy Story reference about vibrator? Kids, is there anything they can't infect.
Published:
Pros:
POWERFUL
Cons:
Must be plugged in. Only two speeds.
What more can be said here or in any other venue about the Hitachi Magic Wand. Well I'll do my best like so many before me.

Lets start with the basics, as if they were necessary. The Hitachi Magic Wand is a vibrator, intended for external stimulation of virtually any body part (though I'd avoid the skull directly as it will rapidly give most a headache). It has no real unique functions to speak of. It has a simple three position rocker switch down for high, up for low, and off is in the middle of the rocker. We received it in standard kitchen appliance white, in a cardboard box with the device printed on the side like any other electronic item. You plug it in, yes I said plug it in, you know... to the wall. You turn it on. It makes noise and shakes. It's at this point you begin to realize there is in fact something a little unique about this device. Like a kitchen appliance it has power. I mean serious power. Also like most kitchen appliances, it does its job, well.

On low its amazing, on high it can actually be close to unbearable if you are unprepared. It takes no time at all to realize the power on either setting and as I have read before it make be best to begin use in a less sensitive area, lower abdomen seemed like a nice start, and even here, on low, she was able to feel it quite strongly in the naughty bits.

I advise like all vibrating devices to take care not to prolong the use as desensitization is a possibility, and in the case of such a powerful device it can happen quickly. Not just in your good parts either, I found a bit of dead hand setting in from holding it.


We are hoping to incorporate some of the available attachments in the future but for now we are simply enjoying the power and seemingly instant results if necessary.

Does it have a downfall? Could it be possible? Unfortunately it is not (insert deity's name here)'s answer to the toy community. You do after all have to be near a 110V outlet, and there is the mention of maybe too much power for some. If you like strong deep vibrations, set this bad boy on low apply your desired pressure, and blissfully melt into your location of choice. If not stick with the battery operated lower power devices we all know and love already.
Follow-up commentary
21 months after original review
This is still the top dog in the toy drawer. It is still running strong, though it has gotten louder over time. We still love it we just have to turn the radio up another notch!
This product was provided at a discounted price in exchange for an unbiased review. This review is in compliance with the FTC guidelines.

Thank you for viewing
Magic Wand Original
– massager review page!