Ummm is this water or oil?
If you think that this is going to be like Lelo's Flickering Touch Massage Oil in a cheaper container and a cheaper price... please stop thinking that. This is a product that might contain the same ingredients but the Ono Oil does not make my skin glow or feel happy.
Published:
Pros:
Funky packaging, extra safety seals are always nice!
Cons:
It sits on your skin, is quite tacky, doesn't absorb and is almost impossible to wash off.
I do not know if you know, but I love and adore oils. Especially the
Lelo Flickering Touch Massage Oil
. I am a connoisseor of fine things, and I love oils. Granted, the Lelo Flickering Touch Massage Oil is a little on the pricey side, but oh so worth it. But imagine my surprise when a Lelo based product came out with the same ingredients (minus the gold flakes) and a fraction of the price?
I was bouncing in my fancy chair.
Then I was crushed. Beyond crushed.
Nitty gritty as always first:
Ingredients: (copied of course) Glycine soja (soy) wax, butyrospermum parkii (shea butter), prunus armeniaca (apricot) kernel oil, perfume (benzyl benzoate, vanillin).
Packaging: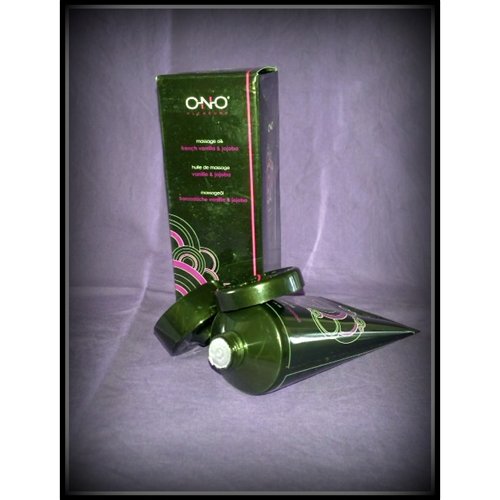 As you can see the plastic squeeze bottle comes with a safety sticker to prevent leakage during shipping. Just remove it, and twist on the cap.
Size:
75mL/ 2.5floz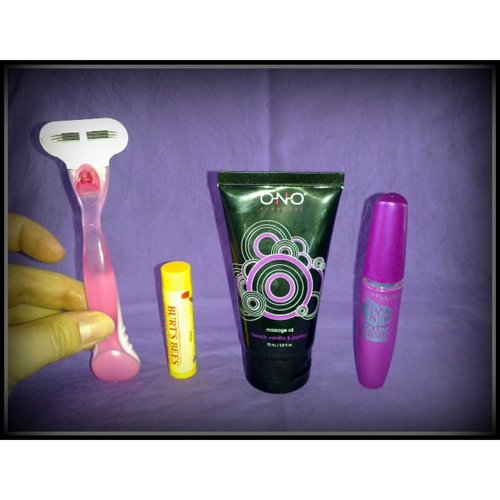 From left to right, Venus Razor with original head, tube of Burt's Bees, Ono Pleasure Massage Oil, Maybelline's Falsies Mascara.
Scent/Taste:
To be honest, this is one of those items I just cannot taste because I it just didn't work as well as it should. That will be explained further on down! The scent is similar to the Ono Massage Candle in the French Vanilla and Shea Butter Scent. Almost Betty Crocker icing flavour. The only difference between the candle of the same scent; the massage oil is a little more musky vanilla tossed in for good measure.
Texture:
Can we say water? You do not need to squeeze the plastic squeeze bottle, just tip the bottle and it comes out like water. It gets all over the lid and down the side of the bottle resulting in one huge huge mess.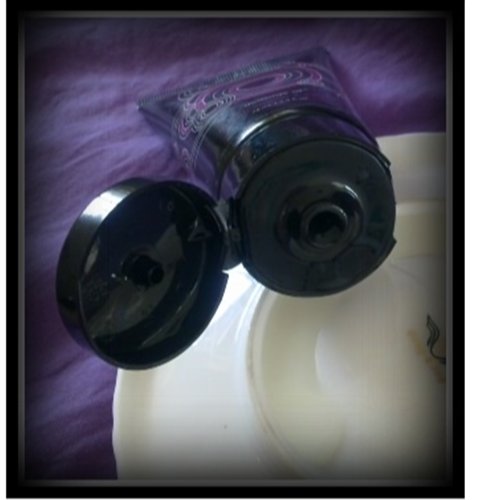 How does it work as a massage oil:
When I first get a new oil I always use it first after a shower. I like to apply the new oil onto clean skin to see how it absorbs. When I opened up the oil it was just to easy to pour and so much came out that it spilled over my hand and on the the floor.
So a word to the wise, when you go to use it, be very very careful. It's wabbit season. I mean just e very careful.
And be VERY careful when you go to snap the lid shut. Because of all the oil that is in the lid, when you close the lid, you get oil spatters everywhere. On your clothes, and on whatever is in front of you. Let me just say that enough oil landed on the floor for a slip n' slide. That is not a pretty sight.
I took the oil and began to massage it into the skin on my arm, I was rubbing and rubbing and rubbing... and it was just sitting there. So I rubbed some more.
It was still there. Try as I might, the oil would not absorb into my skin. I tried on my legs, on my abdomen, breasts and buttocks all with no luck. The oil just did not absorb. I stood there naked as a jay-bird waiting for the oil to sink in.
And nothing happened.
So after about thirty minutes of trying to get it into my skin, I gave up and jumped back into the shower.
Experience
The problem with jumping into the shower and trying to wash it off, was that it wasn't washing off.

I tried soap, and I tried body scrubs. I tried wash clothes and loofas and even sea sponges. Notta.

It wasn't until I took my other oils and tried to get rid of the Ono oil did I remember, "Duh Woman! Like dissolves like!" and got to work. It took such a long time, almost a full tank of hot water to get rid of the Ono oil.

I was not very happy with the Ono Pleasure Massage Oil. And to be quite honest, a little disappointed in Lelo.

Needless to say, after scrubbing my skin for about forty minutes trying to get it off, my skin looked like I got a chemical peal from neck line to my toes.

If you are thinking that this Ono Pleasure Oil is something similar to Lelo's Flickering Touch Massage Oil or even something in similar quality, please don't think that. It is not anywhere near the same quality. The Flickering Touch Massage Oil once massaged into your skin, your skin drinks it up and doesn't leave your skin feeling tacky or oil, and if you need to wash it off for any reason, it comes off easily and quickly.

So my bottom line is this. Because it did not pass the initial testing phase and caused me a few skin issues, this stuff never made it into the bedroom or to the massage parlor. And because of this, I am only giving this massage oil a one out of five star rating.
This content is the opinion of the submitting contributor and is not endorsed by EdenFantasys.com

Thank you for viewing
ONO massage oil
review page!