Very Smooth Coochy
The best , gave me a very clean close shave, after shaving it felt very soft and smooth. It made my Coochy smell great just like the creme! Sweet and my fiance loves it!
Published:
Pros:
Everything about this product is great, the smell, the texture, the way it makes you feel!
Cons:
NONE
Coochy shave creme is a wonderful product. I would give it 10 Stars if I could! After reading nothing but great reviews on this product, I decided to give it a try. I really wanted to try the Pear Berry but the Original was the only one in stock. I placed my order on Saturday and by Tuesday morning it was at my doorstep. It came in a very small USPS box and inside the box the Coochy was in a clear plastic bag. As soon as I received it I was more than excited to try it out. I took it out from the box and started to read the instructions. It is only 4oz so it's not that big. I have a picture comparing it to the climax bursts cooling lube. Its smells very pleasant. The smell was sweet like a sweet-smelling conditioner. Honestly it was not what I expected, as the name says on the website "Coochy Shave Cream" so I expected it to be used only for your pubic areas. The directions suggests it can be used not just in the vaginal area but on the legs, underarms, face and even in the hair as conditioner! The funny thing is when I used the product that day I washed my hair as well and I ran out of conditioner, well the Coochy shave creme came in very handy.


As the directions suggest, you wet the area that needs to be shaved and using your hands you apply a small amount of Coochy to the area and shave as you usually would then wash it with water or water and soap whatever you choose. At first it felt very strange more like conditioner that traditional shave creme. After I was done shaving, I took my regular shower and washed my hair. I was a little skeptical and unsure if I should be using something named "Coochy" in my hair, but I did anyway because I had no conditioner, and to my surprise it was GREAT! My hair was very, very, very soft. It was manageable and the comb went through it very easily. I was really impressed now I'm thinking of switching to Coochy and using it as a regular. Also I noticed that the sweet scent stayed on me after I used the Coochy cream and my man found it to be a big turn on.


Today is Sunday and it's been only 5 days since I've used the Coochy creme and I'm so surprised that my pubic hairs have not started growing back yet. Usually withing 3-5 days I would see and feel the hairs growing and when I touch it or glide my hand over it, it would feel very "prickly". But to my surprise it was still as smooth as the first day I used it. I have no razor bumps, no ingrowing hairs, no irritation. Thank you God for the inventors of the Coochy!!!!! I have already recommended this to my mother, and my cousins, I'll be ordering more soon to stock up for my hair and for my regular shaving and for my mom. :)
Experience
My Climax Burst cooling lube and my coochy creme were about the same height and both 4oz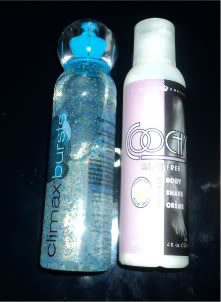 This content is the opinion of the submitting contributor and is not endorsed by EdenFantasys.com

Thank you for viewing
Coochy shave creme
– cream review page!