Warms my heart and soul!
Possibly one of the best purchases I've ever made! This 5x5 heart-shaped heating massager is a God-send for anyone with aches, pains, tension, cramps, muscle problems...what can't this warmer do, again? Add feed the hungry and world peace and it could do everything!
Published:
Pros:
Travel Size
Sturdy
Instant Warming Pad
Doesn't need to be plugged in
Cons:
Must be boiled to reactivate
DO NOT MICROWAVE!
Upon receiving the
Heart Warmer
, a wonderful product made by
Pipedream
, my first step a bit of research to fully understand how this product works! The Heart Warmer is an amazing bit of science to observe!
WHAT IS IT MADE OF?
This product is encased in a heart shaped PVC encasing. PVC is short for "Polyvinyl chloride" and is best used with lubricants that are either silicone or water based. Cleaning can be done with water and antibacterial soap, but this product is best cleaned during it's "reset" mode, which is by boiling (I will go into that a bit later). Inside of the PVC heart is a combination of an iron disc, cellulose, activate carbon, water, salt and vermiculite. What does all of that mean? SCIENCE!
BUT HOW DOES IT WORK?
as explained by a science geek!
Chemical warmers like this one work by a reaction in the molecules. The water in the warmer will cause the iron disc to oxidize, releasing energy. The energy is dispersed through the warmer and comes off as heat. The carbon allows the heat to spread at an equal rate. The PVC allows the oxygen (from the oxidizing of the iron) to move freely through the product without evaporating everything! Then, the sodium works as a catalyst, which means that everything happens very quickly! Then, you have your vermiculite which allows the Heart Warmer to remain hotter, longer! And there you go! SCIENCE!
Here is the heart in front of a soda can; it is just shorter than the can directly behind it.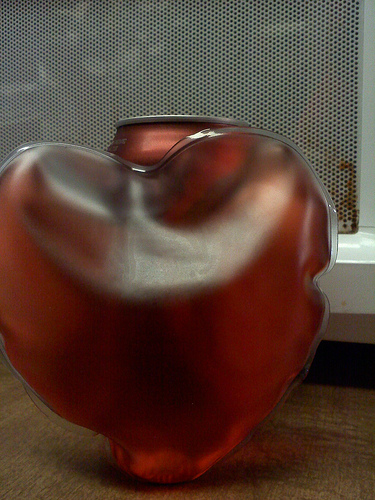 PACKAGING
The heart came inside a box, not much taller than a soda can! Not only is the product itself discreet, but the box is, as well! In fact, I would feel perfectly comfortable giving this as a gift to my mother! The box explains that this is a massager, meant to help with muscle aches and pains, reducing stress, and can be reused. No where on the box does it lead one to believe (unless of course they knew where I'd purchased this item!) that this was on a site where adult toys can be purchased. The only thing that could possibly give it away would be the company's logo, which is in somewhat small lettering on a couple of places on the box. Really, unless you know the company, no one would be the wiser! Aside from uses, the box shows instructions, company information, and their caution (which I will explain now!)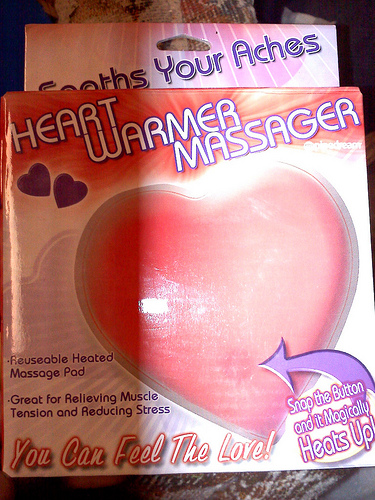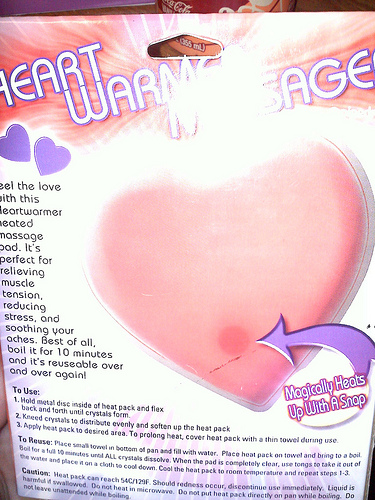 CAUTION? WHAT CAUTION?
Because this massager heats up to a high temperature, the company does warn that by "high temperature", they mean pretty damn hot! This product heats up all the way to 129°F/54°C. This means that if you leave the warmer on bare skin for too long in one spot, it could burn you. I would suggest using this over clothing, or wrapping it in a towel, if you plan to leave it in one area for too long of a time.
SCENT & TASTE
I did take a small lick of the warmer, just for review's sake. It didn't taste delicious (although I bet if I had added flavored lube to it prior, it would've!) but it didn't taste bad either! In fact, I didn't taste a thing! I did, however, notice the smell to it. The smell went away after the first time I'd boiled it, but washing it with warm water and soap still left the smell there. The best way to describe the smell, was that it had a rubbery plastic smell to it. It reminded me of those inflatable rafts that you put in the pool which makes sense, as they are often made out of PVC as well.
WHERE DO YOU STORE IT?
While I personally store mine back in the box, as it is barely bigger than the warmer itself and keeps it safe from our cats, you can really store it just about anywhere as long as no sharp objects will be around it, possibly puncturing it. I might suggest putting it inside of some sort of a bag, just in case it is somehow damaged, and leaks, but given its "fillings", it shouldn't stain or be too difficult to clean up. The outside material is pretty sturdy, so it would more than likely need to have a whole lot of weight placed on it while in liquid form to burst, or be punctured by a sharp object to open up.
HOW DOES IT FEEL?
Other than
amazing
, you mean? The PVC is very smooth. Again I refer back to the smooth feel of the inflatable pool rafts. The edges are not really sharp, and the only seams are along the edges, so they shouldn't come undone unless the item is defective.
(continued below...)
Experience
(...continued from above)
WHAT DO I USE THIS THING FOR?
Good question, readers!
1)
shoulder pain
: Let me start by giving my reason for this purchase in the first place! I have a lot of shoulder pain which prevents me from doing normal activities at times. I have a condition called
tendinitis
. One of the at-home solutions is heating pads! I hate the icy hot patches because they feel so sticky and I don't like having to plug a regular heating pad in because then I am not able to freely move about. When I saw the Heart Warmer, I saw a solution!
2)
cramps
: Every woman is different, but one thing that we almost all have in common is that just about every month we have terrible stomach cramps! Sometimes they are tolerable, others it feels like someone is stabbing us with a hot poker! A great solution other than downing a bottle of Midol and Vodka is using a heating pad! This heart is perfect for such things, with its small enough size and light weight, a quick and simple way to save you each month from the agony mother nature causes!
3)
winter time!
: While this heating pad can't actually cure winter, which those of use who hate the cold would wish for, it certainly can help you get through it! If you get cold hands, this is the perfect way to keep them warm! Just make sure you purchase two, because you don't want one of your hands to feel left out!
4)
massages
: Hot Stone massage can be a great way to relieve stress and relax! The Heart Warmer can be used for sensual massage, and because it can be used with certain lubricants and oils, it is perfect for such a thing!
Those are just a few of this amazing warmer's uses!
REACTIVATION!
The great thing about this item is that it can be used more than once! What I didn't like was the
way
it must be reactivated. To get this item back in its original state you boil it. I use a washcloth in the bottom of a pot of water, so I don't burn the PVC. Just place the heart in a pot of water after it has cooled off, bring to a boil, and leave it in there for about 10 minutes. At this point, you will notice that all of the crystals have dissolved again. After this, you will want to carefully remove the heart from the pot to allow it to cool off. I remove it by using a pair of metal tongs with smooth edges. The PVC is going to be more easy to burst in this incredibly hot state, so please be careful! Also, be careful not to burn yourself, of course! Once the heart cools off, you can just click the metal disc again, and it is ready to provide heat and comfort all over again!
WHY DOES BOILING IT REACTIVATE IT?
Remember when I mentioned that clicking that iron disc oxidizes? Basically, boiling reverses this whole process, returning the disc back to its original state prior to oxidizing, flipping molecules back to their original form and slowing everything down!
Follow-up commentary
4 months after original review
I still use these often and even after dozens of uses each, they are still holding up nicely! They are starting to lose their ability to heat up as much, but they still get pretty hot! It is only by a couple of degrees difference, but still something that I notice.
This product was provided at a discounted price in exchange for an unbiased review. This review is in compliance with the FTC guidelines.

Thank you for viewing
Heart warmer
– massager review page!