Well that's just Peachy!
Buying scented products online can be a hit or miss affair. Some are too artificial, some just don't smell the same as the label would have you think while others manage to hit the Goldilocks zone and are 'just right'. Venus' Aromatic Mist in peach is a standout product that smells every bit as good as you would expect. The fact that this can be used on body, clothing, bedding or in the air makes it a versatile product and a little can go a long way, despite the small bottle size
Published:
Pros:
Travel-friendly, fresh scent, multiple uses
Cons:
Discontinued, small bottle, contains parabens
Some time ago - when we foolishly thought we owned all the sex toys we'd ever need (yeah, right) - we decided to try out some of the non-sexual products Eden was offering. After a not-so-good experience with the
Dona
line and several wonderful ones with
Cake Beauty
products, we decided to try out the (now discontinued) Venus line.
We bought a couple of the bath products, and although they smelled very nice, they were a little expensive for the size. But there was one particular offering that balanced size, price and quality - the Aromatic Mist.
As with the other Venus products we'd bought, the label says that this is an 'All Natural Dead Sea Product'. I've been keen to find out exactly what part of this is the 'Dead Sea Product', and some research has led to me finding the following information online:
"Venus Aromatic Mist Peach is a natural Dead Sea product that contains compounds extracted from its sea salts. Dead Sea Salts are primarily made up of Magnesium, Potassium, and Calcium. All of these minerals have known properties for healing the skin topically. Seas in the rest of the world have salt that is primarily made up of sodium."
Being cynical, I've no idea whether this accounts for 0.001% of the contents or 10%. It's probably the former, but to be honest that wouldn't stop me from buying this again if it were offered. It's listed first in the ingredients, which isn't very helpful since I'm used to labels showing ingredients by content (i.e. if there's more water than anything else I'd expect that to be listed first).
Ingredients: dead sea salt, pumice, aqua, tea lauryl sulfate, propylene glycol, carbomer, oleth 20, glycetreth 26, fragrance, benzophenone 4, methyl paraben, propyl paraben, imidiazolidinyl urea, triethanolamine, disodium edta. may contain: fd&c yellow 3. fd&c blue 1 and fd&c red 33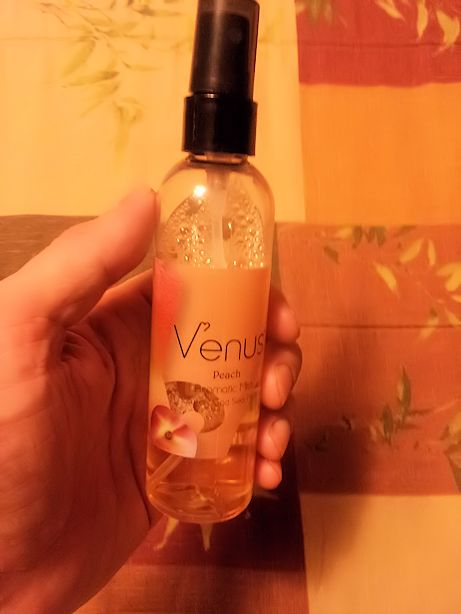 The mist comes in a clear plastic 4oz bottle. It seems small (ok, it is small), but you really don't have to go overboard spraying this. In fact we've had ours for 9 months now and still have a little over half of the bottle left, although we don't use it daily. The bottle itself is 6 1/2" tall (including the pump dispenser) and 1 1/2" diameter. So although it's small, it's a reasonable size to pop into a handbag or purse should you wish to do so. Another plus is that this is totally discreet with no mention of anything sexual anywhere on the bottle. This is something you can leave out anywhere without anyone wondering where you got it from.
On removing the plastic lid, the scent isn't overwhelming. In fact you have to get fairly close before you smell anything. But when you do, it's intoxicating. We chose the Peach, although we later tried the Mango, which wasn't quite as nice as this. It's a little heavier and sweeter than real peach, but that's no real surprise. Unlike some reviewers, we didn't think that this had a particularly chemical smell, so that's a plus.
This sprays as a fairly heavy mist (that strangely bubbles in the bottle when you spray). The spray hangs in the air for a couple of seconds before the droplets fall - I'd say it has a similar consistency to air-freshener, although it still manages to feel fairly light on the skin. Unlike air freshener though, this spray has multiple uses. You can spray it on your body for a quick freshen-up (the peach is perfect for that on a hot summer's day), you can spray it on clothes, furniture or on linen. It's also great for giving your bedclothes a quick spritz and of course you can just spray it into the air to freshen up your room, although this will obviously use up more since you're covering a bigger surface area than your body or clothes. The point is that this is useful for lots of things which is why I think the price is reasonable.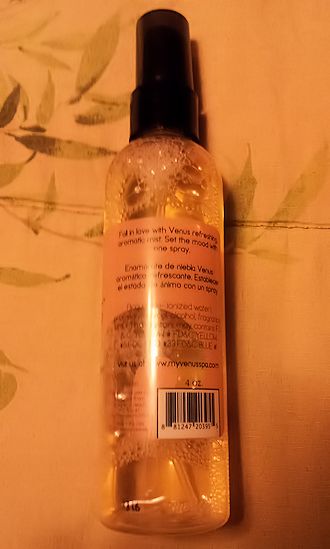 Not a boob or crotch shot anywhere. Safe to leave out in front of Granny!
The peach in particular definitely does the trick. Whether you just want a quick pick-me-up or you're in between washes of your bedding, one or two sprays of this will keep everything smelling fresh for a good while. It doesn't last all day, but I've found that it lasts about an hour if sprayed on the body and maybe double that when sprayed on fabric.
I'll admit that we bought this partly to make up an order but were very pleased with it. Had we known that the whole Venus line was going to be discontinued we'd have bought more of this and would also have bought other products in the line, too.
This content is the opinion of the submitting contributor and is not endorsed by EdenFantasys.com

Thank you for viewing
Venus aromatic mist
review page!