Going, Going, Gone?
When I asked about this about a week ago, I was told that there were only six of these left in stock, and then it was going to be discontinued. Now, there are five or fewer. If you are one of the 412 people who have this on their wish list, you had better make an order today!
Published:
Pros:
Lovely cherry finish, Practical design, No lock
Cons:
No lock, Only fits slimmer items, Attracts tissue lint
I have a thing for dark-stained woods, so from the first time I saw the
ToiTissue storage container
by ToiBocks, I
really, really
wanted it! The lovely cherry finish called to me, even before I learned of all the special features of this little product. When I realized the ToiTissue was part tissue holder, part discreet toy storage, I knew it had to be mine.
I always have a tissue box nearby, no matter what room I am in at the time. The ToiTissue is a much more handsome holder for my Kleenex than the standard cardboard box. It is made of a nice, solid wood - not pressboard - and is stained with a beautiful cherry finish. It measures 9 1/4" by 5" by 4" on the outside. Really though, it is what is on the inside that makes this product special.
Unlike tissue holders that slide over the top of a box of tissues, the ToiTissue has a compartment that slides out of the side of the box to reveal two sections: a top section for tissues, and a bottom section for toys or whatever else you would like to keep close at hand, but out of sight. The section for the tissues will hold about 20 to 25 standard two-ply tissues at once. There is an oval opening to thread the tissue through for easy removal. The bottom section is lined with a red, velvet material, and measures 8" by 3 1/4" by 1 1/4". When closed, the pieces fit together so well that no one would suspect that the secret compartment exists. The opening to this secret compartment is a small notch on the bottom of the box.
My ToiTissue came to me wrapped in bubble wrap and surrounded by styrofoam inside a cardboard box. In other words, it was well protected. The box notes that the item is available in three colors: Dark Cherry, Golden Honey, and Black Licorice. I am glad that the one color that Eden carries is the cherry, as it is by far my favorite color for wood.
I am particularly sensitive to chemical smells, so I am very pleased to say that there are no such smells emitted by my ToiTissue. No hint of stain scent can be discerned at all. The box is smooth to the touch, though the edges can be a little rough, though not enough that you will pick up a splinter from it.
The ToiTissue comes with two felt pieces to adhere to the sides of the secret compartment, so as to keep it from sliding out too easily. These do slow the drawer's progress, but they do not impede you from opening it. Four adhesive rubber feet are also included, so as to raise the ToiTissue from the surface of wherever you choose to keep it.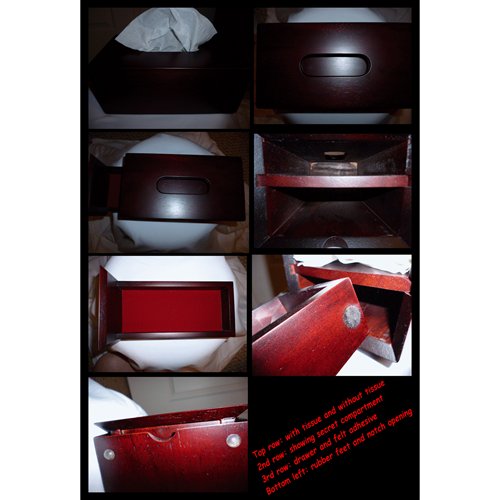 The ToiTissue
is
a storage container, so there is no need to worry about how to store it. Simply place it on your nightstand, end table, or wherever else you may wish to keep it. To clean, the manufacturers suggest wiping the box with a damp cloth or a mild, non-abrasive wood cleaner. It is also suggested that the ToiTissue be kept away from moist environments, as the wood could expand and contract over time, warping it, which could affect how well it opens and closes. For this reason, it is probably best to keep the ToiTissue somewhere other than the bathroom.
Experience
If there is a disadvantage to the ToiTissue, it is that the secret drawer is small, so it can only hold a limited number of items, and those of a particular size. If you are going to put toys in the drawer, they need to have a diameter of less than 1 1/4" in order to fit in the compartment and still be able to close the drawer. This is not a storage solution for those with a large collection. It is, however, very nice if you want to keep a few things close at hand. Here are a couple of options I tried out...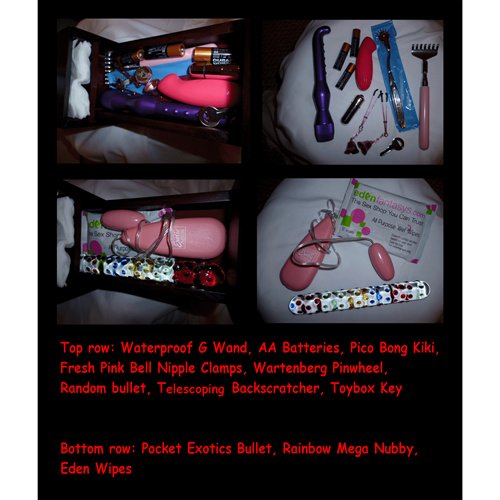 In the top row, the contents of the secret compartment are the
Waterproof G Wand
, a few AA batteries,
Pico Bong Kiki
,
Fresh pink bell nipple clamps
,
Wartenberg Pinwheel
, a random bullet vibe, my telescoping backscratcher, and the key to my toy chest where the rest of my collection rests.
The bottom row shows a smaller collection of larger items:
Pocket Exotics bullet
,
Rainbow Mega Nubby
, and
Eden toy and body wipes
.
Of course, you can always keep non-naughty items in the secret compartment as well (such as an iPod, cell phone, glasses, pens, jewelry, credit cards, or any number of other items), but I think the option of using it for keeping a few favorite toys conveniently near is the best use for it.
Other things to mention are that the box will attract lint from the tissues, and that there is no lock on the ToiTissue, so your items, while hidden, may not be entirely secure. While no one would suspect there is a secret compartment from looks alone, if anyone picks up the ToiTissue, they are sure to notice the sounds of the items sliding about in the drawer, and if they do, the box is easily opened. On the other hand, no lock on the box means no key to lose or combination to forget. Easy access is a plus, in my opinion.
One last thing...as mentioned in the beginning of the review...the ToiTissue is being discontinued here at EF. If you want it, you had better pick it up right away!
Follow-up commentary
25 days after original review
The only complaints I have about this product are concerning the tissues. It doesn't hold enough of them, and they can be difficult to get out of the box. Since the tissue-holding capabilities of this thing are not the reason that I bought it though, I would not say that I like it less for those little flaws. It is still a great product for keeping small things hidden away from view, and as that is its main purpose, I still like it.
This product was provided at a discounted price in exchange for an unbiased review. This review is in compliance with the FTC guidelines.

Thank you for viewing
ToiTissue
– storage container review page!