Lockable toy storage?!? Count me in!
This box is ideal for anyone still living with their parents or living with roommates or children. The box is fairly discreet and the lock holds up well when you try to open it without putting in the correct combination of numbers. I personally wish it had been a little bigger and the numbers weren't so clunky, but all in all this is a very nifty box to have.
Published:
Pros:
Discreet storage, pretty box, inside is water and tear proof.
Cons:
Somewhat clunky lock, smaller than you would imagine from pictures.
This box comes to you with minimal packaging. Simply a tag and soft styrofoam around the handle. Mine is the purple one and it has a butterfly pattern all over it. The interior of this box has a vinyl lining, this lining is waterproof as well as tear proof. The exterior of the box is made of metal and suede. It is very appealing to the eye.
It is smaller than it looks in pictures on Eden, but still a nifty box. This box is 4 inches from front to back, 4 inches from top to bottom, and 12 from side to side. Which is smaller than I had imagined and smaller than it looks in the pictures on Eden. This box could hold a couple toys at once if they are small enough, but for bigger toys or toys with separate attachments or things that stick out on the sides it is not ideal. But if you are wanting to discreetly and safely take a couple small toys or one big one and a small one from one place to another this box is a great choice.
The lock is very cool in theory, having three rolls of numbers from 0-9, you can set your own combination. I had to have my spouse set mine because when it comes to things like this I am retarded. But after reading directions and him explaining it to me, it is kind of simple. The first step is removing the red plastic "string" from behind the numbers, the end on the left has a bigger end that is nearly the same as the plastic piece that holds the tag onto a t-shirt from the store. After removing this red piece, with the numbers still on all 0's, push the silver square piece on the left of the numbers toward the left and hold it there while you adjust the numbers to the 3 numbers you want for your combination. After you have chosen your numbers, push that silver piece to the right and the box should pop open. In the future, to open, simply set the dials to your chosen numbers and pull silver square to the right.
This lock is a nifty concept as I said, but in reality feels cheaply made and is a little difficult to move. The lock is definitely low quality, and I won't be surprised in the least when/if mine breaks. I will not be storing any of my favorites inside, just in case.
Tag: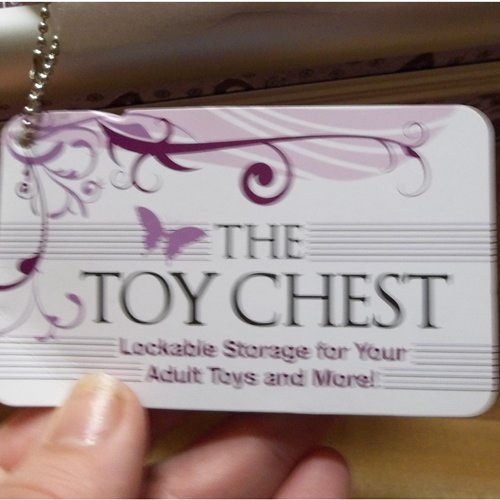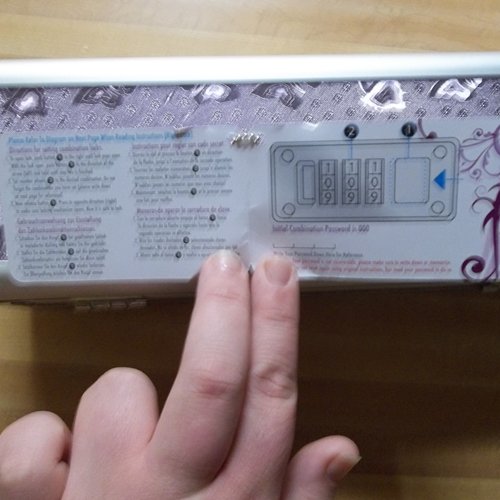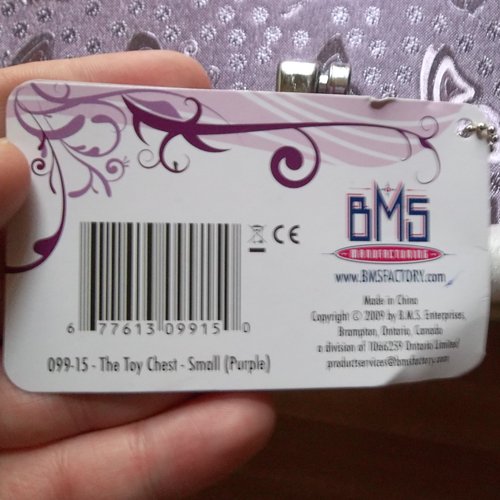 Top: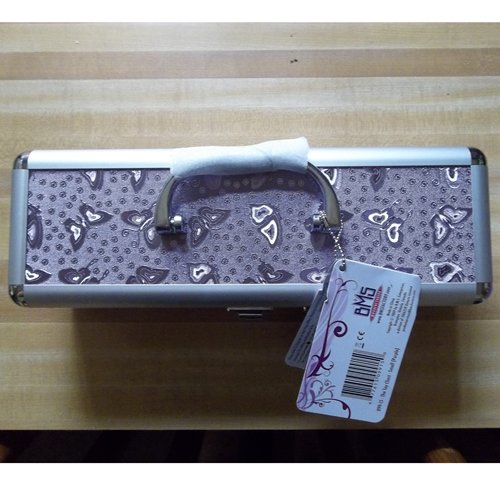 Front side: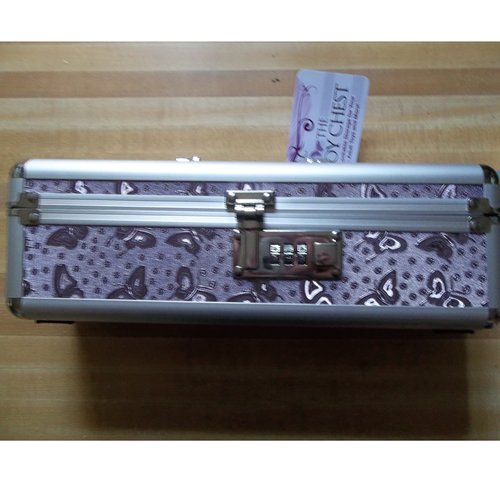 Close up of lock: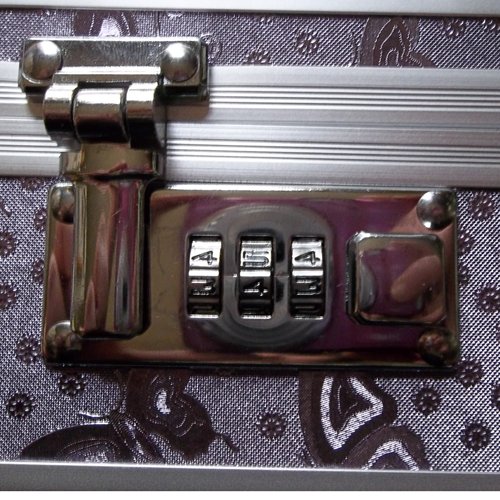 Bottom: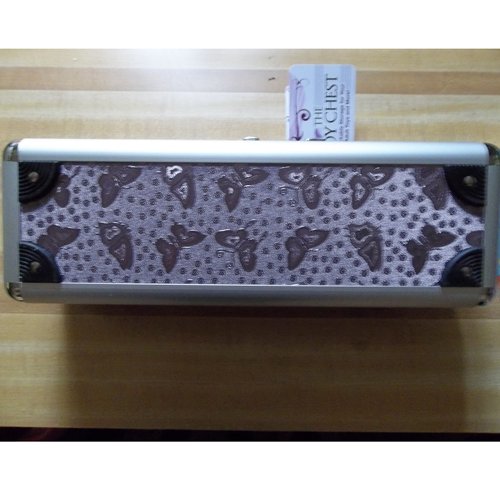 Back hinges: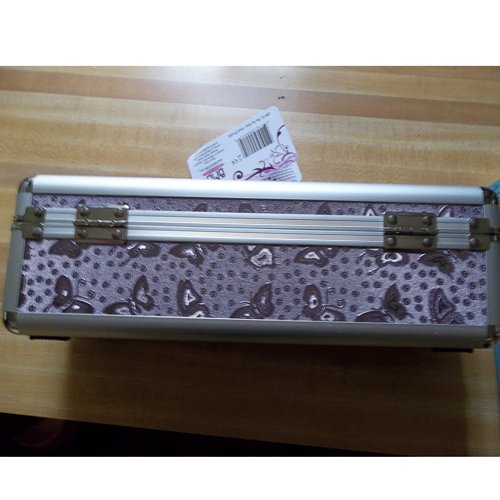 Inside: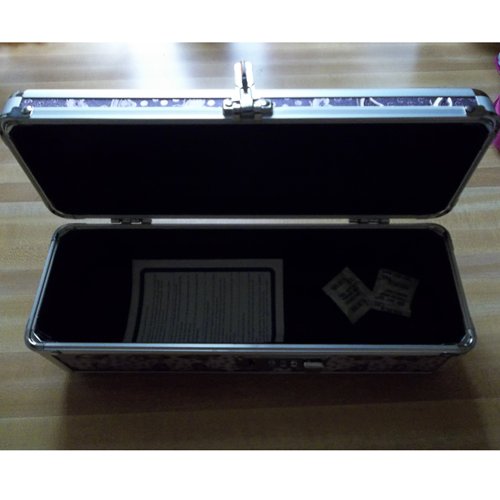 Close up of butterfly decal: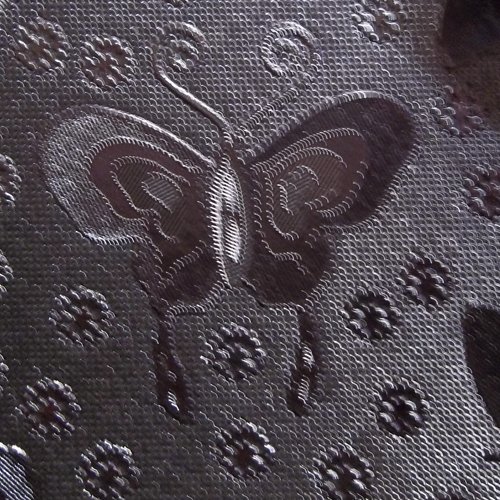 Follow-up commentary
2 months after original review
This toy box is currently being used to store the toys I do not play with frequently. While I still love the look, design, and concept for this box, I'm still rather concerned with the quality of the lock itself. It is not the most sturdy thing ever, and I try not to use it too much to get as much use out of it for as long as possible. I personally even leave mine on the combination so I don't have to wiggle the number pads around.

I still think this is a great buy for those out there with small children or living with parents/roommates. While it won't keep your secret when someone takes a butter knife to it, it will keep your toys more secure than if they were simply in a box without a lock.
This content is the opinion of the submitting contributor and is not endorsed by EdenFantasys.com

Thank you for viewing
Lockable sex toy case
– storage container review page!