Teeny Tiny Can
While this can is super cute looking, it's not the most functional thing to store sex toys in. I can only fit one or two toys in it. The foam lining is great for glass toys, however it's too small to really hold many glass toys. The maximum length for a toy stored inside is about 6 inches. I personally use mine to store batteries, which is pretty much all I can think of using it for. You're better off looking elsewhere for a solution for storing more than one toy.
Published:
Pros:
cute, lined with foam
Cons:
too small for most toys, can only fit one or two toys, foam lining is not secured in the can
While I've always thought the Striped Pleasure Can is super cute, I never ended up ordering it because of the size of it. It didn't look very big on the product page, and I didn't really need a tiny container to hold maybe one toy. I finally decided to order it to have something cute to store my batteries in.
Fun Factory's Pleasure Can is essentially a foam lined metal can with a zip-on metal lid. The outside is pink with different pink stripes. The lid is also a pale pink. The zipper and the text on the can, including Fun Factory on the top and "love yourself!" written on the front are a hot pink. Attached to the zipper pull is a long nylon rope and charm assembly. At the end of this is some pink and clear plastic beads and a metal heart charm with pink crystals stuck on the front. The bottom of the can lists Fun Factory's web site and email address. This can is very feminine looking. It can be discreet if it's sitting on a desk, dresser, or night table with other random stuff. It just looks like a cute pink can unless someone looking at it knows what Fun Factory is.
Inside of the can, the lid is lined with thick black foam. A piece of black craft foam is wrapped around the inside of the body of the can. This isn't secured very well. Mine looks like a couple of areas are glued to the can, while the rest is just kind of wrapped in a tube shape. The bottom of the can also has a piece of thick black foam in it. This honestly looks like something that could easily be done with any metal can since it's not that hard to cut foam and glue it to a can, so if you don't like the size/appearance of this one, you can always make your own easily. The amount of foam makes this great for storing glass toys without worry of them bumping into things and breaking.
The measurements of the can are: 6 1/2 inches tall, 1 3/4 inches diameter, 2 1/2 inches diameter. Since this is an oval-shaped can, I measured the diameter for the shorter and longer sides of the oval. This size does not allow you to really hold a whole lot. I am able to store about 20 AA and AAA batteries in it easily. As far as toys go, you might be able to fit one vibrator depending on the length and possibly two egg or bullet vibrators depending on their size.
Here are some pictures of different things you can store in your can: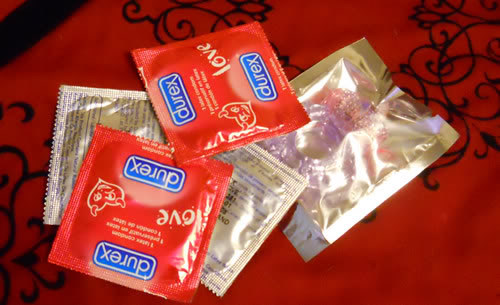 Condoms and vibrating rings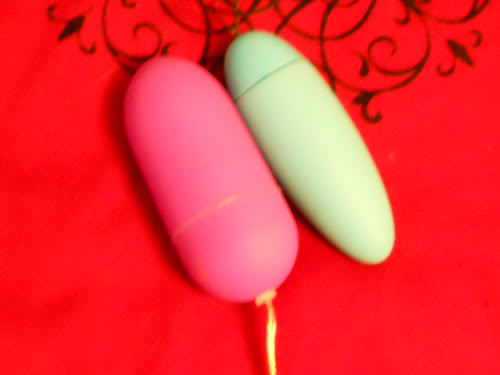 Picobong Honi
and
Vibrating Egg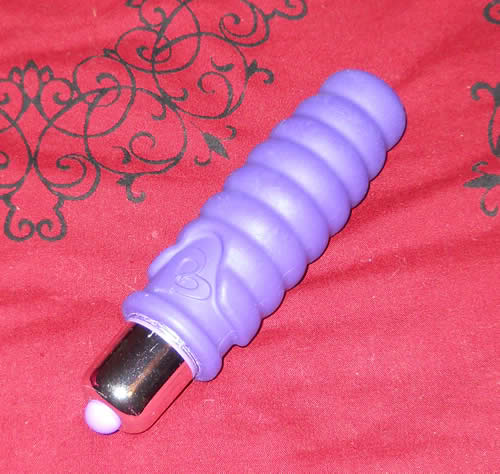 Mini Mates Disco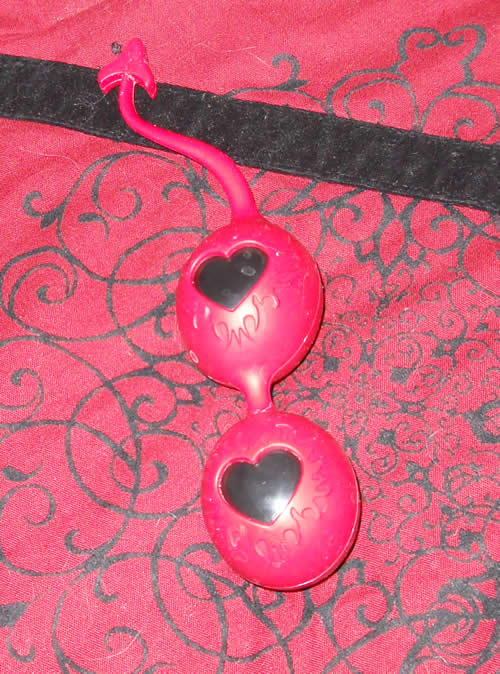 Dare Devils Vaginal Balls
While this would be a good choice for glass toy storage, I was unable to fit anything made of glass into this. I was also unable to fit any traditional vibrators inside. The maximum height that can fit in this is about 6 inches. Not many vibrators, dildos, or glass toys will be shorter than that. Also, toys like rabbit vibrators will probably end up being too wide to fit inside of the can, because of the extra attachments to their bodies. As I said, I use this for battery storage on my desk. It's much better than just having them all rolling around in my top desk drawer. I think this can would be cute to store things like makeup brushes in, especially since it says to love yourself.
I'd like to note, too, that my cats enjoy going up on my desk to bat at the pink heart hanging from the zipper pull on my can. If my one cat sees this anywhere, she grabs at it and tries to chew on it. You may want to make sure to keep your can up where your cat can't see it or reach it, if it's possible.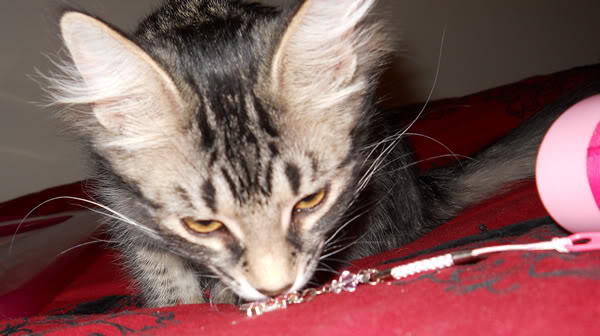 I'm honestly not too impressed with this can. It's too small to store much of anything in it. I have a metal tin that came with M&M's in it that my mom gave me for Christmas one year that can fit the exact amount of stuff in it, and that one was $3. If you want something cute but not very functional, this will be a good choice. If you're looking for something functional and still attractive, I strongly suggest looking for a trunk or a small box designed to look like a trunk. Hobby Lobby has some decent ones ranging in size which are often on sale. You can get a huge one that could hold a large toy collection for about $40 on sale.
Follow-up commentary
2 months after original review
This can is still somewhat cute, yet really not all that exciting for me. I haven't found anything to do with it other than hold my batteries. It would have been great to hold vibrating bullets or vibrating rings if it had been just a bit bigger.
This content is the opinion of the submitting contributor and is not endorsed by EdenFantasys.com

Thank you for viewing
Striped pleasure can
– storage container review page!