Freaking Awesome
This is great for anyone. If you want to add something new to your foreplay, it is for you. If you want to smell like you taste good, it is for you. If you just want to taste good, it is also for you! You can use it as a massage lotion, or just use it as lotion and carry the smell around with you for the day.
Published:
Pros:
Smell, Taste, Nice size for the price
Cons:
None
Use
The Petite Body Souffle from Karma Sutra has many uses. One is as a awesome smelling lotion. The second is as an awesome tasting lotion. Most lotions or souffles add moisture to your skin and make it super soft, this souffle is no different. You can also use this Chocolate Creme Brulee flavored souffle as a massage lotion. After rubbing it into your lovers skin, you can have fun licking it off and enjoying the awesome taste, while they get to enjoy you licking them.
Texture
This souffle smells and
looks
just like chocolate pudding. It is completely smooth and a tad oily, but no more oily than your average lotion. This souffle is not gritty or even dense, but it is thick. You can simply tap the top of the soufle and have some stick to your finger. After application, you skin does feel a bit oily for a short while. This is mostly in places you body releases heat, for me it is the palms of my hands and crease of my arm opposing the elbow. After it is totally dry, you wouldn't know you had it on you spare the smell.
A little goes a long way: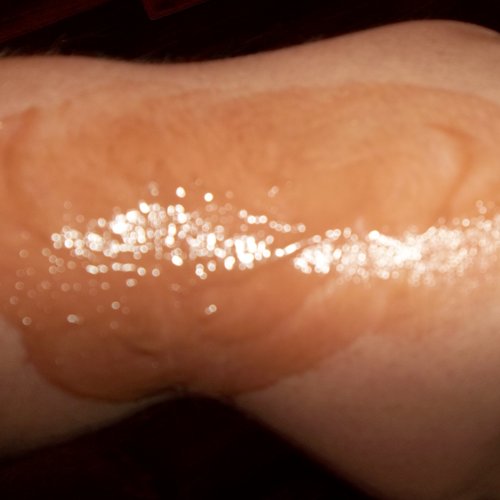 Smell
From inside container, the smell is worth bragging about. It smells just like chocolate pudding and smells so good you almost want to lick it straight from the tub! After applying it to your skin, you get to walk around smelling like that for about half of a day. The smell is pretty distinct without being overbearing. After just now applying again to my skin, I can smell it clearly. After about 2-3 hours, you will only be able to smell it when where you have applied it is near your face.
Taste
Straight from container, this stuff does not taste good. It does taste chocolaty, but it has an after taste that reminds me of medicine or chalk. The initial taste, again, reminds me of chocolate pudding, it is that aftertaste that kills me. It's probably a good thing it has that aftertaste, because I might have gotten out a spoon and at it if it didn't. After being rubbed into skin, it can still be tasted when someone licks your skin. The first time I used it, I walked around the house licking myself. The taste on skin is much less drastic than from the tub, but is still noticeable.
Packaging
This souffle comes to you in a mostly clear plastic box. The top of this box has a brown flower, with the product name and details. It tells you that this is a Body Souffle from Karma Sutra in the scent of "Chocolate Creme Brulee". It labels the product as "kissable cream for sensual massage. Also on this panel it tells you that the tub inside holds 1.8 fluid ounces. The bottom of this box is solid black with write writing. There is a bar code at the bottom, with the ingredients list and "Dermatologist tested. Hypoallergenic. Use Externally" written in 3 languages above it. Through the clear side of this box, you can clearly see that there is a small tub inside. None of the sides of this box have any decals or information. Through the packaging you can see that the contents of the tub are a medium to dark brown.
Top: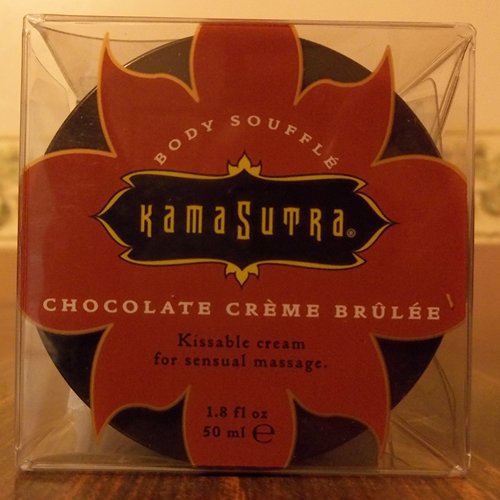 Bottom:
The tub itself is 2 1/4" wide and 1 1/4" tall. It is circular, and is about 7" around. It is a very decorative tub, if I do say so myself. There is an also Asian looking design that wraps around the tub. The front labels the tub as Karma Sutra Chocolate Creme Brulee. The back of the tub labels it as a body souffle and tells you it can be used for sensual massage and that it will wash completely away with only water. This tub is made of plastic and comes with a black plastic lid. After unscrewing the lid, you will see a white piece covering your souffle. This would help prevent spills and ensures quality control.
Front: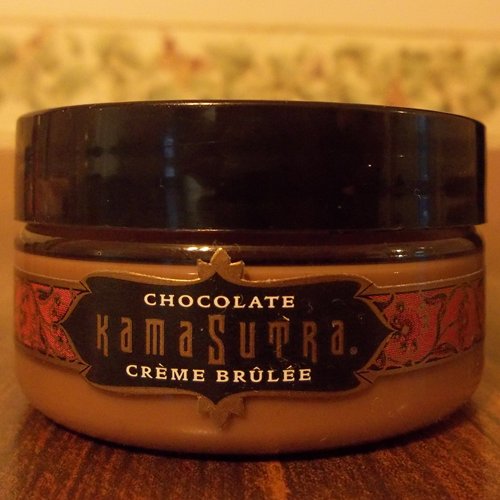 Back: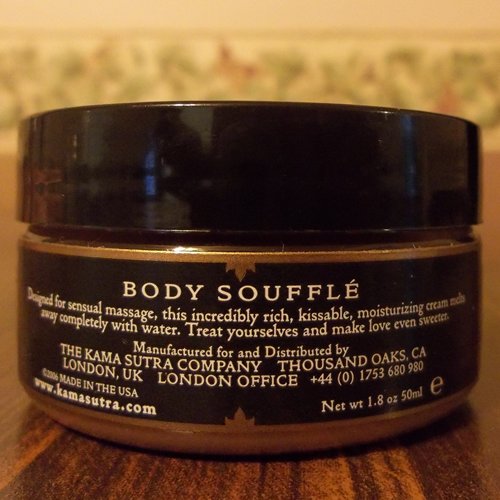 Size comparison with
Shunga candle
: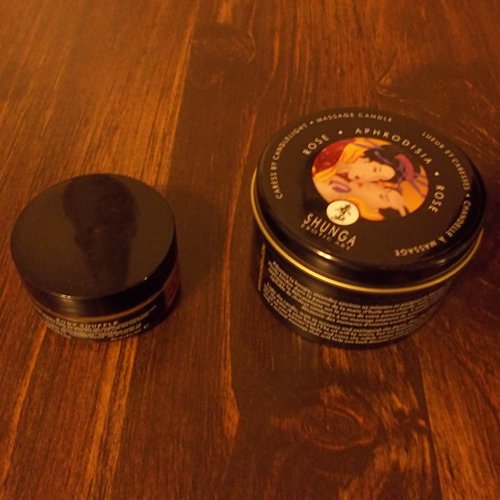 Ingredients list for Chocolate:
Water, Ethylhexyl Palmitate, Cetyl Alcohol, Glyceryl Stearate, Caprylic/Capric Triglyceride, Theobroma Cacoa (Cocoa) Extract, Glycerin, Dimethicone, Cetearyl Alcohol, Flavor (Aroma), Polyacrylamide, C13-14 Isoparrafin, Laureth-7, PEG-100 Stearate, Carbomer, Sodium Saccharine, Sodium Hydroxide, Potassium Sorbate, Tetrasodium EDTA, Phenoxyethanol.
Experience
Part of the sexy birthday party
When this arrive as part of my ex's birthday sexy party, this was one of the first things I wanted to try out. So, what do I do? I open it, stick my finger in it, and lick it! Bad idea if I ever had one. It had the worst aftertaste, and I do not recommend anyone else doing that! This product was one of the highlights of the party. My partner got a sweet smelling massage, and I got a chocolate scented and flavored souffle. I would recommend the product highly to anyone who likes to smell like they would taste good.

Moisturizing benefits?
While I am a daily lotion user, I still noted my skin was as soft as ever when using this souffle daily for a week. While I can't say that my skin was remarkably softer, it certainly didn't become dry.
This content is the opinion of the submitting contributor and is not endorsed by EdenFantasys.com

Thank you for viewing
Petite body souffle
– edible body butter review page!