Lubricant? Yes. Pure? Aphrodisiac? Not in our experience
We were excited to try this lubricant, having enjoyed Hathor's Massage Oil. It claims to be "pure." Although it looked and smelled "pure" it caused irritation in both my husband and myself. After doing research, I realized it contained two different types of glycerin, to which many, including myself, are sensitive to.

I don't see that the herbs enhance the product and it is basically a glycerin laden, water based lube, for a high price. We were very disappointed with this product.
Published:
Pros:
Water based, smooth, slippery
Cons:
caused irritation, herbs not proven to work, contains two forms of glycerin, expensive
We really enjoy
Hathor Exotic Love Oil
, both for massages and for the severe muscle spasms family members experience. When I saw this Hathor lubricant, I thought if the quality of the lube would be similar to the quality of the oil we love.
I was sadly disappointed.
First I will list the ingredients as the product is called
Hathor Aphrodisia Lubricant Pure
.
De-ionized water
a nice way to say water, which is distilled to remove all the minerals.
Vegetable Propylene
is an other name for glycerin or glycol. Perhaps if I had known this before I purchased the product (having sensitivity to glycerin) I wouldn't have bought it.
Kosher Glycol
is a glycerin used in cosmetics and chemistry, including as a form of antifreeze. The main reason it is allowed to be called "Kosher" is that it is from vegetable sources instead of animal sources. Chemically, it is nearly identical to any other glycerin.
Acacia Gum
is a tannic rich gum from the Acacia tree from Africa. It is astringent (meaning it tightens tissue and may dry it out) It also can thicken fluid. It is used in folk medicine as a "cure" for premature ejaculation, scaring away ghosts and demons. Acacia is an invasive species of tree in certain parts of Africa and can threaten indigenous species of plants. It also can break down into Cyanide and can cause poisoning of livestock. I question the use of such an ecologically damaging product in a product labeled "Pure."
Jujube Zisyphus
is a Middle Eastern tree. The fruit of this tree is a
mucilaginous substance, which can bind fluids into thick gels. It has also been used in folk medicine from everything from "antifungal, antibacterial, antiulcer, anti-inflammatory, sedative, antispastic, antifertility/contraception" with added wound healing properties. It is also claimed to help with memory. Little medical research has proven any of these claims aside from helping with constipation and thickening.
Siberian Ginseng
is a much used herb with many claims, similar to the myriad other forms of Ginseng. Sexual performance is among many of the claims, as it immune function, use as a stimulant, and aphrodisiac, an anti-cancer drug as well as its claim as a panacea (meaning, literally, a cure for virtually everything that ails one.) Some claims have some fact behind them, others do not.
Horny Goat Weed
was first used in the Middle East when it was found that goats eating the plant desired sexual activity at an accelerated rate. It has been used and promoted as a "natural Viagra" but true medical studies have not shown it to be anywhere near as effective as pharmaceuticals for this purpose and about as helpful as a placebo.
The last ingredient is
Ascorbic Acid
which is probably used as a buffering drug to balance out Ph levels and as a preservative.
Basically, it is a glycerin laden, water based lubricant, with a bunch of interesting sounding herbs added to it, with no proof any of them to anything other than a plain lubricant does.
As we really liked the Hathor Massage Oil we thought this lubricant would be something that we would like also. The lube is medium thick but on the runny side. It has little flavor or smell, but a mild sweet start is then followed by a slightly bitter finish. It also has a very mild medicinal scent and flavor. My sense of smell and taste are intense, so most people would probably not notice these flavors and scents. As it is, they were not enough to turn me off.
Hathor comes in a four oz tube with a flip cap.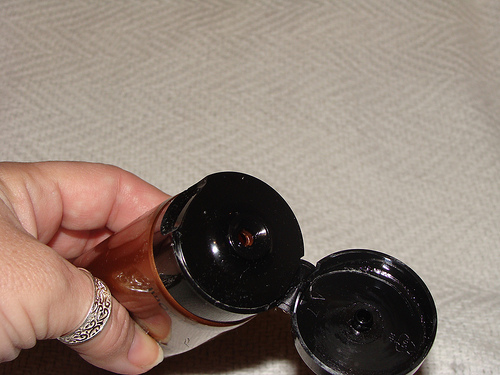 It stands nicely on the cap and can be opened with one hand. The tube has the classic Hathor Gold color, with the strange heart shaped "egg/flower" with what appears to be little sperm attempting to fertilize it. It's an interesting and attractive container. I just wish the product was as beautiful as the container.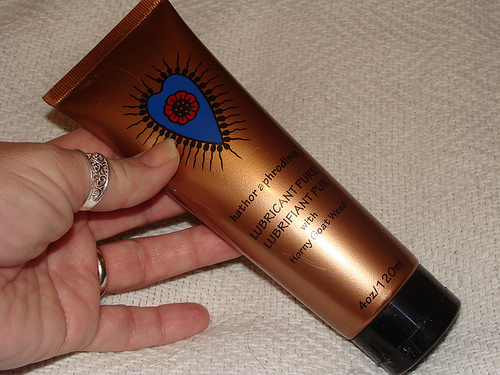 We used it the first time during a sex session which we decided to conclude with some anal sex. The lubricant went on smoothly; it was slightly thick, but a bit runny.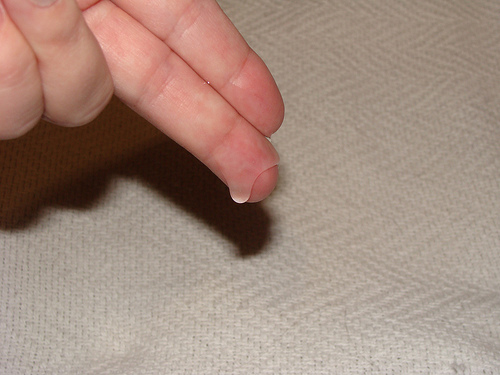 It seemed to set up a nice slide to the motion and give a pleasant lubricant action. After about five or ten minutes of action, I began to feel uncomfortable, but only slightly. I asked my husband, "Do you want some more lube?" He was very busy and responded with an "Nah, I'm good." As I was having a good time as well, I let it go. When we were finished, I felt more uncomfortable than I should have. I also felt more sticky than usual. I do not usually have discomfort after anal sex, but I felt irritated.
Experience
The next day I developed what was either a fissure or a (sorry) hemorrhoid. It took nearly 10 days for me to feel comfortable again and I was a bit miserable for the entire week and a half. My husband also complained that his penis was sore. The worst thing about this time, aside from the pain, is that any type of anal sex or anal play was out of the question. I was simply too irritated. With some topical ointments, some Motrin and time I eventually healed. I though perhaps it was a fluke. So, a few weeks later we decided to try the lubricant again. I, again felt irritated during anal sex (which is what we use lube for most of the time) only this time, I also used it to help a phallic vibrator slide in more easily. We stopped the anal sex as soon as I felt the irritation. I didn't have the ongoing irritation again (I washed the lube off immediately afterward) but I did then develop a yeast infection, which then needed to be treated with anti-fungal medication.

We also did not seem to derive any special effects from all the added herbs in this product. Neither of us noticed being more aroused than usual (although arousal varies, nothing out of the ordinary seemed to stand out while using this product) nor did the herbs seem to protect me from infection or irritation, as some of the herbs contained seem to imply they would. As in many products, it appears the herbs are there for show, and any noticeable effects were absent in our tests.

The funny thing is; I have used glycerin for anal sex before with no problem. Years ago, before we knew better, we used to use Astroglide Anal Shooters and I never had any anal irritation. I never used this lubricant vaginally, knowing it contained glycerin.

Perhaps one of the other myriad herbs in this Hathor Lube caused both types of irritation. I have been told that vegetable glycerin "doesn't cause the same problems as animal based glycerin" but chemically they are virtually identical. I am obviously sensitive to and irritated by both. Although with the large number of (mostly unnecessary) "herbs" added to this lube, it could have been something else. I do, however, think the glycerin had a lot to do with my irritation. I have used it in a fit of passion (just grabbing for whatever lube falls into my hand from the head board) on a few more occasions, but I scrubbed it off immediately and have experience only mild irritation.

This lube might work well for someone who has no problems using a heavily glycerin containing lubricant. But, I would warn anyone with any glycerin sensitivities, or sensitivities to any of the listed ingredients to perhaps be very careful with this lube. It put me out of commission (at least concerning back door fun) for 10 days, the first time I used it and possibly triggered a yeast infection after the second use. Fourteen days missing fun with My Man is too many days off for me.

Although I know many people adore this lube, it simply does not work well with my particular body chemistry.
Follow-up commentary
3 months after original review
I only played with this a few more times, just to see if my previous concerns for my body were correct. They were; I don't do well with this lube. A lot of people absolutely love it, and I respect that. But, something in this lube causes burning and after sex pain for me.

I will probably discard what I have left. I can't even use it anally, because it burns when used in that area.

I think, as with all things, our own bodies tell us what works for us. This product wasn't made for me.
This content is the opinion of the submitting contributor and is not endorsed by EdenFantasys.com
Thank you for viewing
Hathor Aphrodisia lubricant pure
review page!