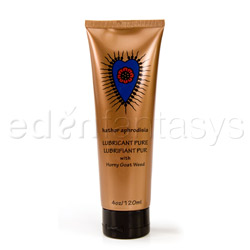 Hathor Aphrodisia lubricant pure
Lubricant
by Professional skin care Ltd.
Mmm...here comes the heat!
Provides instant, effortless engorgement that lasts for hours. Fantastic addition to my sexual repertoire. Would be fun combined with Tantric techniques.
Published:
Pros:
Natural ingredients, no odor, latex-compatible, staying power
Cons:
Nothing.
The
Hathor Aphrodisia lube|Hathor aphrodisia lubricant pure
comes in a plastic tube with an attractive, offbeat image on the front. The label explains that the lube contains botanicals with aphrodisiac properties (including
Horny Goat Weed
, Jujube,
Ginseng
, and
vitamin C
.) to enhance the longevity of your pleasure. I flipped open the cap and squeezed out a small drop on my fingertip. It has a faint, not-unpleasant herbal flavor, reminiscent of the back of a postage stamp.
I applied some to my nipples and some to my
vibrator
, Delight. Although it spreads easily it doesn't run at all. I inserted Delight and turned up the vibrations a bit. Almost immediately, I felt a warming, exciting sensation as though my erogenous zones had quickly become engorged with blood. I enjoyed the warmth, clitoral erection and enhanced sensitivity for several hours. I didn't turn up the intensity of vibration as much as I usually do but enjoyed as much orgasmic pleasure as ever.
The second time that I tried this lube, I spread a drop on Romp and inserted it vaginally. It was quite a treat. Once again I noticed the pronounced engorgement of my vulva, complete with warming and erection. This time I noticed engorgement of my G-spot as well. Romp is well-shaped to stimulate my g-spot and it did so beautifully without much effort on my part.
Later that evening I applied the lube to Romp and inserted it anally. It slid right in there without any effort whatsoever. I usually have to spend time warming up, gently inserting the plug then withdrawing it several times before I can accomodate its length. This time it went in smoothly on my first attempt. It felt even more comfortable than usual and I enjoyed the warming and stimulating effects of the lube along with the pleasure ordinarily provided by Romp.
I'm very pleased with Hathor Aphrodisia lube. It boasts a natural, vegan ingredient list that delivers on its promise to enhance and increase the longevity of sexual pleasure. It's great for use when time is of the essence because engorgement immediately follows application. It is effective as a clitoral and G-spot stimulating gel while providing superior slip without stickiness. A little bit of lube goes a long way and lasts for hours. I did notice that it stains sheets, shirts, etc. but it washes out easily with a little bit of soap and cold water. Now I'm a hardcore lube addict. I use it every day and I can't get enough of it!
This product was provided free of charge to the reviewer. This review is in compliance with the FTC guidelines.
Thank you for viewing
Hathor Aphrodisia lubricant pure
review page!