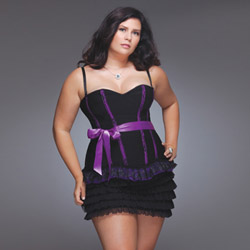 Corset with ruffled lace hem
Corset by Coquette
(1x/2x) Pretty in Purple - Breathing is Optional!
This is a really classy piece that looks elegant and sexy. It doesn't scream "take me home and have sex with me" but it sure does put that idea in his mind. The inside fabric is very comfortable against your skin.

Finally a plus size outfit that can make a larger gal feel sexy.

HIGHLY RECOMMENDED!
Published:
Pros:
Comfortable to wear
Classic design
Adjustable straps
Cons:
Plastic boning
Need straps for good bust support if D cup or higher
Plus size gals - it is so hard to find something pretty that we can wear. I think I've found a piece that can work well for you even if you have larger hips and waist like I do - as long as you can still find a way to breathe that is! While it is a bit tight for me to wear right now, and I did have to hold my breath at first, I found that once I was wearing it and it molded itself to my body, I was able to breathe better. I just had to learn to breathe with something a bit tight on.
I especially love the breast support and what this does for my breasts - as long as I wear the straps. Without the straps...sorry - they sort of fall out.
WHAT THIS IS...HOW TO WEAR IT...
This is a gorgeous corset which can be dressed up and worn outside the bedroom or worn inside the bedroom. The choice is yours. I would love to wear it with my black pants (shown in the picture below) and a nice jacket but I believe my husband would die of shock. Plus, I am not yet able to breathe freely in it. Let me lose another 10 pounds, get some courage and I will wear this out for a nice dinner somewhere once I find an attractive jacket to cover it up a bit.
It is currently available in the following sizes on Eden: S,M,L,XL,1x/2x
It comes in a plastic bag and includes a silky black padded hanger.
MATERIAL & CARE
This corset is made of 82% nylon and 18% spandex. It has plastic boning in 10 places. It needs to be hand washed and hung to dry.
DESIGN
This has a hook and eye closure on the back with 17 hooks. The inside is lined of super soft black fabric that is very comfortable to wear and not at all itchy. It is not a velvety softness but it feels very luxurious. The elastic along the waist area behind where the ribbon goes does a great job of helping to show off your curves.
My only concern about this corset is that the purple fabric underneath the lace at the bottom of the corset is not hemmed. It is definitely spandex and may not need hemming.
17 hook & eye closure - two rows of eyes 5/8" apart
1 1/4" elastic along waist area
back - top to hem - 15"
front - top of cup to hem - 17"
front hem - 23" unstretched
attachable garters - 10" long
Optional straps - 8"-16"
Plastic boning: 10 pieces
SIZING
Clothing size Breast Waist Hip Torso
Coquette size chart 18-22 46"-50"D 38"-42" 46"=52" ---
My sizes 18-24 44D 49" 57" 19"
My daughter's sizes 16-18 40D 43" 49" 20"
Considering the fact that I am 7" larger in the waist and 5" larger in the hips than this piece is designed for - I am THRILLED with how it fits. I just wish I could breathe a bit better in it. I felt like it looked great with my breasts and I really felt like it made me look sexy and attractive all over, especially when I wore it with the black pants you'll see me in.
My daughter did not care for the cups because she did not fill them out so she felt like they were too loose or the wrong shape for her breasts.
If you have a natural hour glass feature anyway, my daughter feels like this will make you look great. Otherwise, you probably should have nice hips or nice breasts to really carry this off.
CLOSEUPS OF THE CORSET:
Boning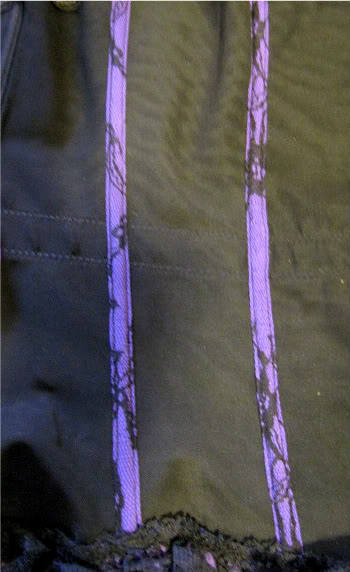 Elastic band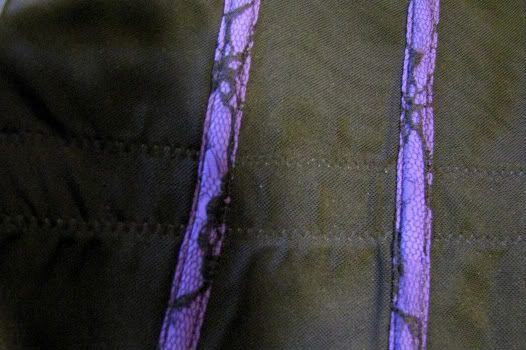 Elastic on the inside with that COMFORTABLE black fabric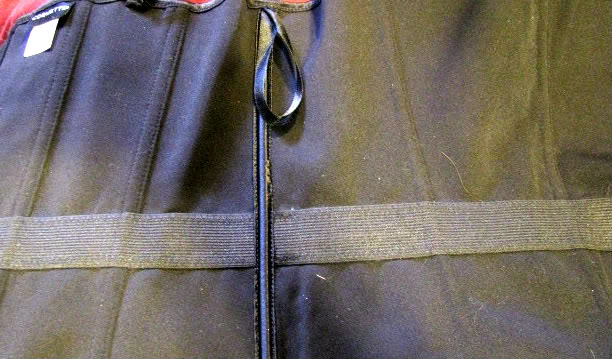 Ruffle and lace at hem

Experience
PICTURES:
They say that a picture is worth a thousand words - so here comes the novel!
The corset on me: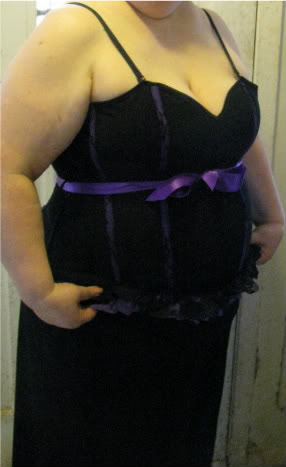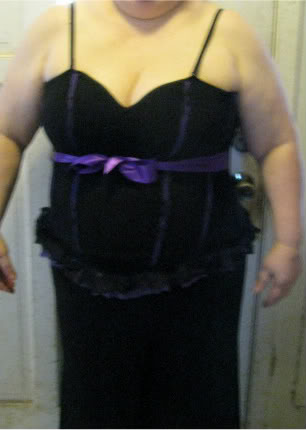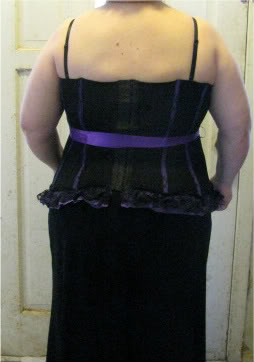 Taking "one for the team" to show how it looks as lingerie versus a top: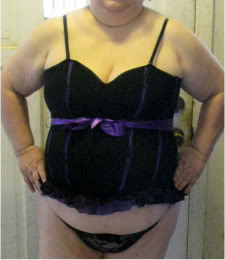 My daughter wearing the corset: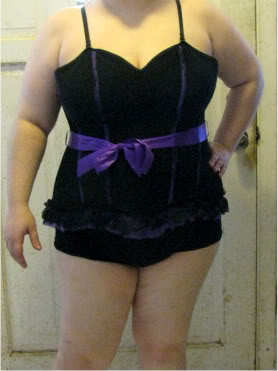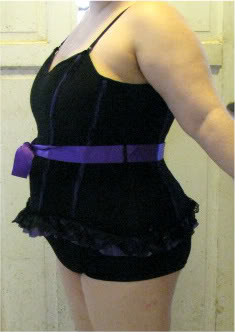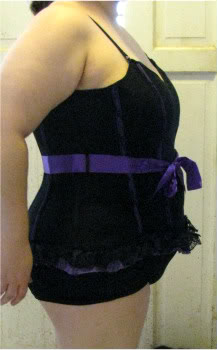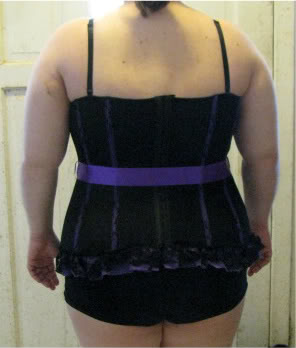 This product was provided free of charge to the reviewer. This review is in compliance with the FTC guidelines.

Thank you for viewing
Corset with ruffled lace hem
review page!