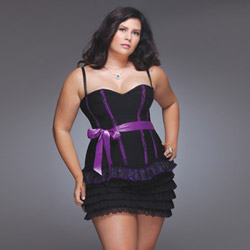 Corset with ruffled lace hem
Corset by Coquette
Another To The Collection
Overall I would recommend grabbing this. I like it and she loves it. It looks great on her but lacks anything that sets it apart like other corsets we've gotten (like embroidery or textures). It is pretty basic but still gives that great hourglass figure and looks great.
Published:
Pros:
easy to take on and off, well built, basic design, great for larger women
Cons:
needs washing before use, difficult to put on solo if not impossible
I finally got this corset for my wife after months of wanting this particular one based on the colors and basic look of the corset. Once we got the corset it was definitely a mixed bag of tricks, ranging from trouble putting it on to the great basic look it gave off. What we were looking for was something that would last with a little style. We definitely got it, but with mixed results.

The construction of the corset has plastic boning going vertically up the corset with support to the breasts. It is well constructed and my wife has told me it is pretty comfortable to wear, so nothing will be shaped awkwardly or poking. The only problem that we really encountered with the construction was that I needed to be there to help her put it on, she could not put this on solo. It kills the mood or the opportunity for a surprise sexy time. The corset uses many small eye-hooks in the back going from top to bottom and it fit like a glove, so there was no moving the corset around once it was on. Smaller girls may not have as many troubles as we had, but anyone using anything above a Large might encounter the same issues, otherwise this is one of the highest quality items we have in our closet. We bought a XL for my wife because her waist was a little large but would have fit into a Large, so the sizing chart should be spot on. She has a little wiggle room in the breasts with a Size 32 C, but the size we have was meant for a D. Not a big deal though because even though the size is a little off this corset works great for larger or oddly shaped girls.

As for the look and style of this corset it has become one of our favorites. My wife has a boyish figure and a harder time finding anything that looks good on her, but this corset seemed to work great for us! We didn't provide a picture because our computer never wants to work with the uploads, but the picture of the larger product model nails it. It gives a nice hourglass figure and has no trouble supporting the breasts. There really is nothing else to say about how it looks, that picture really does speak for itself.

Cleaning of this corset is done by hand. We just did it in the sink and had no troubles, but a washing machine might do some damage to the ribbing. I do have to say, seriously clean this before use at least twice or you will take this off with some extra colors. The color of our corset rubbed off on us after we opened the product bag, and after the first wash as well. By the time we had used the corset three times it finally stopped rubbing off. The corset was still the same color, but we just had to take a shower afterwards. Annoying, but it shouldn't be a deal-breaker, it was minor and an easy fix just to simply wash it.

The corset looks good and sexy, but I'm not 100% sold. It is good quality, has great durability and built well, but it is missing that razzle dazzle. This is just from a guy's point of view of course, ask my wife how she feels and she loves it. I would really recommend this, but the price was a bit high. Wait for a sale at the very least for this item. Once the price is a little lower this is a worthy item to add to any corset collection.
This product was provided at a discounted price in exchange for an unbiased review. This review is in compliance with the FTC guidelines.

Thank you for viewing
Corset with ruffled lace hem
review page!