Now THAT'S a Corset!
Okay, title notwithstanding, this is actually my first real corset. However, it pretty much does exactly what a corset is supposed to do—cinch the waist and lift the bust—although it would provide more of a boost to larger cup sizes. But it's gorgeous, well-made, and fits—and that's enough for me.
Published:
Pros:
Beautiful & slimming colors/stripes, cinches waist, comfortable, removable shoulder straps/garters
Cons:
Would work better for larger busts, hot in summer, one of my shoulder straps was defective
This is my first honest-to-god corset, and I was very apprehensive about getting it. Every single time I've read a review of a corset by anyone who wears less than a B-cup, the reviewer has mentioned that it doesn't work well for smaller chests. This is probably somewhat true of most lingerie, but it has always struck me as particularly unfair that a CORSET would be designed without considering smaller cup sizes—I mean, the entire point of a corset is to give an hourglass figure to women who might not naturally have one, for whatever reason.
Anyway, I decided to go with this lovely black and purple corset from Coquette for a couple of reasons. First of all, I loved the purple darting—there is not enough striped lingerie, in my humble opinion. Second, and more importantly, Coquette made
my favorite piece of lingerie ever
.
The quality of Coquette's garments is also exceptional, with one caveat: both pieces of Coquette lingerie that I own were missing something when they arrived. The missing bow on my polka dot chemise didn't really bother me—I can always add one myself, if I ever feel the need to—but this one included a shoulder strap that is missing the back hook that lets you actually fasten it to the corset. I like the way this corset looks strapless—which is itself an endorsement, because I NEVER like the way I look in strapless tops—but I would like the option of wearing it with straps. I tried out a black strap from one of my convertible bras with mixed results; it worked, but it didn't tighten as much as the (working) strap included with the corset did. This frustrated me a little, because I had hoped that tightening the straps would help the corset push my breasts up more.
Other than that, though, I have no complaints about the construction of this piece; it's both gorgeous and well designed. Like the shoulder straps, the garter straps are removable, so you could wear the corset out to a club if that's your style. The corset is boned—there are ten strips of plastic in all, eight of which pull double-duty as the lovely purple and black lace stripes decorating this corset—and there's a surprisingly sturdy elastic band around the waist for extra reinforcement. The closure is hook and eye—eighteen of them in all, with three columns of eyes. The corset also has a sweetheart neckline, which I imagine would look quite flattering on larger busts, and a sort of scalloped lower hem, which is trimmed in ruffles of purple mesh and black lace.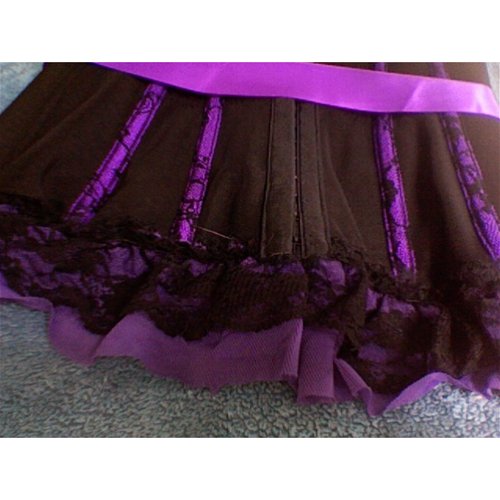 Closed closure and ruffles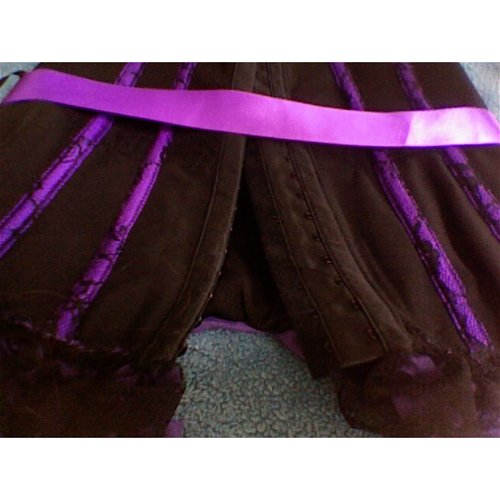 Open closure, ruffles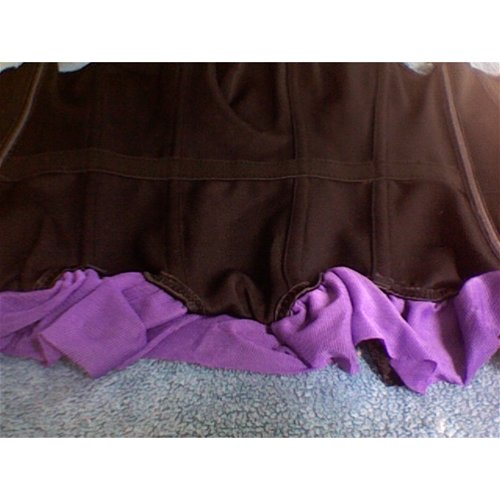 Inside of corset: boning, elastic band at waist, scalloped hem (hem is accidentally folded under in the middle of the picture—it's not a defect)
I was pleasantly surprised to find that the purple ribbon that ties around the waist of the corset is in fact not sewn onto it, so you can potentially wear the corset two different ways—although if you opt to forgo the ribbon, the little loops meant to hold it in place on either side of the corset may look a bit distracting. Nevertheless, I almost think I prefer the corset sans ribbon; the purple stripes against the slimming black just give the whole thing such a streamlined look that it almost seems a shame to disrupt all that sleekness with a bow, however pretty it is.
This corset is 82% nylon and 18% spandex—a combination that, combined with the thickness of the material, makes it excruciatingly hot (in the bad sense) during the summer; squirming into one of these things unaided in ninety-plus degree weather has to qualify as some sort of torture—or at least exercise, based on how much I was sweating.
Unsurprisingly, this is hand-wash and line-dry only, and I really wouldn't recommend tempting fate, since the boning could bend or snap in the washing machine.
Experience
I am AMAZED by how well this corset fits, on the whole. For one thing, the elastic band meant to sit at my waist actually, you know, sits at my waist; this is a rare thing for me, because most lingerie is made for shorter torsos. I suppose the flipside of this is that if you DO have a shorter torso, you should be aware of the fact that the band meant to provide the most shaping may actually hit somewhere between your waist and hips.

Here are my measurements:

Dress size: 4 or 6 (usually)
Bra size: 34A
Bust: 34"
Waist: 27"
Hips: 27"
Weight: 130ish
Height: 5'9"

And here are the measurements for Coquette's "small"

Dress size 4 to 6
Cup: B
Bust: 34-36"
Waist: 26-28"
Hips: 36-38"

If anything, I think this corset might run a little large—shocking, I know, when you're talking about lingerie. I use the tightest setting, and while the fit is snug, it could definitely be tighter. This isn't a complaint, but it is something to think about if you're considering buying it. My waist and hip measurements are in the middle of Coquette's "small," but the second column of eyes would definitely be a loose fit on me (well, loose for a corset, anyway). If you're very petite—say, at the 26" waist minimum or below—you may find that this corset doesn't do a lot of cinching.

Of course, when ordering corsets you're supposed to go by bust size. I couldn't, but I went with the smallest size, hoped, and was not disappointed. I would say, however, that a 34A is probably the minimum for this corset; I fill out the cups, but just barely. In this case, I think the sizing chart is telling the truth; B cups should have no problem with this corset, and it might even work for a small (32") C.

I do wish the fit in the bust were just a little tighter. I was hoping that this corset would make my A cups look a bit fuller than they actually are, but it just isn't snug enough to give me much of a lift. Still, the fit isn't unflattering—it just didn't create instant cleavage the way I hoped it would.

The fit in the waist, on the other hand, is fantastic. Despite my small bust size, wide hips and broad-ish shoulders give me a slightly hourglass shape, and this corset does a great job of accentuating that. It won't take inches off your waistline, but the extra reinforcement around the waist does, I think, have a reasonably slimming effect—at least, it feels like it's cinching my waist a bit, and even if it's not, the vertical stripes and dark colors create the illusion that it is.

Best of all, it's more comfortable than I would have thought possible—for a corset. It feels snug, but in a "holding me in," supportive kind of way rather than in a suffocating/digging-into-my-skin way. I also haven't had any problems with the boning buckling, even if I lean over or bend backward. It even does a reasonable job of not riding up—what's not to like?
This product was provided at a discounted price in exchange for an unbiased review. This review is in compliance with the FTC guidelines.

Thank you for viewing
Corset with ruffled lace hem
review page!