A Hollywood Starlet is Born
These gloves come in three colors and look great with many lingerie and costume pieces. They are very soft and silky. The satin reflects the light well and draws attention to your hands. The gloves fit my long fingers well but will also be good for those with shorter or wider fingers. The top of the gloves stretches to a maximum of 12", so they do not fit all. I would highly recommend them if they are in your size range.
Published:
Pros:
Confortable
Fingers stretch to fit long fingers
Reasonable Price
Cons:
One Size Does Not Fit All
These gloves are a great way to finish off any number of outfits. The material is soft, stretchy and silky smooth. The silver satin reflects light well. Against lighter colored skin these make a more subtle statement. For those with darker skin these gloves will draw attention to your hands and arms. I love the way gloves can accessorize a corset or bustier. Gloves make the evening seem all that more special.
The gloves also work well with a variety of costumes. You can finish off your flapper costume, old Hollywood costume, or any number of great costumes. The gloves come in silver, red or black so there is one to match just about any outfit.
The gloves stayed on my arm well and did not fall down or bunch up while I was wearing them. There is a slight bunching around the wrist, but that may be because I have particularly small wrists.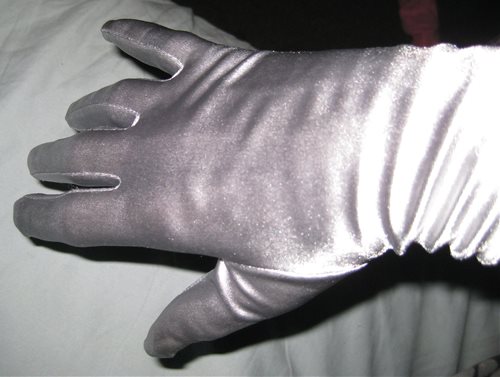 Size
From the tip of the middle finger to the edge is 22"
The top opening stretches to a maximum of 12" This is the part that should be above your elbow.

Material & Care
The tag indicates this is made of 12% Spandex and 88% Nylon. There are no care instructions. Given the materials I would suggest washing in cold water with a delicate soap and hang to dry. Do not throw these in the dryer or expose to heat. Nylon can melt if exposed to heat. Nylon is also susceptible to staining by oil based liquids so you will want to keep these away from the massage oils.
Packaging
This comes in a resealable clear plastic sleeve. There is no writing on the packaging. There is also no hang tag or description on the product. There is a small tag on the inside listing the materials and that the gloves were made in China.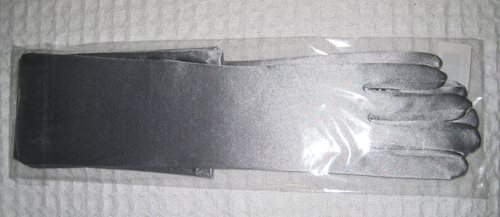 Experience
I purchased these gloves to go with
Spellbound Corset
. The gloves also go with
Starburst Corset
. These gloves look great with either corset. They can be used to finisth off any number of outfits. The silver is very neutral and looks good with many skin colors.
I found the gloves to be very stretchy, especially in the fingers. I have long fingers and it is hard for me to find gloves who have long enough fingers. These gloves have a lot of stretch to them. They could easily fit either longer or wider fingers. The arm band fit me well but if you measure from the tip of your middle finger 22" up, you will find where the upper edge will hit our arm. If the circumference of your arm is larger than 12" these will not work for you unless you bunch up the gloves below your elbow. Unfortunately, these only come in one size. As we all know, one size does not fit all.
My husband likes when I wear gloves occasionally. These are especially soft against the skin. It makes for pleasurable sensations when you run your gloved hands lightly over your lovers body.
It makes me feel like a star from old Hollywood. As if I should have a cigarette on a long extender. You can pretend to be Marilyn Monroe in Gentlemen Prefer Blondes or Audrey Hepburn in Breakfast at Tiffany's. They do make everything seem so much more formal.
Gloves are wonderful if you are self-conscious about your hands or lower arms. These can hide any issues and make it look like you are not hiding them but being seductive.
This content is the opinion of the submitting contributor and is not endorsed by EdenFantasys.com

Thank you for viewing
Satin lycra gloves
review page!