Actual elbow-length gloves!
The thing that I most like about these gloves is the length. Having long arms, it is great to find a pair of elbow-length gloves that actually ARE elbow-length gloves!
Published:
Pros:
Nice material, can be dressed up or worn with a costume, long, stretchy
Cons:
Can be difficult to take off using slippery gloved hands, slippery
I've had these gloves for a month or two, and I've taken to wearing them a for about an hour or two a few times a week when camming.
They came in a plastic sleeve like so: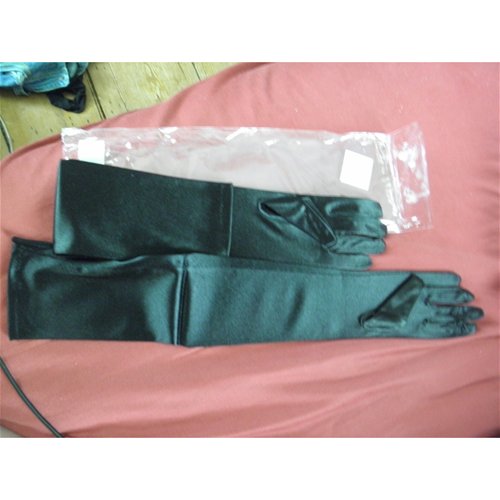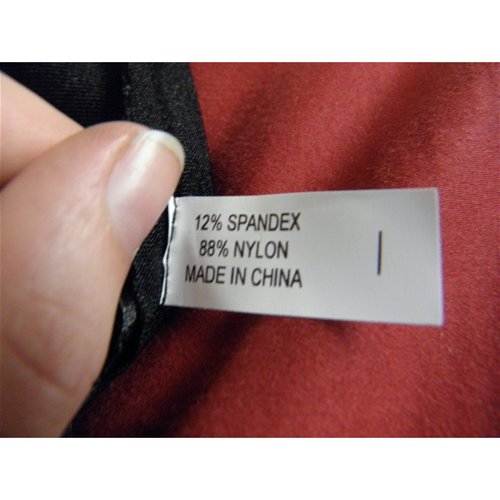 There are no care instructions with the gloves, though most products like this suggest hand washing and line drying. However, I have put these in the washing machine on cold, inside of a lingerie bag and they came out smelling fresh and feeling clean, without any signs of damage! Still, I would not try putting these in a drier, they should be air dried. The material is nice and stretchy, it does not itch and feels very satiny. These gloves are very smooth to the touch, and I like that I can still use my touch-pad mouse on my laptop while wearing them without a problem. Another great thing about these is that they are actually elbow length on me, and I have long arms! Elbow length gloves always aren't as long as I would like for them to be on me, but this pair goes an inch or two past my elbows. These gloves are about 22 inches long.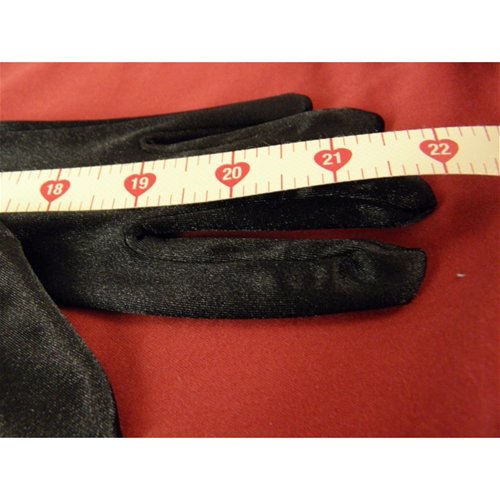 These gloves are nice because they can be worn a lot of ways; you could wear them out with a dress for a night out, or you could wear them with a costume. They can look very elegant, and very sexy. You can wear bracelets over them to dress them up even. Though you might have trouble trying to wear rings over the fingers of these. One thing is that whatever size rings you usually wear, they will be a tight fit to get on and off over these gloves, as the fingers are just slightly thick. I did try to get a few of my rings on over these gloves just to see how it looked, but once I moved my hand the ring slipped off and went across the room, because the fabric is so satiny and just kind of slides against things. Still, they feel great when you rub them up against your (or someone else's) skin! But because they are slippery-feeling, once you put the gloves on, it can be difficult at first to get them off with two satiny, sliding hands.
One problem I just noticed yesterday was that the thumb on one of the gloves had come undone on the end, when I noticed the tip of my nail peeking out. I wondered if maybe my nail, which i don't think is that long or sharp, had ripped the thumb open? I don't believe this is from putting it in the washing machine, as they had shown no signs of wear after being washed. I wondered if I could have worn it out from really only wearing them while on my laptop, but I don't really think that is the case. The thumb is unstitched just one the end now, and slightly open. I didn't think I'd worn these enough for them to have that kind of visible wear. The rest of the stitching seems fine, and I'm hoping I can stitch up the thumb without it fitting awkwardly or looking noticeable. Aside from this, the fingers of the gloves fit well, not too long or short on me, though I have been told that my hands are on the smaller side. The fit of the arms is also very nice, and the fabric has the ability to stretch a bit.
Follow-up commentary
1 month after original review
I really like these, I'd like to wear them more often than I get to. I'm hoping I can order the red pair also sometime soon. These can make any outfit look sexy, and they are great for camming, costumes, or if you have a dress or outfit that you want to dress up. I love that these don't look super costumey, so you can wear them out with a gown and look totally elegant. They hold up well to being washed. If you want to put them in the washing machine you should put them in a lingerie/delicates bag, and they will hold up fine (or at least they have for me).
This content is the opinion of the submitting contributor and is not endorsed by EdenFantasys.com

Thank you for viewing
Satin lycra gloves
review page!