Review Paddles
I love the way these gloves look on me. I love the way they make me feel. They're stretchy, comfortable and scream "sex". I'm glad I added these to my costume arsenal. I can just imagine all the uses I'm going to have for them.
Published:
Pros:
+ Has a sexy wetlook to it
+ Stretchy
+ Comfortable
+ Well made
Cons:
- Material bunches around fingers just a little
Let's be honest, the Satin Lycra Gloves look hot.
These gloves appealed to me on a few levels. On an S/M level, I thought they'd look good during general play. I also thought they'd look good in rope. I thought they'd look hot during sex! I figured they'd be a good accessory to have for a costume, too. I basically just thought they'd be nice to have around, but I had no idea… Once you slide your fingers, hands and arms into these long gloves, you can feel the sensuality slinking over you. Hell, yeah… I can do anything in these gloves!
The Satin Lycra Gloves each had a glove form inside them so they'd hold their shape. I snatched that out and quickly replaced them with my own hands.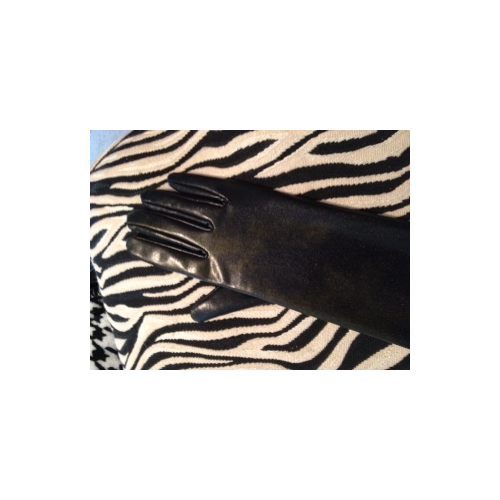 What's it made of?
The product page identifies the material as lycra. The name of the product contains the two materials "satin" and "lycra," but they looked and felt to me more like the wetlook products which are made of nylon and spandex. For a while I didn't think these gloves had a tag, and then I dug into them and found one that said 80% nylon and 20% spandex. Ah Ha! No wonder it looked so much like the wetlook pieces! As for the product page and the name of the product – I have no idea.
Sizing and Fit
Coquette's Satin Lycra Gloves come in OSFM, so you really don't have a decision as to what size you want to order, however, I don't think it would make a big difference because these are gloves and not another fitted garment. Just to give you an idea as to their size, I've included their measurements and some measurements of my own. Remember that these gloves are very stretchy.
Satin Lycra Gloves OSFM:
Full length (from the tip of the middle finger to the end of the glove): 22 inches
Circumference (at the end of the glove): a little over 8 inches – unstretched
Circumference (at the end of the glove): 13 inches – stretched
Circumference of my arm where the glove hits: 12 inches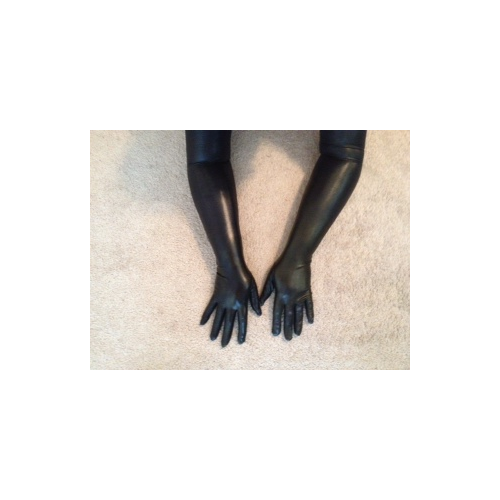 If there's any kind of measurement that you want, but that's not provided above, feel free to email me and I'll get back to you ASAP with those measurements. The gloves aren't really tight on my upper arms. They are very stretchy. I wouldn't want them to be loose and have to pull at them if they slid down. The few times that I've ever ordered any type of gloves, hand-wise, I've went with a medium. Although my fingers are kind of chubby, they aren't really long or short. They may look longer because of my nails, but overall, I have medium sized hands. I'd love to be able to add them into the category of rope tying while wearing them, but they just aren't tight enough in the fingers to do so. They still have an extra amount of material there and I need precise control of my rope in order to be quick with it. God help if I tie a piece of my glove into a chest harness. That's my luck.
How well is it made?
This is the first piece from Coquette that is in full working order. I'm happy to say that it didn't come damaged at all!.
Care and Maintenance
There are no instructions on the care tag, so here's TheSinDoll's instructions: Hand wash and line dry, and if that doesn't sound good, then just don't get them dirty. I usually wash everything in my machine, but not these. Keep the dryer and iron far away from these guys too. Once I'm done with them they'll probably go in my large accessory box that houses dress-up accessories.
When I Wear them
They've been really comfortable. I do wish that they fit 'like a glove' and there wasn't any finger bunching, but let's get real, they aren't couture. These gloves make you feel sexy. There's something about sliding them on and looking at your fingers and moving them around, your hands and wrists all covered with such a sexy material that makes you feel extra stimulated.
Experience
When I tried these on, I felt immediately sexy. I was very brazen and trying to be a little dominant with The Husband. He wasn't having it, but he was all about the sexy times that had been brought on by my attitude. He already had me on my back, on the bed, as he stood between my spread legs when slowly began pulling the gloves off "burlesque-style" – biting the tips with his teeth.

Me: What? You don't like the gloves?

The Husband: No

Me: I thought they looked hot… so I got them to review.

The Husband: Review paddles.
Follow-up commentary
3 months after original review
I actually didn't receive the Satin Lycra Gloves. I think Eden's shipping made a mistake and sent me the wetlook gloves. That's fine by me because I love these! I considered returning them for a brief second and then decided not to. Although The Husband might not like the "toppy" attitude that comes with them, they make you feel really sexy when you wear them!
This product was provided at a discounted price in exchange for an unbiased review. This review is in compliance with the FTC guidelines.

Thank you for viewing
Satin lycra gloves
review page!