A one size XL, for the win!
Looking for a new sexy pair of undies with minimal upkeep? These Booty shorts are just the ticket. They will hug your bum and look awesome on you, regardless of your size. Hate worrying about your lacy panties fraying? No need to worry about this no frills booty short.
Published:
Pros:
Super stretchy, Bum hugging, Easy to take care of.
Cons:
I see none.
Shape
Straight out of the package, these panties resemble booty shorts more than a pair of panties. This is good, because it is what they were going for, but if you are looking for actual panties, this many not be what you are looking for. These panties have a wide crotch, which I appreciate because I like my undies to completely cover my vagina, and cover from leg to leg in the crotch. The back of these undies are designed for a bit less coverage and your bum cheeks are supposed to hang out a bit.

Sizing
This OS/XL will fit any plus size lady nicely. I'm generally a 2X, but I order lingerie and panties a size larger. These fit me excellently, with a bit of room to spare, and I have hips at 56". Even though I am fairly large, I could easily see a larger woman wearing these happily as well. If I had to put a size on it, I would say maybe a 5X, or size 26 in jeans, would be the maximum capacity for these undies. Here is the sizing chart for these one size, plus size booty shorts.
Coquette's Queen Size One Size
Dress size: 18 - 26
Waist size: 38 - 46
Hip size: 48 - 56


Material & Washing
These panties are made of Nylon and Spandex. Then "why are they called "lycra" booty short's?" one might ask. The reason is easy, lyrca is just anther name for spandex, apparently. I was unsure of the answer myself until I googled it. The spandex, or lyrca, is what gives these undies the ability to stretch so much. For optimal washing results without harming your new favorite undies, your best bet is tossing them in a delicate's/lingerie bag, and tossing in the washer and dryer. Considering they are not lacy and will not easily be torn or frayed, washing them without a delicate's bag is possible, but not recommended. These panties can be hung to dry, but if you are already washing them in a delicate's bag, why not dry them in it too? These panties need no extra care, and no more care than your regular panties in your undies drawer. Store with the rest of your under gear.

Okay, but how do they feel?
These undies are the picture of comfort. The material feels smooth and silky to the touch. They don't bind, and have not once pinched my lips when worn under jeans, unlike many thongs I have worn. They contour to your bum and allow only the bottom of your cheeks to hang out. These, unlike many panties I have worn, do not ride up much while still hugging your bum.

Packaging
The Black lycra booty short comes to you in minimal packaging. A simple clear cellophane bag with a sticky strip to keep the package closed. There are no major stickers or tags on the exterior except for a stocking label. Inside this cellophane are your panties, tag attached, and 2 silica gel pouches(to keep your panties from getting wet or ruined on their way to you). The tag attached has the Coquette logo on it, images on the booty shorts on skinny girls, the size, and a SKU number. To remove this tag, be smart and use scissors. Pulling it off could cause your brand new undies to fray or tear, ultimately leading to their untimely death, or end of use.
Experience
Why did I want it, and why do I like them so much?
Who can resist booty shorts? Not me, and certainly not my fellow when I'm wearing them. I initially just wanted them to add another pair of panties to my collection. Let's face it ladies, we can never have enough pairs of black panties around. After wearing them, they have become a weekly pair in my underwear rotation. Mostly I like them because they not only look sexy, they also make me feel a bit more sexy. I'm not sure if it's the silky smooth material, or that my bum looks awesome in them, but I am in love with these booty shorts.
Added on 06/05/2012
I liked them so much I decided to order two more pairs, one black and one red. The packaging is actually quite different when ordering the red pair. The red pair comes in a cellophane as well, but is on a hanger and stretched out, unlike the folded up black pair.
Front Comparison: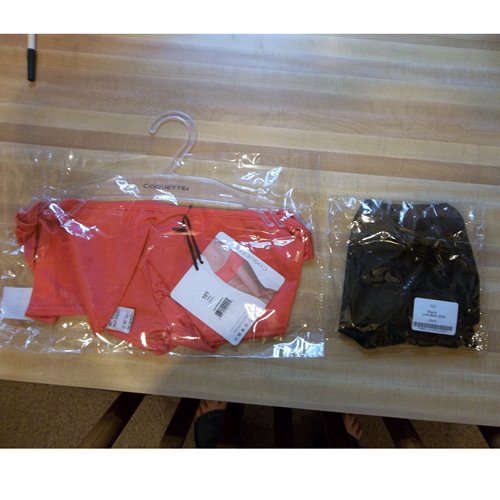 Rear comparison: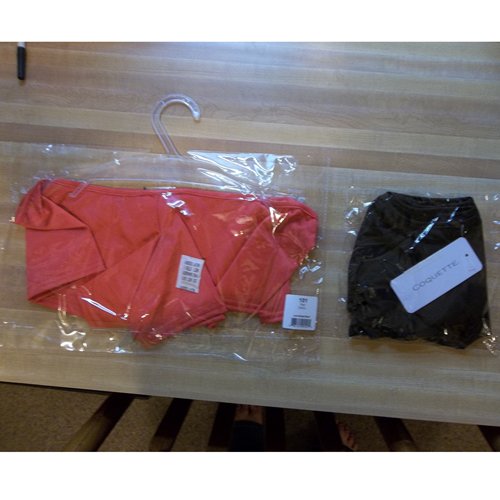 Other than the packaging the OS/XL red and black are the same. They fit the same, feel the same, and have the same amount of stretch and extra room.
Follow-up commentary
2 months after original review
While I still love these undies, they have shown their true colors over the past 2 months. I have a bit of fraying at the bottom of the leg holes and the seam at the top has begun to separate from the panty for about an inch.

Like I said, I still love them. I even ordered another black pair and a red pair. Where I believe I went wrong was washing them in the washer and dryer. These should have been hand washed, but I thought since they were not lacy they would be fine. I guess not.
This content is the opinion of the submitting contributor and is not endorsed by EdenFantasys.com

Thank you for viewing
Black lycra booty short
– shorts review page!